Broadcast Production Students in the Film Department Continue Partnership with CSULB TEDx
In this age of the internet and sharing ideas, you've likely heard of or watched at least one TED talk. Created in the spirit of TED's overall mission, TEDx is a grassroots initiative that brings "ideas worth spreading" to local communities around the world. Much like TED talks, TEDx events include live speakers sharing ideas with a live audience but are independently organized under a free license granted by TED. The organizers abide by the overall TED format and are offered guidelines and advice regarding event logistics, speaker selection, and more. 
Each year the University Honors Program at CSULB hosts TEDxCSULB on the university campus and for the past 5 years has involved Broadcast Production students in the Film & Electronic Arts Department. Film students are hard at work during the event, running cameras, the control room, and later working on the postproduction of the live recorded content from each speaker. This year's TEDxCSULB featured the theme "Navigating the Unknown" as we return to a "new normal" in our communities, navigating the ongoing effects of the COVID-19 pandemic.  
Behind the scenes of this year's TEDx hosted at the University Student Union were film students Dominick Campos and Delilah Cunneen. The two worked alongside fellow film students and film department adjunct faculty members Rafael Nieto and Jeffrey Whitten. Nieto and Whitten mentor and guide the students through the process of running the control room for a live event after hours of behind-the-scenes preparation and training in their Broadcast Production courses.  Perhaps the most thrilling part besides watching the speakers share their ideas is the hands-on experience they encounter and the people they meet along the way.  
Image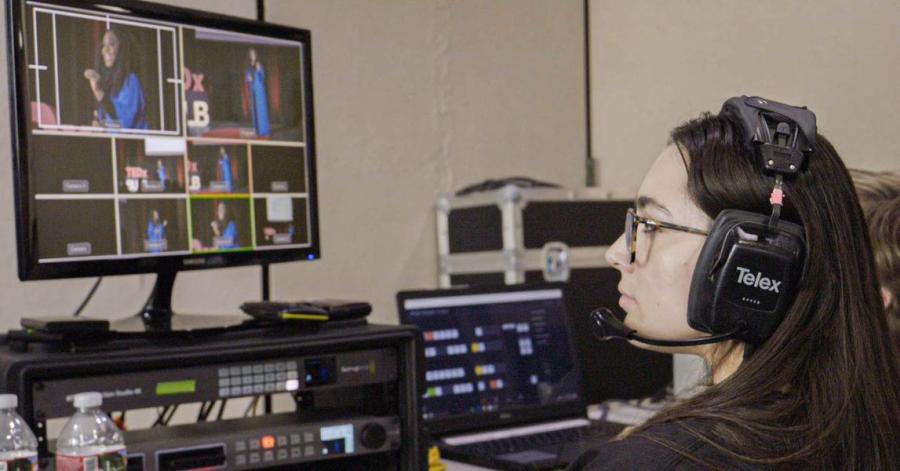 Delilah shares "The most exciting part about working on TEDx this year was meeting new people and challenging myself as a director. Although I have been a part of the Broadcasting track for some years now, I still have not crossed paths with many of the Broadcast students in my program. TEDx introduced me to many new people that I was able to learn from and collaborate with! In addition, I had little experience directing a broadcast show with guest speakers who had a script and live slides they were using. For me, I really had to focus on what they were saying and the emotion they were conveying to the audience at the same time. I was able to translate their stories with the camera movements and switcher which was a lot of fun!" 
This experience of working with a crew allows the students to not only exercise their skill set learned in the classroom but practice the challenges of working on a set in real time and the ability to problem solve. Dominick shares that "despite intricate and tedious planning, things on a production set can and inevitably will go wrong. Whether it's a camera's feed not coming through, or communications to an operator needing to be re-routed, having a good, level-headed crew is essential for tackling these situations. For whatever setback we faced, the collective knowledge of the members of our team allowed us to effectively troubleshoot and come to solutions that allowed for the broadcast to continue smoothly." 
Practical application of a skill set is something valued in any field. In film, the real time training of working with equipment and collaboratively with individuals on set is essential to becoming a well-versed filmmaker and professional. Broadcast Production students at CSULB continue to develop their skills learned in the classroom through their experiences working with TEDxCSULB each year. The importance of managing on set logistics and preparing for a live audience event is invaluable for our students. TEDx provides students with the opportunity to collaborate with their peers and professionals, combining their knowledge of film and interpersonal skills to help an individual's story come to life. Year after year Broadcast Production students help make these events a success, providing audiences with "Ideas worth spreading."