Lost and Found
The Lost and Found Office collects from the campus drop-off locations on a weekly basis every Friday morning. To inquire about a lost item, please contact our office at (562) 985-1579 or email LostandFound@csulb.edu.
Our office is located across the street from the Engineering Computer Science (ECS) building in the Shipping and Receiving warehouse. Please bring a valid photo ID to claim an item.
View Drop Locations [Interactive Map]
Lost and Found Main Office (Receiving Warehouse). 562.985.1579
Brotman Hall (Student Financial Services, Room 155). 562.985.1411
The Horn Center (Computer Lab). 562.985.2303
Student Recreation & Wellness Center (Information Counter). 562.985.0775
University Bookstore (Customer Service Counter on 1st Floor). 562.985.7388
University Library (Information Counter). 562.985.5512
University Student Union (Information Counter on 2nd Floor). 562.985.4834
University Police. 562.985.4101 
Image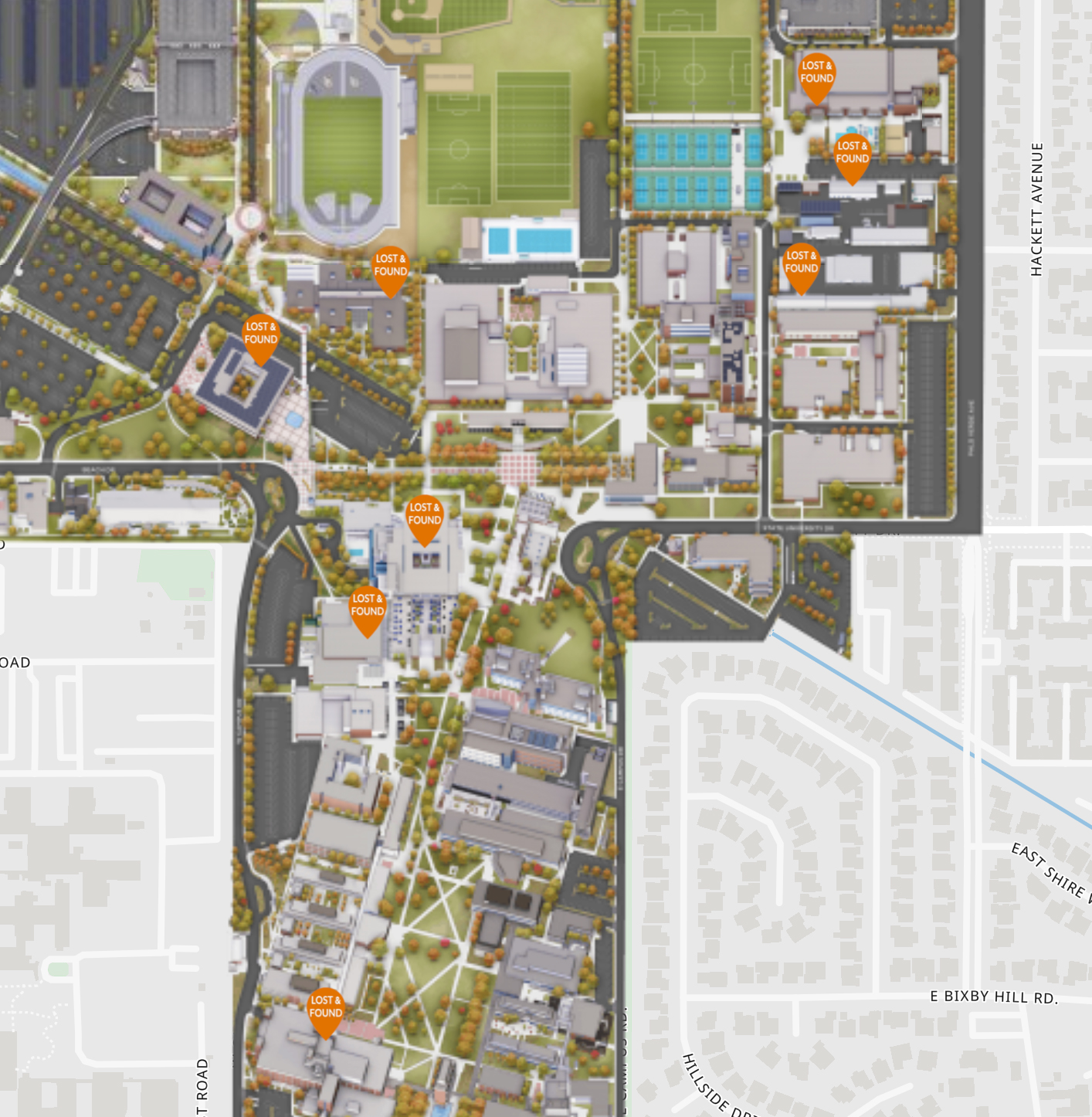 Lost and Found maintains lost and abandoned property as per the following retention schedule:
Lost or Abandoned Property value and retention time period

| Value | Retention Period |
| --- | --- |
| Under $300 | 1 month |
| $300 or above | Minimum 3 months |
| Cash | 3 months |
Property valued at $300 or above is routinely sold at auction after the retention timeframe has passed. If no bid is made, the property is disposed of as deemed appropriate by Lost and Found. Property valued at less than $300 is routinely disposed of after the retention timeframe has passed as deemed appropriate by Lost and Found. Disposition methods include, but are not limited to, transfer to campus department, donate to not-for-profit organization, auction/sale and destruction.
Unclaimed cash may be returned to the finder after the expiration of the three month period, unless the property has been found by a University employee in the course of his/her employment.
To Claim Property
To claim property, contact the main Lost and Found office. To ensure property is returned to the rightful owner, Lost and Found requires the claimant to provide a valid photo ID (Driver's License, Campus ID, passport, etc.) and to sign-off on the property release log.
To Turn in Lost and/or Abandoned Property
In coordination with Lost and Found, other campus departments have established drop-off locations within their departments. Individuals may drop-off single items at the main Lost and Found office or at these drop-off locations.
Campus departments that facilitate collection of lost and/or abandoned property within their building are to routinely contact the main Lost and Found office for pick-up and/or routinely deliver these items to the main Lost and Found office.
Abandoned or Lost Property
Property which has been turned in to the University for care, restitution, sale or destruction.
Unclaimed Property
Abandoned or Lost Property that has been in the possession of the university for one month with an estimated value of under $300 or a minimum of three months with an estimated value of $300 or more.
The Lost and Found Flash Sale is held annually during the fall semester. The most recent Flash Sale was held on 10/19/2022 from 10 a.m.-3 p.m. in front of the Student Recreation and Wellness Center (SRWC). Higher value items are place online for auction via Public Surplus during the week of the flash sale.
Items are sold "as is". Cash is preferred, but credit cards are accepted (3% fee). For questions, please contact the Property Office at 562.985.1579.
Items typically placed on sale during these sales include:
Electronics
Jewelry
Bicycles
Skateboards
Scooters
Sunglasses
Hats
Backpacks Umbrellas
Notebooks and Binders
Calculators
Student Scholarships
All net proceeds from the flash sale and the online auction of lost, unclaimed, or property are donated to student scholarships in the form of the CSULB General Scholarship Fund. For more information about eligibility requirements and how to apply for these scholarships, please visit Financial Aid & Scholarships.