Sharks @ the Beach
Image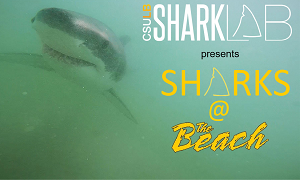 After a 2-year hiatus, the Shark Lab is proud to once again host Sharks @ the Beach, an event where the community can gain a more extensive look at the research carried out in the Shark Lab and includes a presentation by Dr. Chris Lowe.
This year's event is on July 30, 2022 from 10:00am-3:00pm.
This free family-friendly event allows the public to visit the Shark Lab, meet our team, and participate in various activities.
Besides shark-related activities, the event includes activities from other science fields, such as:
Hands-on tour of the museum collections the fur, skin, and skeletons of mammals, birds, and reptiles
Tour of the Science Learning Center's exhibits
Augmented reality sandbox to visualize the shapes of mountains and valley
We typically have between 500-1000 attendees and aim to have a different focus for the event each year.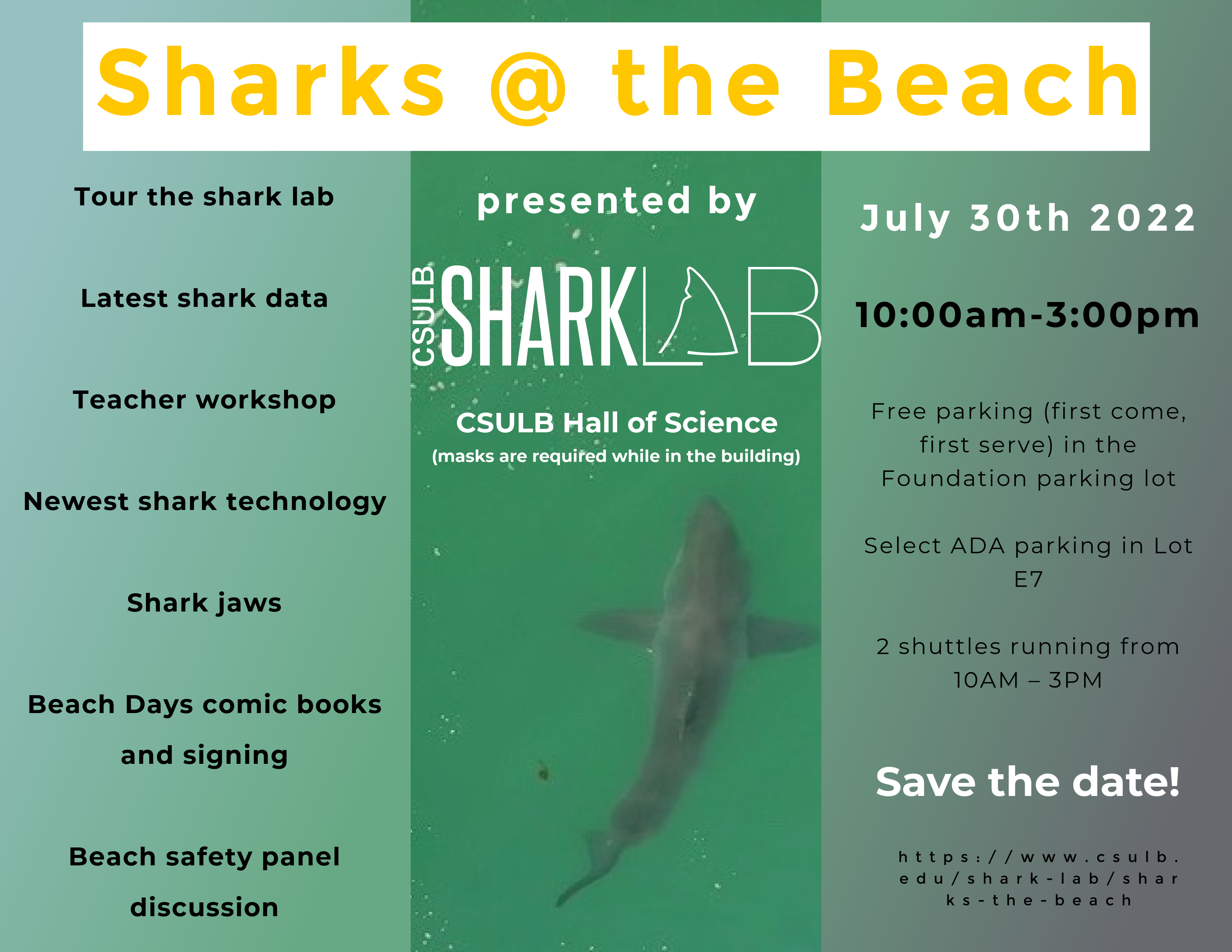 The event is held in the Hall of Science building at CSULB. Please note that masks are required while in the Hall of Science building.
This year the Shark Lab will be offering the following activities:
Tour the Shark Lab
Learn about the Latest Shark Data
Shark Lab Workshop for Teachers (see details below)
Learn about the Newest Shark Technology
Examine Shark Jaws
Beach Days Comic Book and Signing
Beach Safety Panel Discussion
Panel Discussion on Sharks and Beach Safety featuring Drs. Chris Lowe, Gabriella Hancock, Katie Dudley, and Chief Gonzalo Medina, hosted by ABC News reporter Leanne Suter from 1-2pm at the Sharks @ the Beach event on July 30.
Free parking is available in the Foundation parking lot, but space is limited and on a first-come, first-served basis. Select ADA parking is available in Lot E7. Shuttles will run between the parking lot and event space from 10:00am to 3:00pm.
Teacher Workshop
If you are teacher look at this!
This professional development opportunity will showcase our new in-person high school program. This program will guide your students through a unit where they can create their own research question using a data set that research scientists and students collected from white sharks (Carcharodon carcharias) living off the southern California coastline. By participating in this program, students will learn how important technology is to this scientific research and how to work together as a group to develop a research project and write a scientific paper.
This is an in-person 90-minute workshop is for pre-service and in-service teachers serving 9th-12th grade students. Please sign-up by clicking the button below.