Shark Lab
The mission of the Shark Lab is to study the physiological and behavioral ecology of marine animals, emphasizing the effect of human activity on the ocean; to utilize and develop innovative technology to answer challenging questions important for the conservation and restoration of depleted populations; and to train the next generation of marine biologists.
---
Great White Sharks in Santa Barbara
The Santa Barbara Maritime Museum will host "A GREAT NIGHT OF GREAT WHITES", a benefit for CSULB Shark Lab on Saturday June 17, 2023 at 7:00 PM (PST).
The in-person event will feature an informational presentation about great white sharks in the Santa Barbara area by Dr. Chris Lowe, director of the California State University Long Beach. Along with Lowe, Shark Lab staff will also be presenting a Q&A session regarding the local populations of great white sharks and discussion on some newly observed behavior among the Santa Barbara contingency of local great White juveniles.
Harry Rabin, documentary filmmaker and researcher will moderate and present some scenes from upcoming Discovery and Disney Nature shows and a peak at some Shark animated critters featured in a new online ocean educational series. He'll also be bringing along some of the high tech gadgets used to film underwater marine life from above and below ocean's surface.
Carlos Gauna, known for his viral shark footage on his channel "The Malibu Artist" on YouTube and social media will also present a short film about great white sharks. Gauna's presentation will offer unique and rarely seen before observations into the nature of these animals, with a plethora of locally filmed material.
There will be two raffle drawings during the event and an auction. The raffles will include an opportunity to join the research team as a volunteer observer during a great white shark tagging mission. One raffle will be for individuals who attend the event in person and another will be for folks not in attendance. There will also be an auction to join the research team aboard the vessel during a tagging mission.
Proceeds from the event will benefit continued research of great white sharks along the California coast and assist in funding the repair and/or replacement of scientific equipment damaged or lost during the most recent California winter storms.
The Santa Barbara Maritime Museum is located at 113 Harbor Way, Ste 190. Santa Barbara, CA 93109
---
Visit Our Shark Shacks
This summer Shark Lab members will be visiting multiple beaches across Southern California. During these events graduate, undergraduate students and lab staff will teach you interesting facts about sharks and the technology that the lab is using to study these amazing creatures. Kids will also learn how to enjoy the beach while being safe with our beach safety tips.
Come join us! For more information refer to our Shark Shack schedule.
Image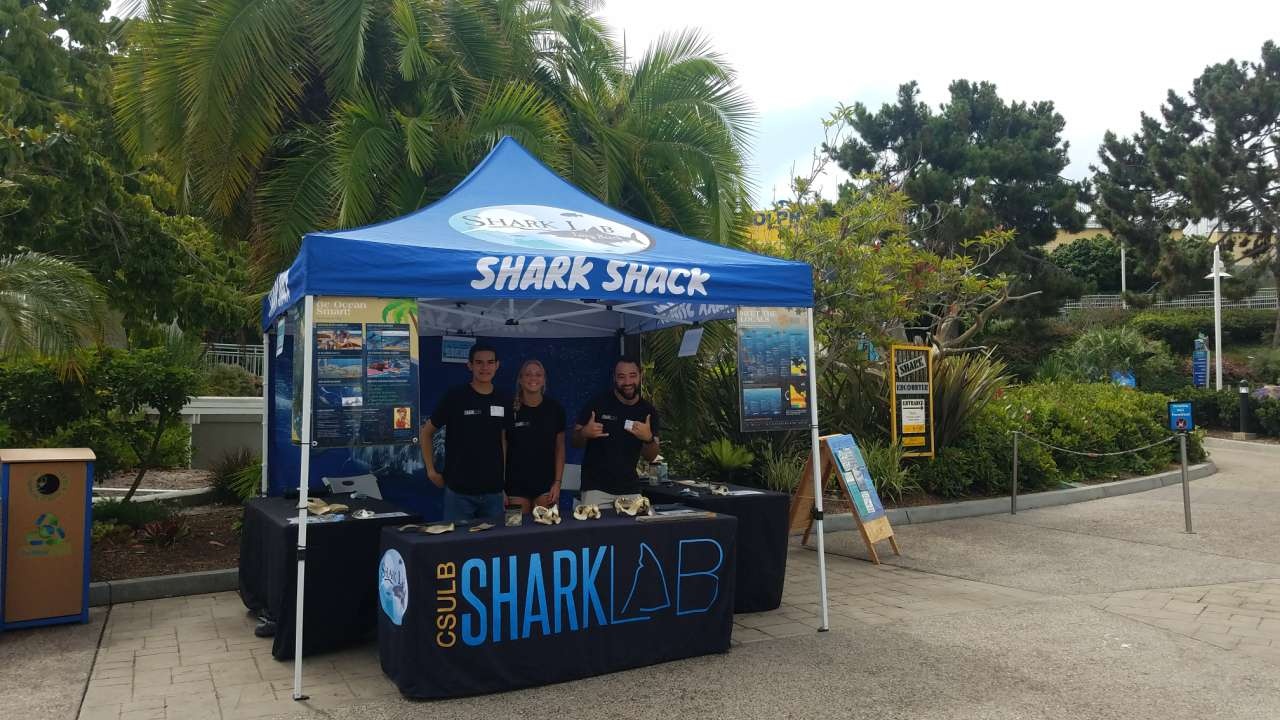 ---