Angelica Gunderson Received $25k Milken Educator Award
Image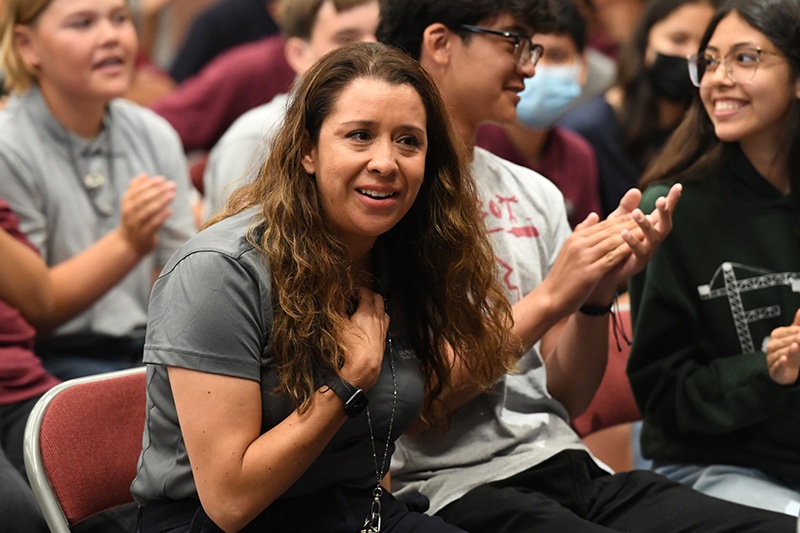 Photo credit - Milken Family Foundation
Angelica Gunderson, a California State University, Long Beach graduate and professor, received a $25,000 national Milken Educator Award on May 10, 2022. Angelica earned a bachelor's in liberal studies in 2004 and a master's in science education in 2012. She also teaches pre-service and in-service science educators at the university.
Angelica is a science teacher at Los Alisos STEM Magnet Middle School in Norwalk, California. At a school assembly, she was caught completely by surprise when State Superintendent Tony Thurmond joined Milken Educator Awards Senior Program Director Greg Gallagher to present Angelica with the prestigious honor.
The event was part of the Milken Family Foundation's 35th coast-to-coast tour surprising outstanding educators with the Milken Educator Award and its accompanying unrestricted $25,000 cash prize. Angelica is among more than 60 educators nationwide who will be presented with the Award during the 2021-22 school year, the sole recipient from California this season, and the first from the Norwalk-La Mirada Unified School District.
About the Award
The Milken Educator Awards was conceived by Lowell Milken to celebrate, elevate and activate the teaching profession. It is the nation's preeminent teacher recognition program, often hailed as the "Oscars of Teaching." The Milken Family Foundation has devoted over $140 million in funding to the Milken Educator Awards, including $70 million in individual Awards to more than 2,800 recipients plus powerful professional learning opportunities and networking with leading education stakeholders.
Read More