How the 100+ Women Strong initiative is launching the next generation of engineers 
Samantha Perez '22 grew up dreaming of having a career in STEM but during her time at The Beach, she said she saw few women.
"My first time taking 100-level classes, I would usually be 1 out of 4 women in the entire class," said Perez, who received her B.S. degree in computer science in December.  "I felt awkward and maybe like I didn't belong. But I knew I had to overcome that feeling and I soon started to look at the whole situation in a different perspective." 
Perez credits The Beach's dedication in cultivating a nurturing environment for female students in the College of Engineering. "I was a part of clubs where the overall goal was to give women a community in STEM. I started to feel more motivated to continue this journey I was on, motivated to break this gender gap." 
She found spaces on campus that encourage women to come together, bond and help create companionship. 
"Eventually I befriended another woman who was a computer science major as well. To be honest, that made things a whole lot easier," Perez said. "We shared the same feelings about being a minority and always motivated each other to keep going." 
That connection and sense of belonging is part of the mission of the College of Engineering's 100+Women Strong initiative: To help students like Perez know that they do belong and that female professionals in the workplace can help show them the way. 
The 100+ Women Strong initiative is an industry professional affiliate group to the Cal State Long Beach's College of Engineering. Its mission is to support the college in inspiring, recruiting, retaining, graduating, and launching women engineers and computer scientists into successful careers, with the goal of increasing the number and percentage of women in the field. The initiative hosts its annual BEACH Women in Engineering Conference event, held April 29 this year.
Professionals are asked to promote the initiative on social media, offer professional access to students, and recruit other women professionals to the program.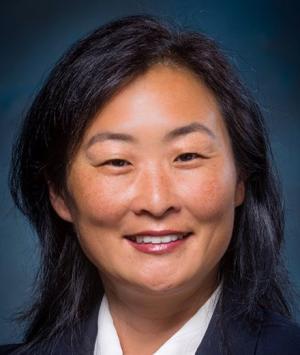 "The speakers were super inspiring, seeing women with high-ranking positions showed me the possibilities we have," said Perez, reflecting on last year's conference. "The workshops opened my eyes to the many different positions we can have in STEM that many people don't talk about."
CSULB is taking focused steps to change the culture, with pioneers such as Jinny Rhee, who is the first woman to be a permanent dean of the College Engineering at The Beach.
"The percentage of women in the fields of engineering and computer science as a whole has barely budged nationwide since I was a student. We are leaving a huge amount of talent and opportunity on the table," said Rhee. "One of my priorities as the first permanent female Dean of Engineering at The Beach is to increase the number and percentage of women in our programs, and to support their persistence and success in the field after graduation. Society benefits if diverse and representative talent joins the problem-solving profession," she said. 
The Beach's College of Engineering is the fifth largest producer of engineers in California and the second largest in the CSU system. Investing in programs that support our students who graduate to shape California's workforce is a priority of the university's No Barriers comprehensive fundraising campaign. 
For retired senior project Boeing engineer Dorothy Benveniste, the 100+ Women Strong initiative offered her a way to give back. 
She's committed to mentor, donate, and to help nurture the future generation of women in engineering. She funds a scholarship for underrepresented students in engineering from CSULB's BESST program.  
"I am incredibly grateful to my mentors. They've all been extremely generous with their time, their knowledge, and their willingness to help me find my way," said Benveniste, who mentors Perez, a former recipient of the BESST scholarship.  
"Now is the time for me to do the same - to give back - to pay it forward - to the next generation of young women who may need a little help - or a lot of help - to get started. Just like me," says Dorothy Benveniste who is the chair of 100+ Women Strong. 
Perez, who now is a tech analyst for Accenture, a global information technology and consulting company, said having the opportunity to connect with mentors such as Benveniste was inspirational.
"When I met her, she showed me the art of possibility in engineering for women. She was very inspiring, and she gives back to the community, just how I plan to do one day." 
Image