Long Beach Mayor Richardson visits CSULB, explores future partnerships
Published January 23, 2023
From the moment he won the Long Beach mayoral election, Rex Richardson set his sights on creating community partnerships within the city.  First stop: Cal State Long Beach. 
Richardson spent Monday morning visiting Beach staff and executives to find out how the city and campus can continue to better prepare students for successful careers in Long Beach.  
His focus was three-fold: 
Creating public service pathways and opportunities, how the two entities can create a bigger commitment around housing, and what they can do to immediately address the housing emergency that can affect students. 
These issues were on his campaign platform. 
"Cal State Long Beach has so many resources for our broader community, especially the 35,000 students who come here every day to improve their lives," Richardson said. "They just want to be successful in the world when they come off that campus."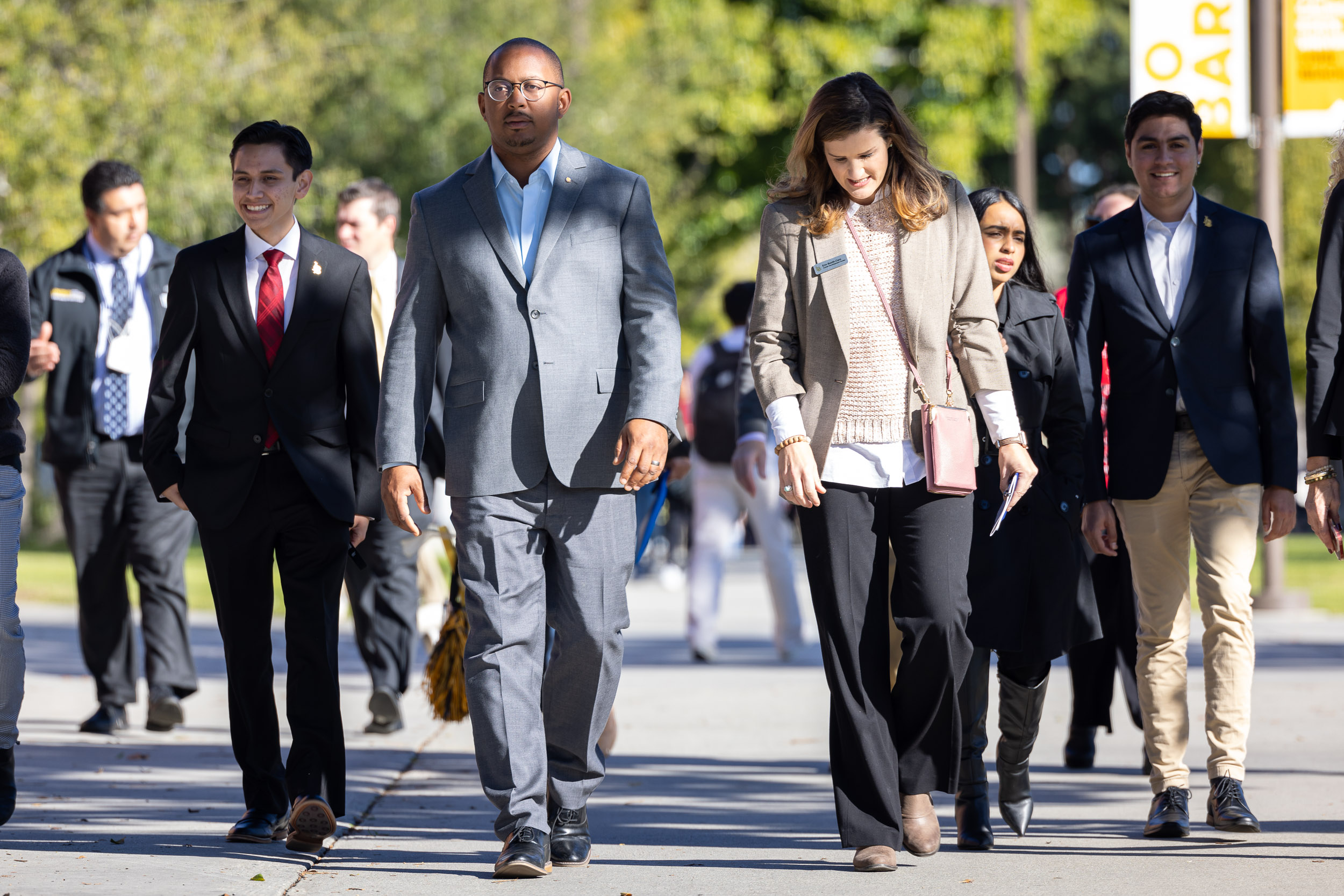 On his tour of the campus, Richardson visited the Cal Fresh office and Beach Pantry, learning about the various resources available to students who might be facing food or housing insecurity. 
Elizabeth Santana-Monterroso, Cal Fresh coordinator, explained to Richardson how students can find help with anything from housing to food to vouchers for medical and dental bills. She told them once they apply, the students are connected to a case manager. 
"Cal State Long Beach has done some incredible things already to address the unhoused with their Basic Needs program and emergency vouchers," Richardson said. "I can see with the things they have learned that they are ready for the broader conversation." 
Dr. Rashida Crutchfield, associate professor in the School of Social Work who focuses on housing and food security in education, is one of six members of the Beach community who is serving on Richardson's transition team. 
As they walked across campus, Richardson then chatted with Damian Zavala, associate vice president, Health & Wellness, about the university's Beach WELL: Mental Health Strategic Plan and its proactive approach to the students' mental health. 
The mayor then met up with Erin Booth-Caro, who gave him an update on the resources the Career Development Center offers students, alumni and the community. 
Richardson's next stop was at the Center for Community Engagement, where he heard from students (via video) and Executive Director Dr. Juan Benitez about how the center prepares Beach students for jobs in the community through service learning. 
Service learning emphasizes learning through community service activities fundamental to course outcomes and benefits students as well as community partners by promoting sustainable campus-community relationships. 
To that end, Richardson said he hopes to have a program in place soon that would bring together neighbors to discuss the challenges that face the city. 
The mayor concluded the tour by getting an update of the Long Beach College Promise from Kerry Johnson, associate vice president for Undergraduate Studies. 
 "We want to make sure that we build a bridge, a better bridge to ensure that the broader city knows how to support these students and that these students are contributing to the challenges our city faces and making sure we are all thinking about the future," Richardson said.