CSULB Pow Wow celebrates its 50th anniversary
Published January 9, 2023
After a three-year hiatus, the CSULB Pow Wow – the longest running university-based powwow west of the Mississippi River – is back.  
The two-day gathering, March 11-12, will be the 50th anniversary of the largest gathering of American Indians in Los Angeles and Orange counties. 
"The purpose is to show other Native American students that there is a Native American community on campus," said Anna Nazarian-Peters, interim director of student life and development and coordinator of American Indian Student Services. 
The powwow – also known as the CSU Puvungna Pow Wow, after the Indian village that once inhabited CSULB land – is co-sponsored by the American Indian Studies Program, American Indian Student Services, American Indian Student Council, Student Affairs, Student Life and Development, and Associated Students, Inc. 
The event was started by students and their families in 1969. In the early days, it was only a one-day affair, and was linked to Kaleidoscope, the campus-wide open house The Beach used to host annually to share what's going on with the broader community. 
Craig Stone, retired American Indian Studies professor and current director of the American Indian Studies program, used to attend the powwow when he was a kid, then a student and instructor at CSULB.  
"You had a lot of students who had gone to the Bureau of Indian Affairs schools," Stone said. "The greater Los Angeles area has the largest urban Indian population in the United States. So, this was a place for them to get together." 
Over the years, attendees have come from all over California, as well as the Southwest, and as far as Michigan and Canada. In 2019, the last time the powwow was held, more than 6,000 people attended. 
According to Nazarian-Peters, about .01% of students at CSULB, or 141, are American Indian. That's a decrease from previous years. But more than 500 students identify as being of mixed Native American heritage, she said. 
"The majority of our students would consider themselves urban Indians," she said. "The majority are not born and raised on their tribal homelands or reservations." 
Despite the challenges Native Americans have faced, their cultures have persevered and are celebrated at powwows across the country. This social and cultural celebration highlights the university's strong American Indian presence in Long Beach and surrounding areas. 
"You go to our powwow, and you'll hear different languages spoken," Stone said. "Different languages are sung. There are different traditions and so forth, but it's all part of one big celebration of life." 
A significant part of the event is the traditional dancing (including Gourd dancing), singing and drumming. Participants dress in outfits and regalia that reflect their tribes, and other cultures as well. Cash prizes are given for dancing and singing in various categories. 
Image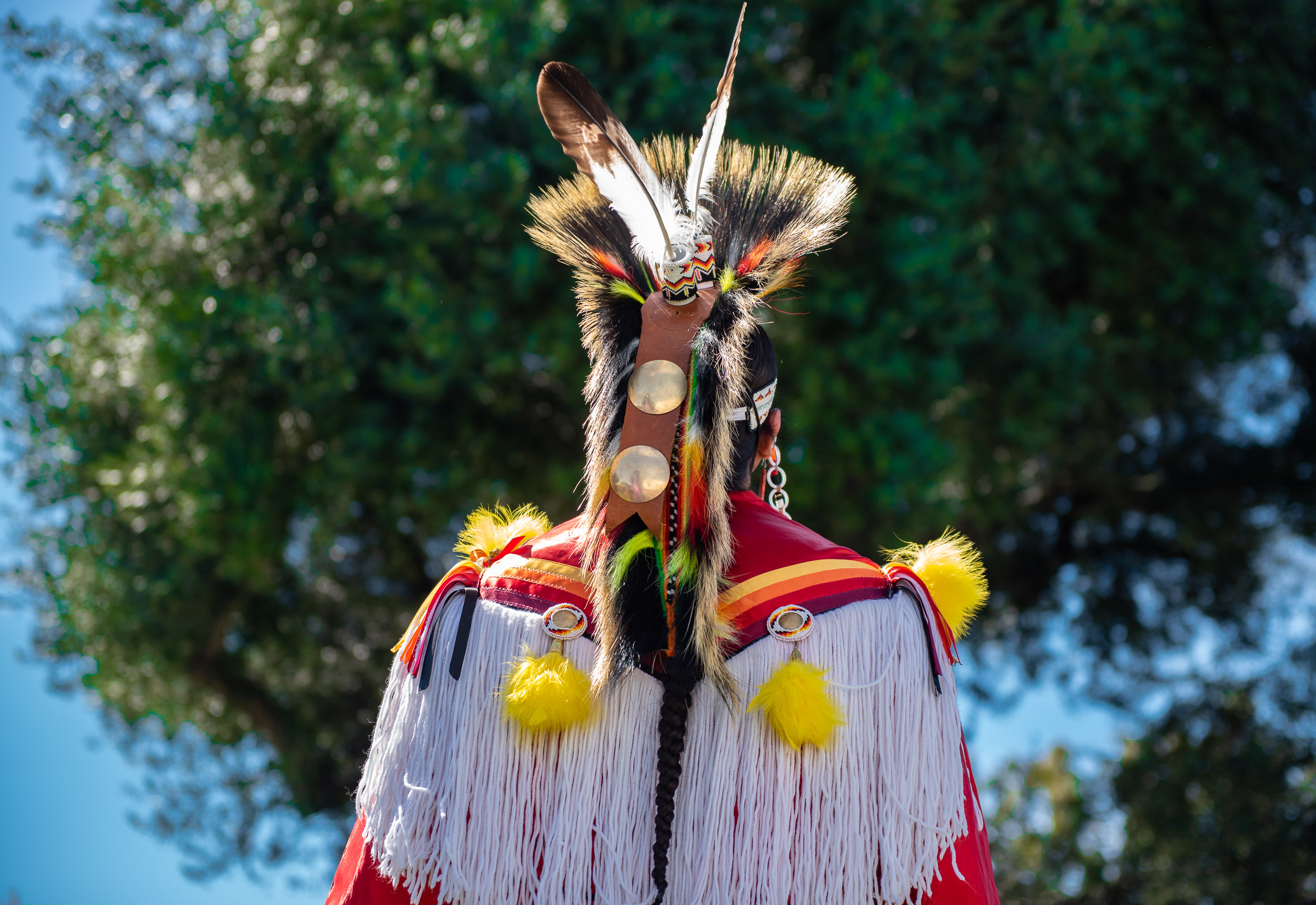 American Indian arts, crafts and food are also displayed and sold at the event. Some favorite Native foods include fry bread, Navajo or Indian tacos, mutton, beef stew and Indian burgers.  
Arts include traditional and contemporary American Indian creations. All vendors must comply with the Indian Arts and Crafts Act of 1990, which enforces authenticity and outlaws the selling of fakes. 
Stone has been named head male dancer for the 50th powwow, in recognition of his 39 years teaching at CSULB and his more than 40 years of participating in the powwow. He has served the role twice before, in 1978 and 1989. 
"It's an honor," Stone said. "When you're honored like that, you have to do something special, like have a song or a special giveaway."  
Stone says he expects to see family members and mentors from across the country attend the powwow. He also anticipates recognition for those who have died over the past three years. 
"This is like a big family reunion of all those people that you grew up with, grew up around, and haven't seen for years," he said. "It is like a really big family reunion. It's a homecoming for a lot of people who went to Cal State Long Beach and are coming back."