Hamburg and CSULB Film & Electronic Arts Department Celebrate 8 Years of Exchanges
For eight years, the CSULB Film & Electronic Arts Department and The Department of Media Technology at HAW Hamburg University of Applied Sciences have partnered to provide exceptional experiences for film and media students. The exchanges between the two programs take place each year with students studying abroad from both campuses; in addition, faculty also often travel between the two campuses with CSULB film faculty visiting Hamburg to teach workshops in June and HAW Hamburg faculty traveling to CSULB in the fall or spring semester.
For the past two years due to the global pandemic, these exchanges took place online with workshops in the summer titled "Carrying The Torch" (2020) and "Postcards from Home" (2021). Both virtual workshops worked toward a final video project, collaborating across time zones via Zoom with fellow film and media students all over the world. Although the virtual workshops provided a great opportunity for students to continue to collaborate with one another, the hands-on experience of working together in person was sorely missed. Finally back together again, in June 2022, Professors Kent Hayward and Kevin O'Brien went to visit the HAW Hamburg campus after the two year hiatus of in person exchanges. During their visit, Hayward and O'Brien taught an introductory lesson to filmmaking to Hamburg students as well as conducting workshops on making short films and presenting guest lectures on screenwriting and story development.
Image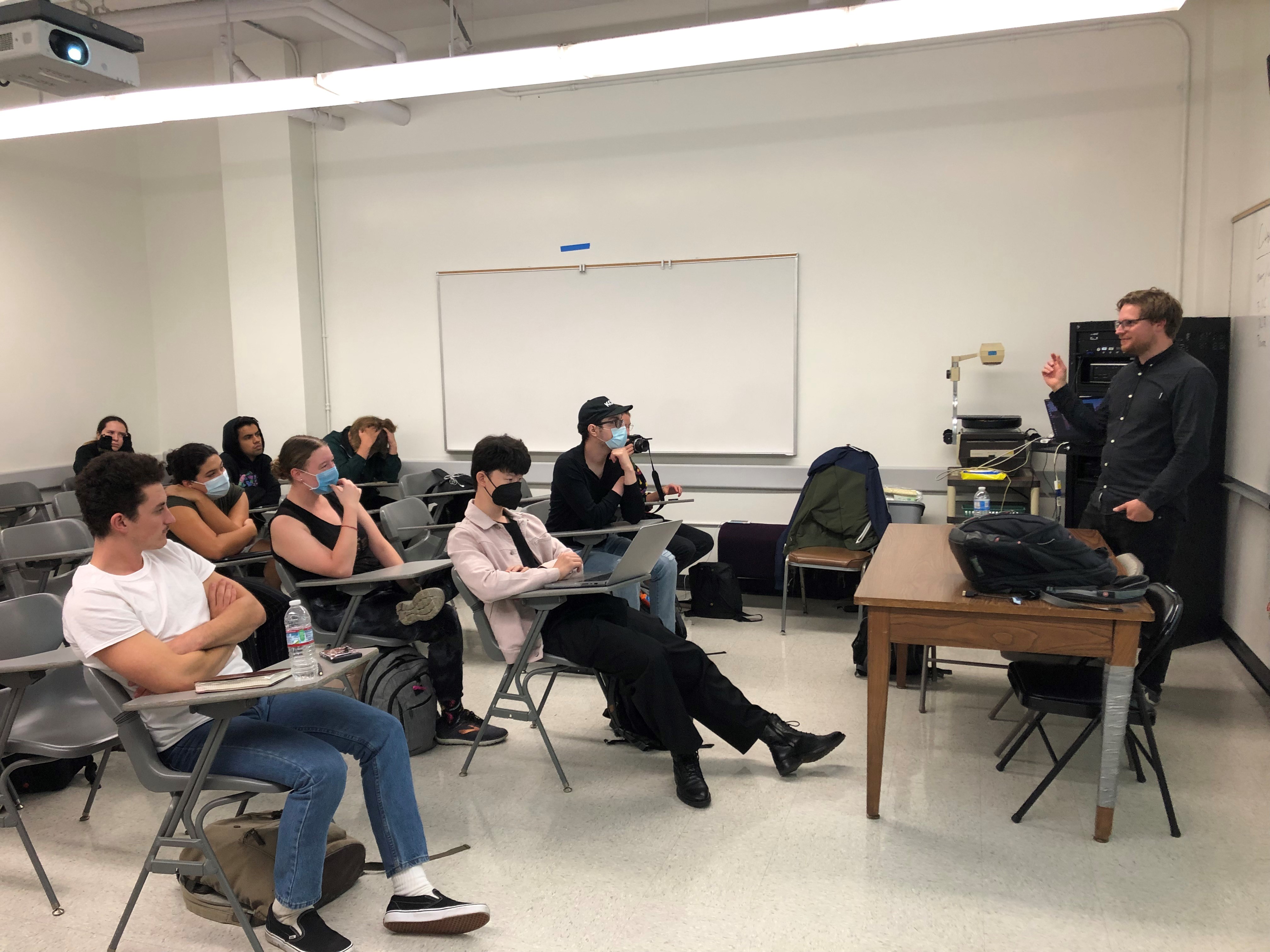 Following the exchange in June, Eike Langbehn and Martina Hentig from HAW Hamburg visited the CSULB campus in fall 2022 to share workshops and presentations about the study abroad experience, 360 video, and virtual reality (VR) in film and media. Eike and Martina also spent time during their visit gathering with CSULB film faculty, staff, and students to share their experiences and talk about future collaborations.
"Choosing to study abroad at the Hamburg University of Applied Sciences was the best decision I have ever made, and that is no exaggeration. I did not realize that I could change so much in just one semester. Everyone I spoke with was incredibly friendly, and many shared stories from home and about their culture. As such, I learned a lot from not only the professors but my peers as well."  -Faith Clancy, CSULB Film & Electronic Arts Department Student
Image
Studying abroad is an important experience for any college student. To immerse yourself in another country and culture all while continuing your education is something many students never forget. The tremendous growth and awakening that can happen simply by changing your environment is truly priceless. The film department at CSULB continues to partner with our HAW Hamburg family to provide both an exceptional study abroad experience for students as well as discipline specific opportunities to allow student filmmakers and artists the ability to grow in their craft and their path to becoming incredible storytellers.
Read more about the HAW Hamburg and CSULB Film collaborations on the HAW Hamburg website. Students interested in studying film abroad in Hamburg can visit our International Programs webpage for more information about courses that are pre-approved for credit transfer.