Mission and Vision
Image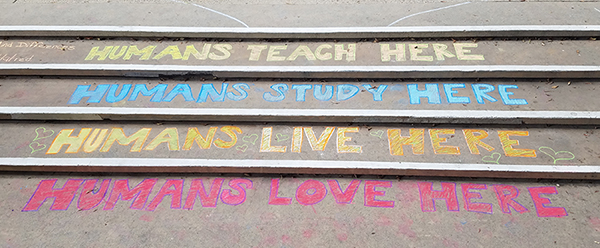 The College of the Arts serves as home and hub to eight units:
The Bob Cole Conservatory of Music
The Carpenter Performing Arts Center
The Department of Dance
The Department of Design
The Department of Film and Electronic Arts
The Department of Theatre Arts
The School of Art
The Carolyn Campagna Kleefeld Contemporary Art Museum
Mission
These units, each with its own distinct mission, are united in the common college mission of fostering students as individuals; bringing to our campus and community a vital and evolving diversity of excellence in arts production, performance, exhibition, scholarship, and education; and providing access to affordable, innovative, quality undergraduate and graduate programs leading to the successful completion of highly valued degrees and certificates in the arts.
CSULB College of the Arts - Vision and Diversity Statements
Vision
The College of the Arts strives to embrace and engage a diverse group of students, faculty, staff, and community participants in the production and discourse of the arts – empowering the artists, scholars, educators, audiences, and advocates who will shape the culture of the twenty-first century.
Diversity
The CSULB community of students, faculty, and staff is highly diverse in terms of race, ethnicity, gender, age, ability, sexual orientation, socio-economic background, belief, affiliation, and identity. In the College of the Arts, we embrace additional diversities of talents and skills, prior training and exposure, approaches to teaching and learning, professional aspirations, scholarly inquiry, and creative endeavor.
The COTA community draws upon this great diversity as a source of strength, wealth, depth and breadth. We recognize that respect, openness, and inclusiveness are essential to creating a productive and constructive place for our students, faculty, and staff to teach, learn, study, create, and expand their fields.
COTA Core Values
The College of the Arts family of faculty, staff, students, alumni and supporters finds common ground in core values.
Focusing on student success
Developing the individual gifts and unique voice of each student artist
Honoring tradition while inspiring innovation and engaging contemporary discourse
Placing top artists, scholars and educators in the classroom with our students, from freshmen to graduates
Acknowledging and rewarding the dedicated and innovative teaching that is the hallmark of our faculty
Supporting and valuing faculty research, scholarly, professional and creative activity
Fostering opportunities for international and interdisciplinary collaborative experiences
Embracing diversity in all forms
Reaching out to the local community to share our devotion to the arts
Extending exceptional visual and performing arts experiences to the college, campus, and local communities
Aspiring toward sustainability in all endeavors
Striving for excellence across all disciplines in the arts
Image