Frequently Asked Questions
Image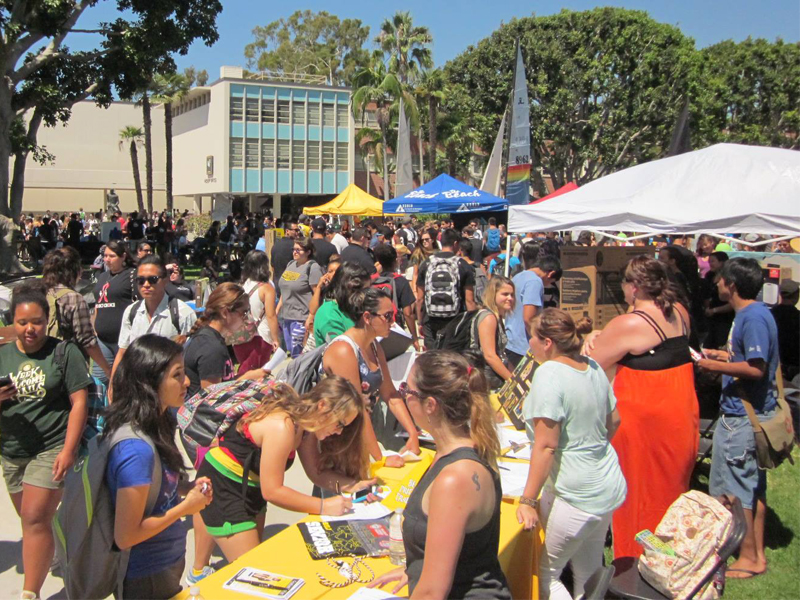 General Questions
Within the CSU system, each university is comprised of several different academic colleges. The colleges are comprised of separate, specialized academic units which focus on the teaching and study of a particular discipline. The College of the Arts is comprised of the departments of Dance, Design, Film and Electronic Arts, and Theatre Arts, as well as the Bob Cole Conservatory of Music, and the School of Art. The School of Art is an academic unit within the College of the Arts, and its focus is the teaching and study of visual art. It includes undergraduate and graduate training and offers options in more than a dozen separate visual art practices such as printmaking, ceramics, photography, illustration, metals, sculpture and more. It also includes training in Art Education and Art History, and features a collaborative relationship with the Carolyn Campagna Kleefeld Contemporary Art Museum.
All students who study in the School of Art are part of the College of the Arts, but not all students who study within the College of the Arts are part of the School of Art.
Freshmen applicants do not need to submit a portfolio when applying to CSULB.
Transfer applicants seeking admission to a BFA will be invited to submit a portfolio if the Major Specific Admission Requirements for Transfer are met. Transfer applicants applying to Studio Art do not need to submit a portfolio. The School of Art recommends applying for the BA Studio Art degree to enter the University, and then applying for the BFA after completing some upper-division coursework.
Portfolios should include only your absolute strongest work. Requirements are indicated in the School of Art's BFA Portfolio Requirements.  We also recommend that you contact the School of Art Advising Office to inquire about additional portfolio information.
Yes, you can be admitted as a BA Studio Art major, and then apply to the BFA while you are a CSULB student. Speak with the School of Art advisors to gain an understanding of eligibility requirements, and the best time to apply to the BFA.
The BA in Studio Art is a broad-based liberal arts degree, giving students a wide range of experiences in the various studio art media, but with some emphasis in one area. The BFA is commonly considered the "professional degree", and by putting great emphasis on just one area, it also prepares students who wish to apply for MFA graduate programs. Both the BA and BFA share a common core of foundation courses at the lower division and many but not all -- upper division courses are available to students pursuing either degree.
There are a few art courses open to non-Art majors, and they can vary from semester to semester.  Please review the course catalog to identify those courses. 
Housed in five major buildings, the SOA boasts some of the largest and most comprehensive facilities found in studio art programs in the country. Particularly impressive are the facilities for Printmaking, Ceramics, Metals and Jewelry, Fiber, Sculpture, and Wood. Additionally, major computer labs for Graphic Design are located in Liberal Arts 5, while additional large and small computer labs are located throughout the Fine Arts 1-4 complex.
Tours of the School of Art can be arranged by contacting Michael Nannery, Art Advising Center Coordinator at the email address: michael.nannery@csulb.edu.
Department of Dance Questions
Yes. The CSULB Department of Dance is seeking broadly trained, dynamic, and distinctive movers and thinkers who are dedicated to the pursuit of a degree in dance. Preparation for admittance into our Department comes in many forms: vigorous academic preparation, continual study of numerous forms of dance (with emphasis on ballet, jazz, and contemporary modern dance), performance experience, and exposure to dance as an art form. While we look at a dancer's technique and training during our dance auditions, we also look at the individual. We seek students who are dedicated to learning and willing to expose themselves to the possibilities of dance that have yet to be investigated. Becoming a dance major (Bachelor of Arts in Dance, Bachelor of Arts in Dance, option Dance Science, and Bachelor of Fine Arts) is based on both the live dance audition AND the CSULB admissions requirements. Out-of-state applicants may submit a video audition. For more information and dates for auditions, please visit the Dance Department website.
Department of Design Questions
Fashion Design is offered at CSULB, but it is not a part of the Design Department. The option in Fashion Design is offered through the Department of Family and Consumer Sciences . The Department of Design at CSULB offers a Bachelor of Science degree in Industrial Design, a Bachelor of Fine Arts degree in Interior Architectural Design, and a Bachelor of Arts degree in Design. 
The Department of Design at CSULB offers a Bachelor of Science degree in Industrial Design, a Bachelor of Fine Arts degree in Interior Architectural Design, and a Bachelor of Arts degree in Design. 
Department of Film and Electronic Arts Questions
We schedule at least one information session each year, prior to the deadlines for application. Once dates and times are set, we will publish that information on our website.
Bob Cole Conservatory of Music Questions
Yes. A performance audition is required for acceptance into the degree programs of the Bob Cole Conservatory of Music. Prospective students should schedule a music audition before you receive notification of your acceptance into the university. All entering freshmen and undergraduate transfer students who have been admitted to the university are required to pass a performance audition and take a theory placement examination. Visit the Bob Cole Conservatory of Music website for complete audition information.
Yes. Acceptance as a music major does not guarantee admission to the university. And admission to the university doesn't guarantee acceptance as a music major. You must qualify for admission academically AND be selected from a rigorous audition process.
Department of Theatre Arts Questions
Not as an undergraduate student. Graduate students must interview and/or audition, but any one admitted to CSULB is eligible to declare Theatre Arts as a major.
No. Auditions are open to all students at CSULB, though information regarding auditions is posted exclusively in the theatre arts department and emailed to theatre art students.