Veteran Portrait Project Part of the Strong Bond Between 7th Street Neighbors
Students and Veterans Benefit from the Veteran Portrait Project Collaboration Between the VA Medical Center and the CSULB School of Art
The Tibor Rubin VA Medical Center and the California State University Long Beach campus sit right next to each other on 7th Street. This close proximity has made collaborations between the two long standing Long Beach institutions an easy and positive fit. The Veteran Portrait Project has been one of the more unusual collaborations and has proven to be a successful, thoughtful, and ongoing partnership. 

The partnership with the VA Long Beach Veterans Appreciation Committee, led by CSULB Alum and Health Care Administration Executive Faculty Deborah Ludke, began in 2017 when CSULB Art faculty member Marian Stewart invited Bruce Dankmeyer, a friend and neighbor who was one of the Veterans selected for the VA Medical Center's "Meet a Veteran" project, to sit for a portrait in her Foundational Drawing class. Marian was interested in finding ways to excite and challenge the students in her lower division undergraduate class and to provide a bit of recognition for their talent and achievement, while also honoring Veterans for their service. During the nearly 3-hour class, Mr. Dankmeyer shared a bit of his story and answered questions regarding his life and time in the military. Each of Marian's students were tasked with sketching and then completing a full drawing of the Veteran, based on a supplied photograph and the live sitting. 
Image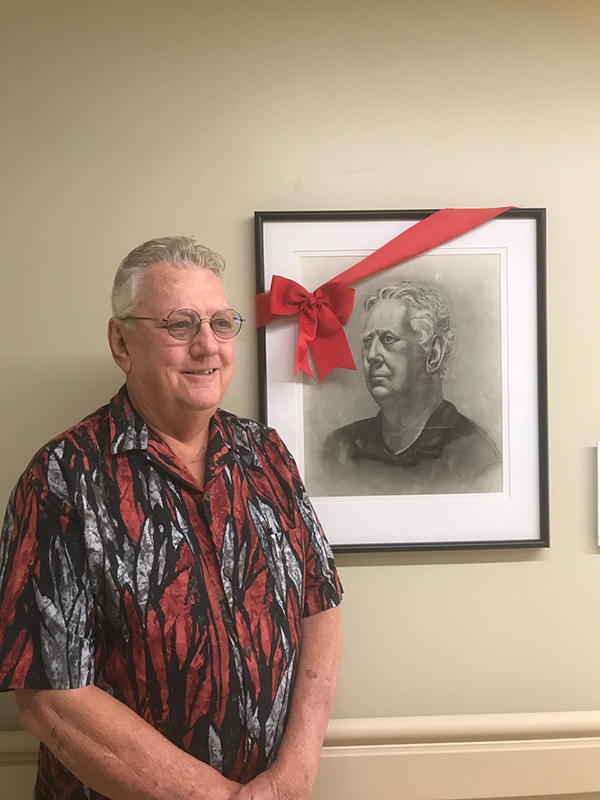 Bruce Dankmeyer's portrait by CSULB student artist Lucinda Giles
The collaboration proved to be a big success and has continued with two completed portraits during each academic year. In 2018, the portrait featured Lara McKinley and her veteran dog, Corpsman. The student portraits are judged by the Veterans and their families, along with Marian, and the winning portrait is hung and displayed for up to six months in the VA Medical Center lobby. Due to COVID-19 restrictions, the small unveiling ceremonies that accompanied each new installation did not take place in 2021. Instead two unveilings were scheduled for fall 2022. The portrait of U.S. Army Veteran Mr. Robert Tallent was unveiled and hung in a special celebration last month, and the most recent portrait of U.S. Air Force Veteran Mr. Charles Smart will be hung on November 8.
Image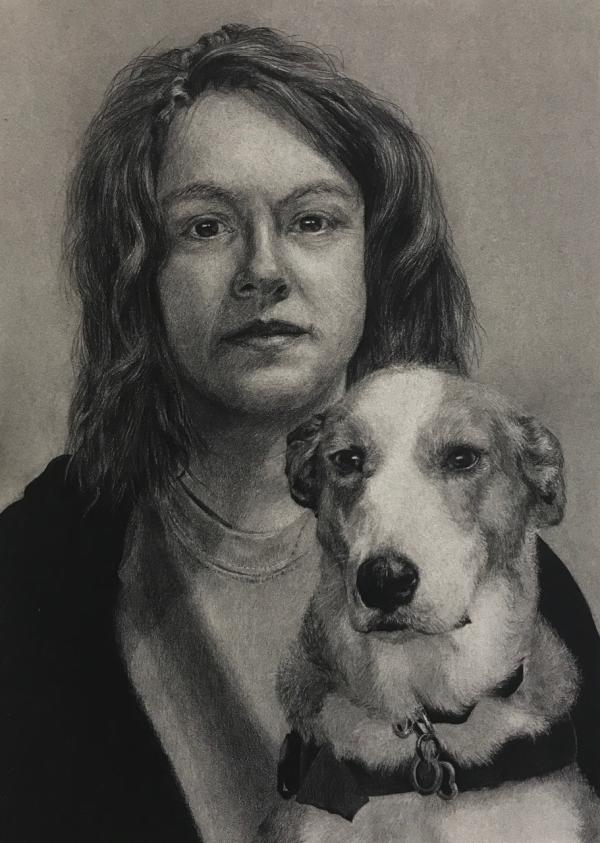 Veterans Lara McKinley and Corpsman in a portrait by CSULB student artist Madeleine Aub
The opportunity to bring military Veterans and current university students together has been educational and exciting for everyone involved. Mr. Smart says of the experience, "Coming back from Vietnam, we weren't appreciated. It felt very different to be in that classroom. Marian and the students asked good questions and seemed interested in getting to know the human underneath the Veteran." 

Marian agrees, "We want our students to connect with Veterans, with someone from an older generation. They have interesting and complex faces because of the lives they have lived. It is an opportunity to honor them and to teach our students at the same time."

The interactions and conversations between veterans and students have been a tremendous success and have had additional and unexpected benefits. Marian explains, "The project has been extremely popular with my students and they talk about how honored they feel to have been a part of the project. Each Veteran has captured my student's hearts and imaginations with their stories of life and service. Perhaps the best part of the project is the serendipitous moments that inspire my students to overcome their own struggles.

For example: When Lara McKinley talked about going to school to earn a Master's degree despite having to cope with a traumatic brain injury that she suffered in combat – a student in my class, who had cognitive difficulties and learning disabilities, was so inspired by her tenacity that he found renewed hope in pursuing his goal of getting a BFA in Illustration. When another Veteran spoke of depression associated with PTSD - a student, who up to that point had terrible attendance and was at risk of dropping out of school, approached me a week later and said that, because of how openly he spoke about his struggles, she sought professional help for her own depression. She never missed another class for the rest of the semester.  The Veteran's stories clearly made a difference in these students lives, but I like to think that maybe my students' stories have left an impression on our veterans as well."

This initial collaboration with the School of Art has opened the doors to additional collaborations between CSULB art students and faculty and the patients, doctors, and staff at the Veteran's Administration Hospital. Art faculty member Sam Anvari has been working with his students on improving the interactivity and user interface of the Environmental Control Unit (ECU) at the Spinal Cord Rehabilitation Center.
The Veteran Portrait Project allows us to honor our local Veterans; allows CSULB students to hone their artistic skills and get to know Veterans on a personal basis; highlights the work of the student artists; and continues to build a strong partnership between CSULB and its neighboring VA Medical Center and the community at large.

Deepening the interactions and understanding between different generations and different cultures has been a truly rewarding experience for all involved with these exchanges and partnerships. 
Image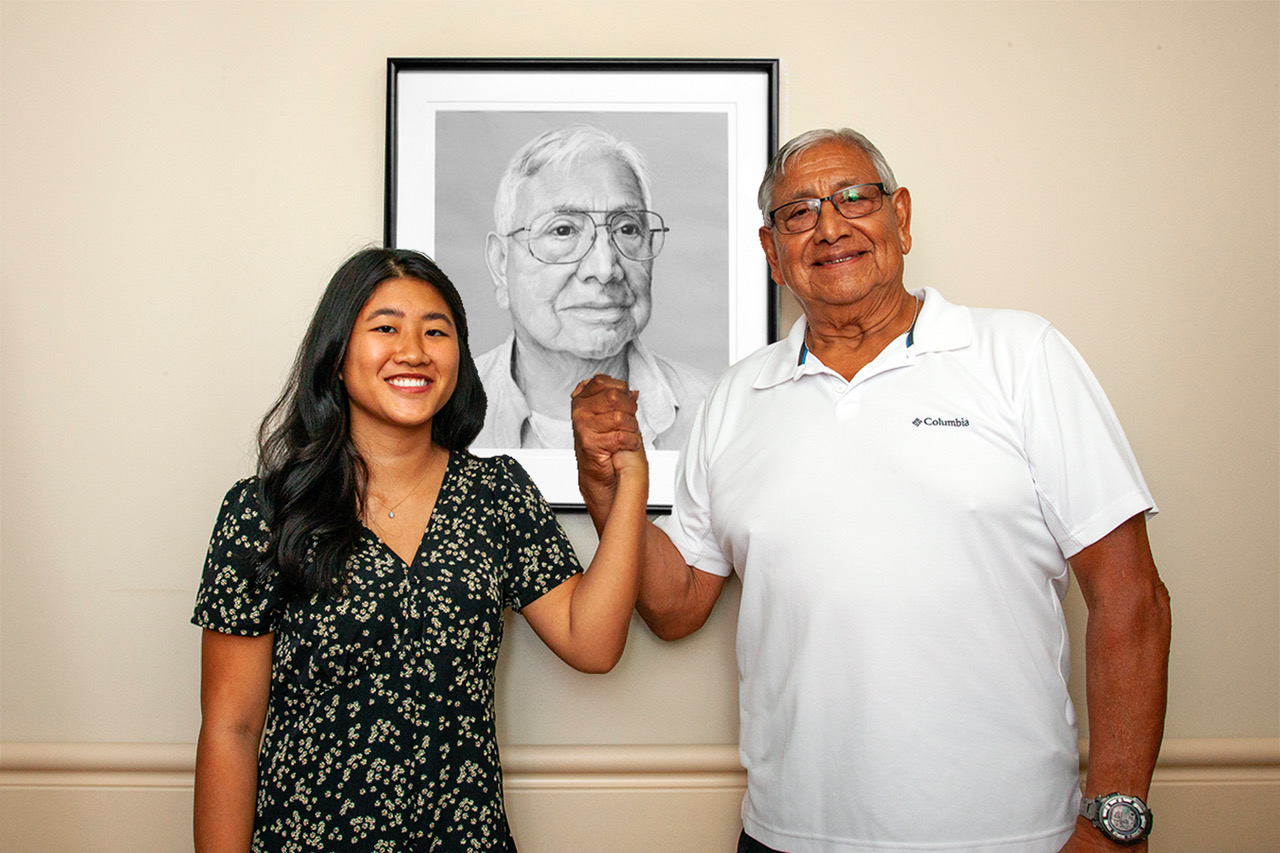 Amanda Yao (portrait artist) with veteran Dan Enriquez