Center For Contemporary Ceramics
Creating a Pathway to Yes
The Center for Contemporary Ceramics (CCC), situated within the CSULB School of Art, welcomes global working artists as well as sought-after professionals from the greater Los Angeles region to work among CSULB faculty and students, taking advantage of the exceptional facilities, training, and talent found in the CSULB Ceramic Arts program. While residency and visiting artist programs are not unusual and can be found throughout the US and the world, CCC's approach to problem-solving and welcoming inter-disciplinary work makes it unique and a place artists choose to come back to again and again.
Image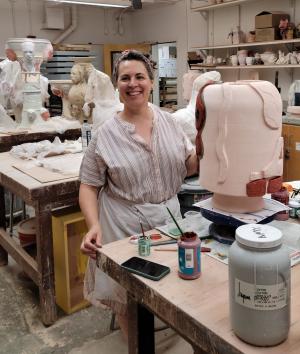 Los Angeles painter Amy Bessone has been a frequent collaborator during the past decade. While most residencies for artists are quite specific to their medium and discipline, Amy explains she finds the collaboration with CCC both welcoming and expansive for her work. "There is a symbiotic relationship created here between the academic practice, the students who are learning, and the working artists who come to explore," she said. "There is incredible value in the technical know how that the rigorous academic training and craft brings, and then there is this deep curiosity that comes from the students. They ask the very best questions – wide ranging – and it leads to conversations and connections that stay with us through the years."
Chris Miles, Director for the CCC and a professor of ceramics in the School of Art, explains that the Center for Contemporary Ceramics was formally established in 2017 and is one of the 27 Academic Centers and Institutes on the CSULB campus. While the tradition of inviting national and international ceramicists dates back to the 1960s, it is only in the past decade that the informal residencies and visits by outside artists became institutionalized and formalized. Within that structure, however, is a great deal of focus on innovation, creativity, and informed "rule-breaking."
"Often, with these types of institutions or centers, there are a lot of restrictions in place that can feel limiting to artists," Chris explained. "For instance, some centers similar to ours might limit their collaborations to working exclusively with artists whose medium is ceramics. We have found there is a great deal of innovation and powerful growth that comes from inviting artists from a variety of disciplines to explore how ceramics interacts with their work. It has helped our culture stay perpetually nimble, by engaging in creative problem solving to assist artists achieve their visions."
This summer there were two artists among the many who served as personification of the type of collaborations and opportunities the CCC wishes to offer. Christopher Suarez is a returning alum, coming back this summer and fall to complete work on a project that is due for unveiling at an exhibition this October. His ability to return to CSULB and create his work side-by-side with current undergraduate and graduate students is invaluable. His path from college to career becomes a discussion topic and a tangible reality and an inspiring example.
Image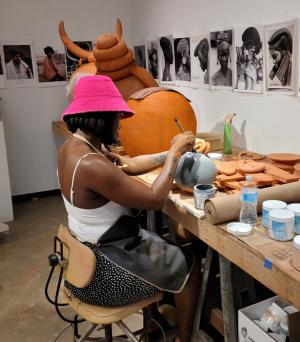 Celebrated international ceramic artist Zizipho Poswa journeyed from South Africa to Long Beach to make use of the exceptional facilities as well as the inherent craft skills and technical knowledge of our Ceramics faculty. She has been working on pieces intended for exhibitions here in the United States in a two-part residency. After her initial 6-week residency this summer ended, she will return in September to complete the glazing processes and finalize each of her pieces and then ready them for transport to the shows already planned in America. The yearly and sometimes monthly presence of international ceramicists who prepare and/or complete their work as part of the CCC continues to grow. Pieces created in CCC facilities have been seen all over the world, in museums, galleries, and in special biennial curated exhibitions.
The Center for Contemporary Ceramics at CSULB is unique, non-standardized, challenging, and welcoming.
It is a creative haven for artists willing to do the work to find their pathway to yes.