CSULB Students Win Big at the Port of Long Beach
Shipping containers and heavy machinery – that's usually what you imagine when you think about the Port of Long Beach. For three CSULB students, however, the Port means educational opportunity. Raquel Ycaza, Lauren Van, and Claire Castillo, three Environmental Science and Policy majors, were recently awarded the Port of Long Beach's ES&P scholarships. "I will be able to continue pursuing my academic goals, conducting research and acquiring the knowledge and skills necessary to create positive change in the fight against climate change," said Ycaza.
All three students have dealt with the reality that so many students face: the struggle to balance school and financial needs. "I had to take out loans and work part-time on the weekends while going to school full-time during the week," said Van. "It was very tiresome, but I needed money for school expenses, gas and living expenses so I did not have a choice." Faced with all of that, Van decided to apply for the scholarship without expecting much, "I thought I would give it a chance because you never know."
Ycaza found herself in a similar situation, but now can enjoy the relief the Port's gift brings, saying "The scholarship will not only alleviate the financial burden associated with education, but also provide me with the opportunity to focus more on my studies and research."
Image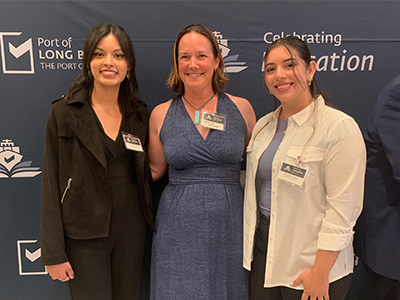 Dr. Christine Whitcraft, Director of the CSULB Environmental Science and Policy program, knows all too well the many obstacles blocking students' path to a degree. She is a firm believer in the difference scholarships make, saying "Financial support in the form of scholarships is essential for many CSULB students, and these funds ensure that recipients graduate faster, have reduced debt upon graduation, and have less stress while taking classes."
According to the Port's website, they've awarded almost 1 million dollars in scholarships to students in Long Beach and have some clear goals when it comes to education and career pathways, stating "The Port of Long Beach is committed to creating and supporting programs that advance development of a skilled workforce in international trade, goods movement and related professions." For Dr. Whitcraft, this scholarship further highlights that very point, saying "For many of our students in the ES&P major, it is the first time that they think of the Port of Long Beach as a potential place for environmentally -related careers."
As it happens, professional development is exactly what the students have in mind. While all three are in the ES&P program, they will be getting different degrees. Van is working towards a Bachelor of Science, with Ycaza and Castillo on their way to receive a Bachelor of Arts. Although their actual degrees may vary, their goal of using their ES&P education to amplify climate-change related activism is the same.
"This major is constructed so that students...are equipped with the knowledge needed to pursue occupations that can range from research or legislation," said Castillo. "Essentially, environmentalism is all interconnected...and I love that my education is allowing me to explore all aspects of this field."
Van is planning on becoming an environmental lawyer focusing on issues related to water pollution: "I have always been one to advocate for those who cannot speak...I have always felt the need to defend those groups and protect what is vulnerable."
Ycaza also has goals centered around advocacy: "I dream of working alongside legislators and promoting policy that will not only acknowledge the environmental calamity, but intersectionality of all social, economic and environmental issues."
For Ycaza, this scholarship is the bridge she needed to achieve those dreams: "It is important to pursue a life that is purposeful, [to] lead by example and to pay it forward." Castillo echoed that sentiment and plans to also minor in Political Science. She hopes to go into Environmental Law as well, saying "I hope I can be in a position where I am making an impact and helping to make the planet a healthier and more sustainable place for us to live."
Ultimately, this scholarship – and many like it – is about more than just money, as Dr. Whitcraft is well aware: "It is also incredibly rewarding for students and the program to be recognized in the community for achievements. We greatly appreciate the support of ES&P students through the Port of Long Beach scholarships!" For Van, the moment she found out was almost as impactful as the scholarship itself, saying "I was ecstatic to receive the email that I had been selected for the scholarship! I still remember texting my family when I found out and feeling a lot of joy."