Lorne E. Peterson
2002 Distinguished Alumnus
Image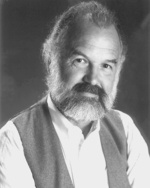 Lorne E. Peterson
1967, Bachelor of Arts, Art, CSULB
"Star Wars," "E.T.," "Raiders of the Lost Ark," "Jurassic Park" and "Men in Black" were all blockbuster films that contained the work of Industrial Light and Magic (ILM) model maker Lorne Peterson.
Peterson's skill and imagination in bringing realms of fantasy into reality earned him an Academy Award in 1984 as part of the ILM team that won for best visual effects for "Indiana Jones and the Temple of Doom." Despite advances in computer-generated imagery, intricate models remain an integral part of modern visual effects in film and commercials.
In 1975, Peterson joined ILM to work on the original "Star Wars." ILM is now a subsidiary of Lucas Digital, Ltd., and Peterson remains one of the firm's model making supervisors.
"My main activity at CSULB was trying to excel in an art department that seemed to have more than 1,000 other very good art students," he recalled. "CSULB is and was well known for its art department and well deserves the reputation. I know CSULB today mainly from the graduates that have come to work in the model and art departments at ILM Lucasfilm. They have been some of the best," he added.
From Alumni Awards 2002 program