Kenneth Wayne Santarelli
2016 Distinguished Alumnus
Image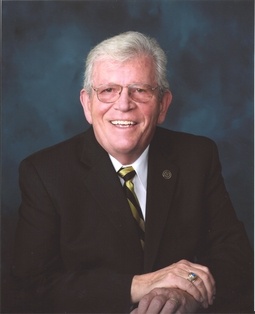 Kenneth Wayne Santarelli
Director, Antelope Valley Engineering Program (CSULB)
2008, Doctor of Education, Organizational Leadership, Pepperdine University
1982, Master of Business Administration, Pepperdine University
1975, Bachelor of Science, Ocean Engineering, CSULB
Kenneth Santarelli's accomplishments are, quite literally, out of this world.  A US Air Force veteran who served as an Intelligence Specialist during the Vietnam conflict, Santarelli spent 27 years at Rockwell/Rocketdyne, where he was responsible for the early design and development of photovoltaic power modules that are currently in orbit as part of the electric power system for the International Space Station. 
As a young mechanical engineer at Rockwell/Rocketdyne, Santarelli worked on a variety of other propulsion and power programs, including Peacekeeper, "Star Wars," Atlas, Delta, and the Space Shuttle. 
He is credited with creating a highly influential report on actuator reliability in the rocket industry and, more recently, with revolutionizing engineering education as the architect of the Antelope Valley Engineering Program, CSULB's satellite campus in Lancaster, CA. Santarelli has served as Honorary Commander of the 412th Electronic Warfare Group at Edwards AFB, and he currently serves as a director on the Antelope Valley Board of Trade. 
His awards and honors include the Boeing Leadership Excellence Award and the Rocketdyne Outstanding Achievement Award; he is also a three-time recipient of the NASA Space Flight Awareness Award.  His interests include reading — especially on topics related to aviation and space science and technology — black-and-white photography. He enjoyed spending time with his wife of 39 years, Astrid, who passed away unexpectedly in March; and their son Kenneth Knut.
From Alumni Awards 2016 program