Directed Self Placement (DSP)
Welcome to CSULB! If you have been instructed to complete the Directed Self Placement survey, please do so before you attend SOAR and enroll in a first-year writing course.
Begin the survey:  Directed Self Placement Survey
What is Directed Self Placement (DSP)?
DSP is an alternative to placement exams that helps you decide if a year-long writing experience is a good match for you. The DSP survey will guide you through a self-evaluation of your current reading and writing habits and offer you a recommendation based on your results.
Did you take the DSP survey?
Do your results recommend a year-long writing experience? View this flowchart for recommended courses (also listed in the text below):
Image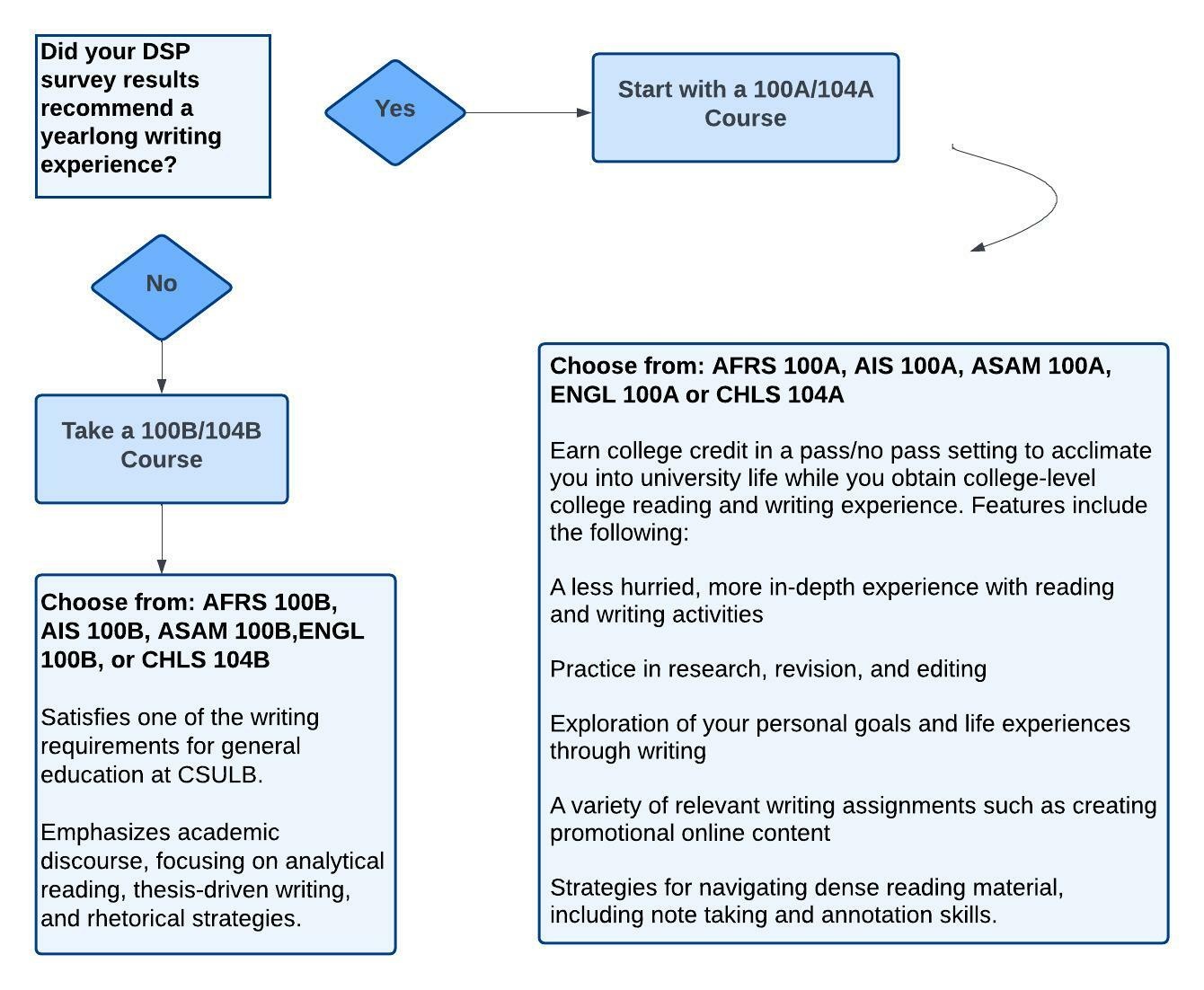 Did your DSP results recommend a year-long writing experience? 
Choose from:
AFRS 100A
AIS 100A
ASAM 100A
ENGL 100A 
CHLS 104A
Earn college credit in a pass/no pass setting to acclimate you into university life while you obtain college-level reading and writing experience.  Features include the following:
A less hurried, more in-depth experience with reading and writing activities.
Practice in research, revision, and editing.
Exploration of your personal goals and life experiences through writing.
A variety of relevant writing assignments such as creating promotional online content.
Strategies for navigating dense reading material, including note-taking and annotation skills.
Choose from:
AFRS 100B
AIS 100B
ASAM 100B
ENGL 100B
CHLS 104B
Satisfies one of the writing requirements for general education at CSULB.
Emphasizes academic discourse, focusing on analytical reading, thesis-driven writing, and rhetorical strategies.