Memphis Jookin': The Show Fosters Truth, Racial Healing, and Transformation Initiatives at CSULB
Image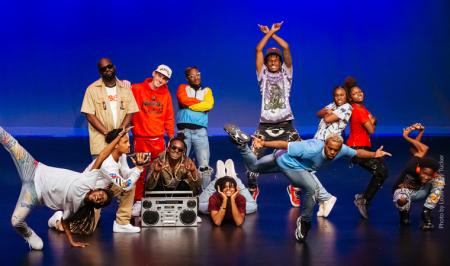 The Carpenter Performing Arts Center is proudly bringing Memphis Jookin': The show to CSULB on Friday, March 10. Directed by Dance faculty Amy "Catfox" Campion, the production tells the story of Memphis Jookin's emergence from local street dance to international phenomenon. The show stars renowned choreographer Lil Buck (who rose to fame after a viral collaboration with legendary cellist, Yo-Yo Ma) and 10 highly-skilled dancers evoking the energy of where the dance style originated.  
Campion worked diligently with the Carpenter Performing Arts Center to bring the show to CSULB, its first and only SoCal location after a rollout of success at the Lincoln Center's Rose Theater. In addition, the show was featured in the New York Times with positive feedback highlighting its cultural impact and artistic value. 
In efforts to eliminate barriers to experiencing the show, tickets are on sale to students, staff, faculty, and the community for only $10. All proceeds will be going to the Carpenter Center's Arts for Life program to help fund future performances, masterclasses with CSULB students, and arts exposure programming with Long Beach Unified School District students. 
Audiences are also invited to partake in an empowering exploration of the show's origins and themes in a post-performance Q and A session with Amy Campion, Lil Buck, John Hamilton, and Ray Briggs. This meeting with the minds that conjured the show is a Truth, Racial Healing & Transformation effort for the Beach community. The discussion aims to address the importance of dance and the arts with a racial equity and healing lens. 
Memphis Jookin' will bring an enriching and exhilarating performance that proudly exhibits systemic change and racial justice. It is a part of CSULB's strategic aim to promote campus-wide engagement in conversations about race. More importantly, viewers will be encouraged to spark conversation and reflect on what it means to heal. 
To buy tickets, please visit the Carpenter Performing Arts Center's website. 
Learn more about CSULB's Truth, Racial Healing & Transformation efforts on their website.