Rarely seen Lee Krasner paintings underscore Kleefeld Contemporary Art Museum's value to the community
Published February 13, 2023
One of the great American artists of the 20th century is the focus of a new exhibition this semester at Cal State Long Beach's Carolyn Campagna Kleefeld Contemporary Art Museum. 
"Lee Krasner: A Through Line" highlights New York painter Krasner's development and evolution as an artist from the 1940s through the 1960s. Considered one of the masters of Abstract Expressionism, Krasner died in 1984 at age 75.  
The exhibition features four of the five Krasner works held in the Museum's Gordon F. Hampton Collection, as well as rarely exhibited works on loan. A 1926 lithograph by Pablo Picasso and a 1952 oil on canvas by mentor Hans Hofmann, also included, provide some art historical context.  
The Krasner show wouldn't have been possible without a major gift of 89 artworks in 1999 from the Gordon F. Hampton Foundation. Hampton was an art collector and partner in the law firm Sheppard, Mullin, Richter & Hampton. He died in 1996. 
"Lee Krasner made incredible waves in the history of painterly abstraction," said Wesley Hampton, Gordon's son. "The four Krasner works on view in 'A Through Line' scratch the surface of our collection gifted to the Museum, but they pack quite a punch and deserve to be seen in person."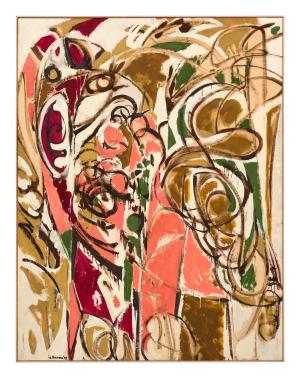 This Krasner exhibit meets "a number of strategic priorities that we have outlined," said Paul Baker Prindle, director of the Museum. "The Museum focuses on abstraction, innovative use of material and innovative practice. Krasner really is some of the best material in our collection. We have some of the best Krasners on the planet." 
Prindle – who has an extensive background in organizing exhibitions – curated this show, so it's extra special to him.  
"Her story really is an immigrant narrative – her parents were refugees," he said. Krasner's parents were Jewish immigrants from Spykov (now Shpykiv), Ukraine, which was then under the rule of the Russian Empire.  
"How do we tell the stories of art in ways that acknowledge those histories, and also uncover hidden narratives?" Prindle queried. "Krasner's story is similar to many of the stories our students have. This exhibition is about sharing our best resources and doing so in ways that our students can benefit and learn from."  
By sharing prominent, yet rarely seen, work by an American master, "Lee Krasner: A Through Line" underscores the value that the Museum offers to the greater community. Bringing major investment to the Kleefeld Contemporary and other community touchpoints to advance the public good is a priority of CSULB's No Barriers comprehensive fundraising campaign.
From failure to triumph 
An introductory wall text kicks off the Krasner exhibit, explaining that her 1951 show at the Betty Parsons Gallery in New York was considered a critical and financial failure. But then she came back in 1955 with a deeper, more impactful show at the Stable Gallery in New York, one that influential art critic Clement Greenberg called "one of the great events of the decade."  
"Her ability to rise from the ashes of failure is a real opportunity to teach students the power of trial and error, of perseverance and persistence," said Amanda Fruta, public affairs and communications specialist for the Museum. "The entire campus community can learn from Krasner's experience."  
Next to the introductory text hang the lithograph ("Scène d'intérieur") by Picasso and the oil painting ("Pure Space") by Hofmann. The Krasner paintings begin with a colorful, untitled oil on linen, circa 1942, that's influenced by Picasso, Hofmann, Henri Matisse and Piet Mondrian.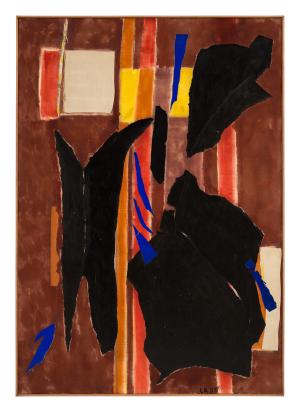 The paintings progress chronologically, including the geometric "Number 2" (1951) and the reworked "Stretched Yellow" (1955). From floating rectangles to thick lines and gestural arcs, her works reveal a stylistic progression and maturation over the decades. 
"What's so cool about the Krasners in particular, is we have an excellent example from nearly all of her series," Prindle said. "The only other museums are the Museum of Modern Art (MoMA) and the Whitney (Museum of American Art). Really no one else is on par with us." 
Krasner has long been overshadowed by her iconic, "action" painter husband, Jackson Pollock. In fact, one ArtNews critic said in the late 1940s that "Lee Krasner (Mrs. Jackson Pollock) takes her husband's paints and enamels and changes his unrestrained, sweeping lines into neat little squares and triangles." 
Over time, Krasner would wind up being recognized on her own merits and remains to this day one of the few female artists to have a retrospective show at MoMA. Hers was in late 1984, six months after her death. 
And since her passing, her star has only risen in the art world. 
"Her star has been rising for a couple of reasons," Prindle said. "Because her star burns bright – she's good. And I think that probably people are paying attention because of the work of so many women, so many feminists, so many minoritized people who have been working so hard to help us understand that we don't know more about artists of difference who are excellent." 
Accompanying this exhibition is a gallery of black and white photographs of Krasner's groundbreaking 1955 Stable Gallery show, as well as samples of literature that were in Krasner and Pollock's personal book collection. 
"She followed a model that was pretty disruptive," Prindle said. "She would revisit things, re-exhibit, re-problematize. It's so great for a college campus. It's exactly what we're doing with our students, particularly at the undergraduate level – to actually teach students how to be better critical thinkers."