Learn
Image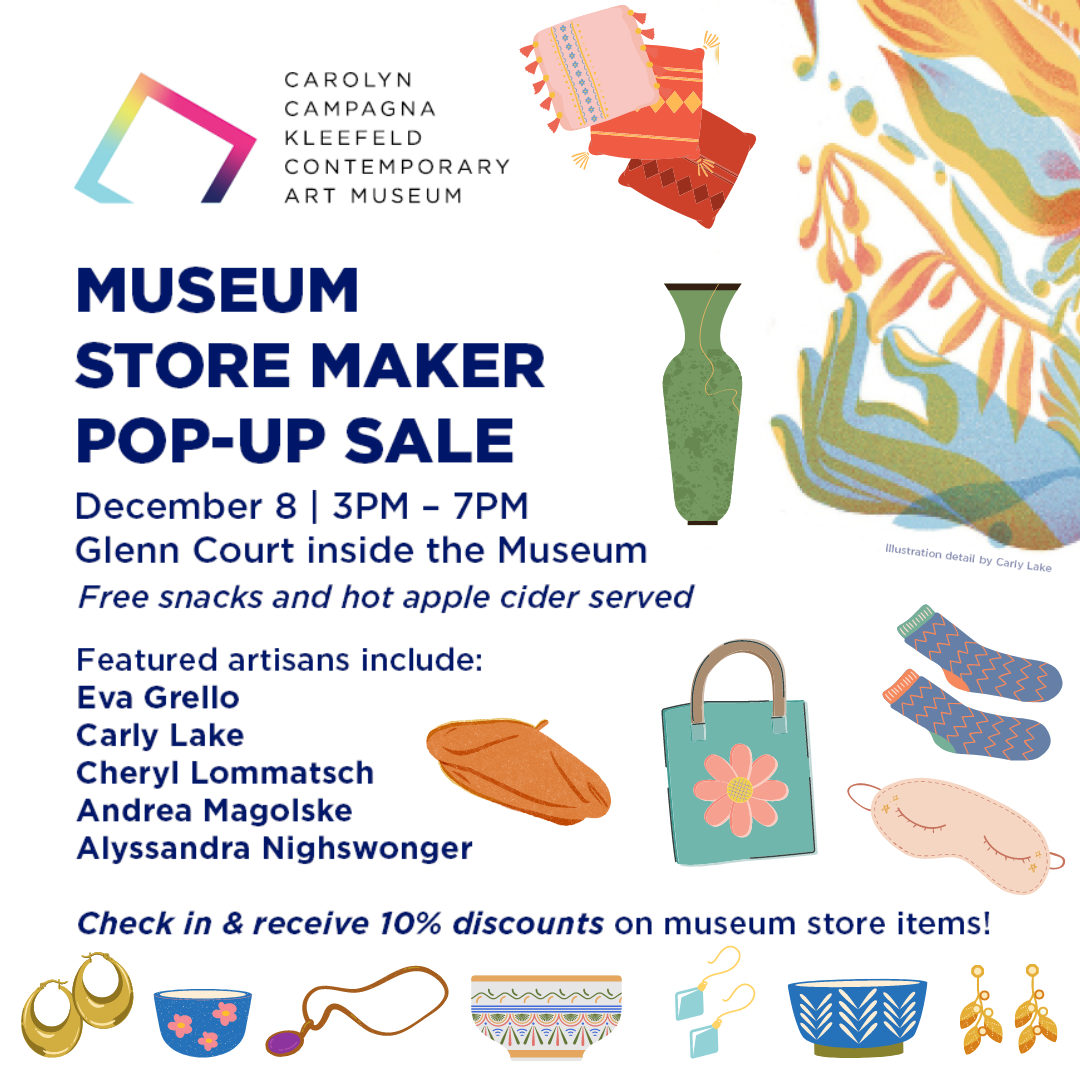 Museum Store Maker Pop-up Sale
Thursday, December 8, 3:00PM – 7:00PM
Carolyn Campagna Kleefeld Contemporary Art Museum, Glenn Court
Complimentary snacks and hot apple cider make this event extra cozy and festive for visitors.
Support artisans when you shop local this holiday season at the museum store maker pop-up sale. Explore a curated selection of fiber art, home decor, jewelry, illustrations, stationery, and ceramics at maker pop-up stations and in the museum store. Participating pop-up vendors will sell unique artisanal goods including:
Enjoy 10% discounts at the museum store when you check-in with the front desk. Our museum store offers a diverse selection of ceramics, jewelry, fiber art, and home decor from featured pop-up artists and additional CSULB alumni makers!
Image

Tuesday Talks
Tuesday Talks occur on Tuesdays in Museum galleries at 12:00 p.m.
Visitors are welcome to join us for these free thirty-minute to one-hour programs led by artists, educators, and faculty that look deeper into individual works on view or single topics.
DECEMBER
Image

December 6, 2022, noon | Tuesday Talk: Iva Gueorguieva
Los Angeles-based abstract painter Iva Gueorguieva discusses her massive dynamic painting in Hurry Slowly called Thick as Thieves, 2007. 
 
CSULB Laptop Ensemble Performance: Stretched Vinyl
Image
December 8, 2022, 6–8PM | CSULB Laptop Ensemble 
CSULB Laptop Ensemble engages with Rhona Bitner's photography work now on view work in Hurry Slowly (pictured above), which captures the essence of abandoned iconic music venues. An innovative part of the Bob Cole Conservatory of Music, the ensemble will manipulate old vinyl recordings and process their sounds in imaginative ways. Some of the curated records used by ensemble members are associated with the places shown in Rhona Bitner's work, creating new discourse between the aural and visual spaces.
CSULB Laptop Ensemble is directed by Professor Martin Herman, Chair of Design and Director of the Gerald Strang Electronic Music Studio. Student members performing include Assistant Directors Matt Justo and Marisa Ramey, and general members Ava Brackett, Hunter LaMar, and Alvaro Caceres-Munoz.
Thursday Night Make and Take
Remaining sessions: December 1 and December 8
Thursdays from 6:00PM–8:00PM*
Get inspired and create art projects you can take home in the Museum's Education Laboratory.
Image

Join us December 1 and 8 to contribute to a collaborative watercolor project inspired by Iva Gueorguieva's painting Thick as Thieves, 2007, now on view in Hurry Slowly. Explore the artist's mark making technique and implementation of emotional and personal identity through large-scale abstraction. All participants are encouraged to add to a collaborative art work after making their own watercolor technique practice sheet, which they may take home. 
 
Image

Meditation Tuesdays
September 6–December 6, 2022
Every Tuesday 1:30PM–2:00PM*
Meditation series in the Museum galleries led by the wellness division of CSULB Student Health Services offers a mindful respite, using art as a backdrop
*No programs are offered during Thanksgiving Week nor on University Holidays.
Image

Second Saturdays: Family Day
Remaining session: December 10 - Winter Wonderland
10:00AM to 2:00PM
FREE
Join us for a fun day of holiday artmaking as we create unique projects with the theme of a Winter Wonderland! 

Art Activities from 10AM–2PM
Create sparking icicles to decorate a special tree or space.
Build and paint snowman pinch pots using air dry clay.
Compose an abstract snowman using a collage technique inspired by Pablo Picasso's cubist methods.
Public Art Park Scavenger Hunt Tour from 12PM–1PM 
Discover holiday surprises hidden on your tour route in this special edition of our Docent-led Public Art Park Tour.
Virtual Event Archive
Cooper Hewitt, Smithsonian Museum National Design Month 
2021 National Design Awards: InVert Self-Shading Window | Climate Action
via Cooper Hewitt YouTube Channel
Image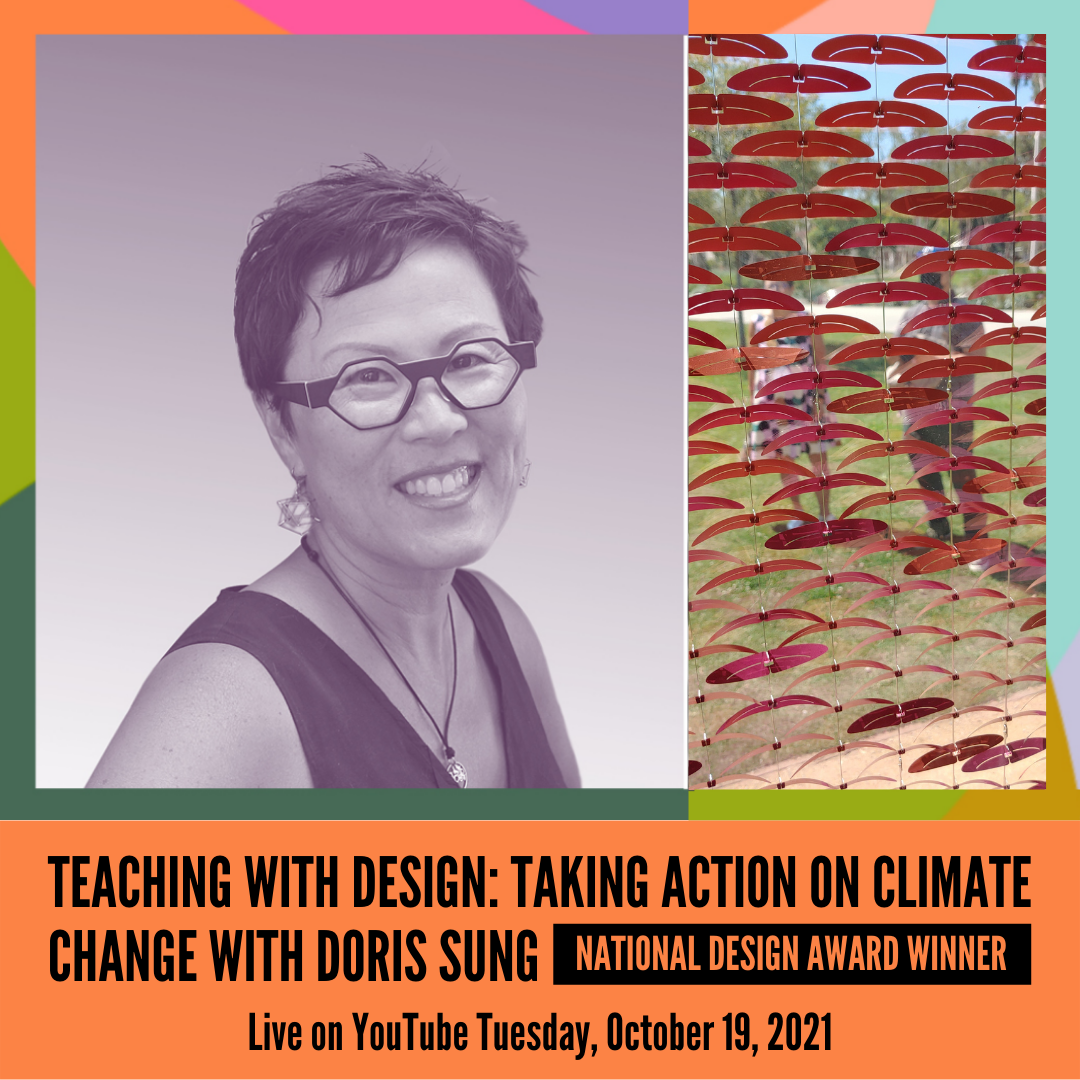 Teaching with Design: Taking Action on Climate Change with Doris Sung
via Smithsonian Education YouTube Channel
Art Encounter Programs
Art Encounter YouTube Playlist
via Carolyn Campagna Kleefeld Contemporary Art Museum YouTube Channel
Earthly Matters: Artist Neha Choksi and Curator Kristina Newhouse in Conversation
via Carolyn Campagna Kleefeld Contemporary Art Museum YouTube Channel
Image

Plugged-In Classroom Connections serves students in the Long Beach and ABC Unified School Districts with in-person and virtual art activities at no cost to schools or students. The recently expanded program presents arts-integrated lessons for elementary school, high school students, and life-long learners. Lessons offer multidisciplinary enrichment for educators and learners of all ages, especially for K-12 students in need of creative activities. With this program fully funded by the Earl B. and Loraine H. Miller Foundation, Carolyn Campagna Kleefeld Contemporary Art Museum is the largest provider of K-12 art education programs of any museum in the City of Long Beach.
Explore our archive of virtual programming, including our artist video series, and Art Encounter content will be accessible on our new Watch page, YouTube, and on Instagram TV.  A generous grant from the RuMBa Foundation funded the entirety of video production and allows growth of the program to serve teens and young adults. 
The ConSortiUm coalition is a newly formed collaborative project of CSU art museums and galleries presenting PLATFORM, a virtual event series for 2020–2021. Programs actively engage students, faculty, staff, and communities through visual arts-based discussion. ConSortiUm features live virtual conversations with contemporary artists, collectives, and curators whose work is critical to current re-imaginings of the art world, and the world at large.  All events are presented live via Zoom and during Pacific Standard Time hours with access for all CSU campuses. These events are also free and open to the public. Recordings of the events will be available for post live-stream viewing and archived by the sponsoring institutions for future viewing.
The 2020–2021 inaugural program, PLATFORM, featured curators Erin Christovale and Valerie Cassel; artists Beatriz Cortez, Cristóbal Martínez and Kade L. Twist, Eyal Weizman, Shuan Leonardo, Howardena Pindell; and People's Kitchen Collective. More programming in the 2021–2022 academic year to be announced.
ConSortiUm's participating CSU art museums and galleries include:
Bakersfield, Todd Madigan Gallery; Chico, Janet Turner Print Museum; East Bay, University Art Gallery; Fresno, Center for Creativity and the Arts; Fullerton, Nicholas & Lee Begovich Gallery and Grand Central Art Center; Humboldt, Reese Bullen Gallery and Goudi'ni Native American Arts Gallery; Long Beach, School of Art and Carolyn Campagna Kleefeld Contemporary Art Museum; Los Angeles, Luckman Gallery, Luckman Fine Arts Complex; Northridge, Art Galleries; Pomona, W. Keith & Janet Kellogg University Art Gallery and Don B. Huntley Gallery; Sacramento, University Galleries; San Bernardino, Robert and Frances Fullerton Museum of Art; San Diego, University Art Galleries; San Francisco, Fine Arts Gallery; San Jose, Natalie and James Thompson Gallery; San Luis Obispo, University Art Gallery; Sonoma, University Art Gallery; and Stanislaus, University Art Gallery and Stan State Art Space.
We welcome students from all academic programs to connect with contemporary art with us.  The museum encourages professors and campus communities to use our collections and exhibitions as an educational resource.  The museum actively develops multidisciplinary programming with Cal State Long Beach faculty to link museum content to curriculum, positively impact our campus communities, and help students reach learning objectives. We regularly collaborate with the School of Art as a partner in the presentation of the annual student exhibition, Insights, and serve as a mentoring organization for the Museum and Curatorial Studies Graduate Program.
The Plugged-In Virtual Connections Program was developed to align with Common Core, State and National Standards in the areas of visual arts, social studies, language arts and mathematics. Every semester, this multi-phase program introduces students to contemporary artist practices, permanent collection works or current exhibitions, and visual elements and principles, while connecting to grade subject matter.  Through guided lessons, students create related art projects that encourage critical thinking, collaborative process skills, and emotional awareness.