CSULB's CSU Trustees' Award winner follows her passion and path set by her mother
Published September 11, 2023
The pandemic was spreading within her Orange County community, and as a high school sophomore, Erish Mae Araneta felt helpless. She watched as friends and neighbors, who didn't have adequate health care, struggle with the sometimes-fatal COVID-19 virus and she didn't possess the skills to help. 
But Araneta knew she could not just sit by. She had heard stories of how her mother became a nurse in the Philippines when the HIV epidemic began in the 1980s, at a time when many healthcare workers were fearful of treating patients, believing they would become infected through contact. She wanted to emulate her mother. 
"I have always admired her bravery and passion for nursing," Araneta said. "I know that facing emerging and unknown diseases takes courage.  ... I wanted to help the community during uncertain times, similar to how my mom did all those years ago."
Inspired by her mother, Araneta, then 16 years old, finished high school by taking an early graduation exam. The following fall, she enrolled at a community college and later transferred to Cal State Long Beach, where she continued her journey to become a nurse. She wasted little time finding areas where she could make an impact. 
During her first week on campus, she joined the Alpha Gamma Sigma Honors Society, creating volunteer events and donation drives for the community. Later, she developed spaces where students could discuss issues that affected them and helped them create the changes they wanted to see in the world and began a long-running commitment to volunteering.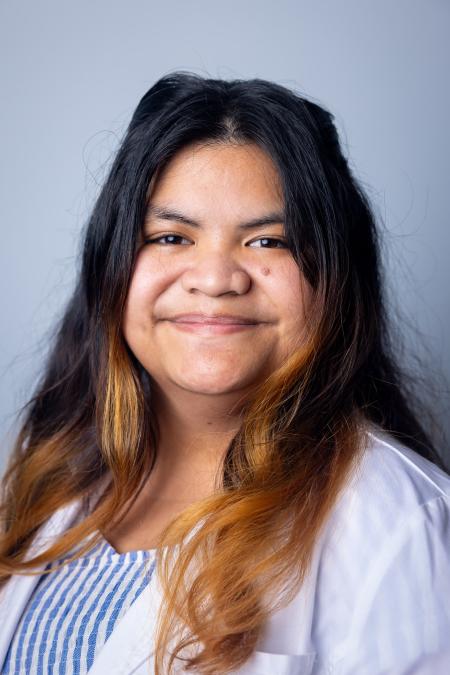 Araneta volunteered for Theory of Joy, a nonprofit in Westminster that aims to reduce poverty in the Philippines, where she grew up. The organization looks to improve education in indigenous communities, raising funds for meals, water wells, schools and inspiring young orphans to pursue STEM careers. 
Yet, one of her favorite experiences as a volunteer was mentoring pre-nursing students. 
"This helped further develop my passion for healthcare education," Araneta said. "With this, I plan to one day help in the education of future nurses as a clinical instructor. I've seen how attending college can forge the path to our goals, and I want to guide others as they go through this journey." 
Araneta, a second-year student in CSULB's highly rated School of Nursing, hopes to become a nurse like her mother, focusing on holistic care. 
Her proactive college career and ambitious plans, plus the number of people she already has impacted, has earned Araneta one of the highest honors in the CSU system. She has been named one of the system's 23 CSU Trustees' Award winners for her high academic standing, community service and passion to help others. 
Araneta and her fellow awardees will be recognized Sept. 12 during the CSU Board of Trustees' meeting. She is the second person in her family to receive the honor; her older sister, Elaine Anne, was a 2021 CSU Trustees' Award winner. 
"The life stories of these extraordinary students who have triumphed over personal hardships to stand among the university system's most distinguished scholars are a testament to the transformative power of public higher education," said CSU Interim Chancellor Jolene Koester. 
The program was established in 1984 by the William Randolph Hearst Foundation. In 1999, the foundation partnered with the CSU Board of Trustees to supplement funding with contributions from CSU Trustees, CSU Foundation Board of Governors and private donors. Each student scholarship is named after a donor and Araneta was awarded the Ron and Mitzi Barhorst scholarship. 
"Going to the hospital every week reminds me why I chose the path I did. I want to be there during a person's toughest time," Araneta said. "Physical wounds require medical help, and emotional wounds require compassionate help. No matter how many medications a person has, if their heart isn't fighting to recover, medications can only do so much. 
"In the future, I hope to provide holistic care to every patient that I meet. In nursing school, I also attend volunteer events in the community such as health fairs and with this, I hope to spread the reach of healthcare and healthcare awareness." 
Araneta, whose family immigrated from the Philippines when she was 12, has received numerous awards for community service, national lobbying efforts on behalf of community college students and with The Beach's California Nursing Students Association. She is looking to further her education by studying for her Ph.D. in nursing. 
She also has written a children's book called "Chemist Clara's Sweet Adventures," which helps kids understand the effects sugar has on the body. 
"I've seen people suffer awful repercussions if they are unable to receive healthcare," she said. "I believe in the power of healthcare and health education. I believe that it can help change the world. 
"As a student nurse, I plan to empower my patients with the support and education they need to live the best quality of life they can."