CSULB legacies: How 3 generations achieved the American dream at The Beach
Published September 23, 2022
They were born into this extended Beach family of 355,000+ strong. A bloodline that runs black and gold and proudly wears their pride on their sleeves and hoodies. 
 So, when it came to choosing a university, there really wasn't much of a choice for the offspring in these families. It was all relative. 
In this series of stories, these family members recount how they could have gone elsewhere but decided to follow a familiar path to Cal State Long Beach. 
This is the final story in our series on Beach multigenerational families.  
---
Luis Castillo '78 was determined to make something of his new life in America. He and his family had immigrated to the United States from Mexico when he was a child, and at age 18, became a citizen. 
Next, he wanted to become a college graduate, then a scientist. 
So, after getting his associate of arts degree at El Camino College, Castillo decided to go further and enroll at Cal State Long Beach, where he majored in chemistry. Getting that far, however, took a bit of planning and two quarters. 
"I didn't own a car, so I had to take the bus every day to CSULB from west Long Beach," he said. "It was the easiest way to get there. So, I would leave my house with two quarters and a sack lunch. 
"I knew I couldn't lose that quarter." 
Castillo rode the bus for the next two years, eventually graduating with a degree in chemistry and landing a job in a lab.  
"It was good money, but I didn't like the job," Castillo said. "I realized after working alone in labs, chemists are a lonely bunch. You work in teams, but you do a lot of your work alone. After working at a couple of companies, I didn't want to do that." 
Instead, Castillo became a teacher in the Los Angeles Unified School District. "The money wasn't great, but I was happy," he said. 
Castillo raised a family on a teacher's salary, and when his daughter, Cristina, began looking at colleges, there was only one place she considered – Cal State Long Beach. She could not ignore history. 
"I had been accepted by Cal State Dominguez Hills as well, but how can you match Cal State Long Beach's history and our family legacy?" Cristina Zamora '08 said. "It just didn't compare, so I went to Long Beach." 
"My dad achieved his American dream and I wanted to continue that legacy with my own family."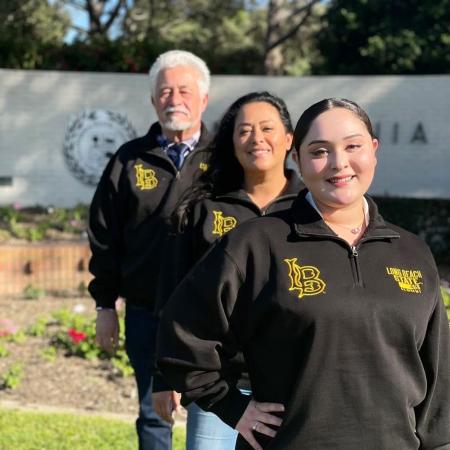 Zamora didn't just follow her father to CSULB, she followed his footsteps into education, becoming a counselor. 
Her daughter, Catherine, however, didn't buy into The Beach at first. 
In fact, Catherine Lucas-Castillo '22 applied to 30 universities, but she chose CSULB because of family history. 
"After touring the (CSULB) campus and knowing that my mother and grandfather went there, and two of my uncles had graduated from there as well – and hearing their amazing experiences with the university and knowing about the reputation of the campus and its diversity – it made the decision easy for me," said Lucas-Castillo, who graduated last spring with a degree in Communications Studies. 
"I led with my heart and ended up at Cal State Long Beach." 
Lucas-Castillo said that there is a lot of pride – and black-and-gold apparel –in their house. "I think half my wardrobe and half of my mother's wardrobe is from Cal State Long Beach." 
Said Castillo of his daughter's and granddaughter's college choices: "It's humbling to know that I had any influence, that I made a difference in the fact that they chose Cal State Long Beach. It's humbling."