CSULB embraces Research, Scholarly and Creative Activity
Cal State Long Beach recently celebrated its second annual Week of Research, Scholarly and Creative Activity (RSCA), and students, faculty and staff were excited to share their research in person this year. The inaugural RSCA in 2021 was virtual because of the pandemic. 
Organized by the Office of Undergraduate Research Services, RSCA has two main goals: to highlight research work currently being done by CSULB students, staff and faculty; and to create engagement across the campus environment by encouraging individuals to attend events outside their disciplines. 
"We're trying to change the culture of research on campus," said Simon Kim, associate vice president of research and economic development. "Before, undergrad students didn't typically get involved with research at all. Now we're slowly changing the culture, where all undergraduate students will get an opportunity to participate in a research project prior to completing their degree." 
Undergraduate students who participate in a research project have a higher likelihood of being retained and graduating from a university, Kim said, citing studies. 
Historically, a misperception has prevailed that research is something for students and faculty in the sciences or STEM disciplines. But those involved in the humanities, the arts and literature can pursue research, too. And folks from different disciplines can work together too. That's why RSCA involves "scholarly and creative activity" as well.
Here's a look at four sessions that occurred during RSCA 2022, which took place April 18-22:
Mi Vida Cuenta: My Life Matters COVID-19 Latinx Health Initiative
Black and brown communities in the United States have been hit the hardest during the coronavirus pandemic. The director and associate director of CSULB's Center for Latino Community Health, Evaluation and Leadership Training offered insights of the effects of the pandemic on Long Beach's Latinx population, as well as the challenges Latinx residents have faced accessing resources available to them.
Professor Melawhy Garcia and Natalia Gatdula, both from the Department of Health Science, presented findings from their study and survey of Long Beach's Latinx population in September-October 2021. Out of 466,742 residents, approximately 42.6% of the city's population can be characterized as Latino or Latinx, the study states. Similarly, about 43.3% of CSULB's population is Hispanic or Latino, according to DataUSA.
Some of the barriers to health and wellness include multigenerational housing, crowded living conditions, lack of Spanish language materials across sectors, lack of insurance or being underinsured, and prohibitive costs of medicines or copays/coinsurance.  
The survey found that undocumented Latinx residents also face challenges obtaining health services and federal assistance because of their status and language barriers.
This initiative caught the attention of the Long Beach City Council and the Department of Health and Human Services. As a result, both are working with CSULB researchers to implement some of the study's recommendations.
"A lot of us are doing things that others don't hear about," said Garcia, director of the Center for Latino Community Health, Evaluation and Leadership Training. "So Week of Research is an opportunity for us to come together, learn about different projects, data and also learn about potential collaboration. 
"We thought it was important to present today …. It's just a good way to get out the information on the needs of Latinos in terms of health and wellness programs."
Exploring Urban Air Mobility with CAVE Immersive Virtual Reality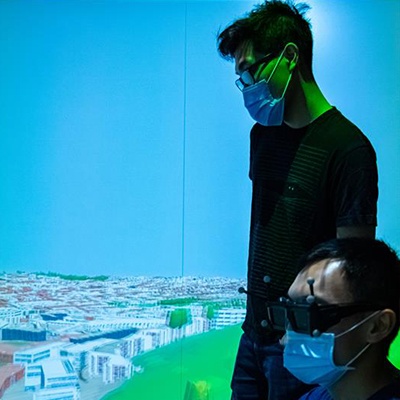 Students and faculty from the Mechanical & Aerospace Engineering Department demonstrated a three-dimensional flight simulator that allows the "pilot" to fly from one urban location to another. The VR setting was the densely populated city of San Francisco. The pilot and observers wore 3D glasses in a large box made of projection screens to experience what it might be like to ride in one of these hypothetical vehicles and navigate around buildings, over highways and along the coast.
Drs. Panadda Marayong and Preveen Shankar, principal investigators of the project, which also involves six undergraduate and graduate students, said this high-tech simulator is a model for future testing and eventual flight for small vehicles.
"There are a lot of companies that are designing and testing vehicles that can be used to navigate urban environments just like how you have taxis," Shankar said. "This type of flight is going to happen sooner rather than later, within our lifetimes."
 Jesus Viramontes, a student working on the project, is pursuing a graduate degree in psychology, with a focus on human factors. A lot of human factors go into a project like this, such as speeds a person can endure, and an ability to follow an air traffic controller's direction.
Viramontes, who has spent quite a bit of time in the pilot's seat, said he could see a need for this type of flight. "It would free up traffic congestion, especially in L.A. It would be better for the environment, because these vehicles will be electric. And, also people would be making money. That's a big factor."
About the Week of Research, Viramontes said, "Not a lot of students know about our project. So, this is good."
Best of the Beach Film Fest
The Film and Electronic Arts Department screened 10 short films – five documentaries and five narrative features – created by student filmmakers. Most of them were winners at the CSU Media Arts Festival, a CSU-wide film showcase and competition. 
 "Target Panic," a 2021 CSU Media Arts Fest winner directed by Maddie Braun, explores the anxiety that archers face as they are about to release their arrows. "I Don't Love You Any Less," a 2019 winner by Sarrah Wolfe, tells the story of a mother's struggles with opioid addiction from the daughter and family's point of view. And "Justice Delayed," a 2019 winner by Janine Uyanga, imagines the aftermath once an unarmed African American child is shot and killed by a white police officer. 
"It's not the equipment that makes a great filmmaker, it's the craft," said Adam Moore, interim chair of the Film and Electronic Arts Department. "It's understanding the fundamentals of film. We really hammer that home constantly with students. 
"It's that scrappy, can-do spirit that's been around since this department was first formed back in the late 1960s." 
Sarah Len, community engagement specialist for the department, said, "Our students come from diverse backgrounds, so they have interesting stories to tell, that they're motivated to share. And they're very hard workers. They have really persevered through a lot."   
Len added that collaboration is a key tenet within the department. "Students get to work on each other's films and produce them together, so I think it's something that's very useful too, because they get to have that experience. They also get to work on films outside the classroom as well." 
Undergraduate Research – Poster Presentations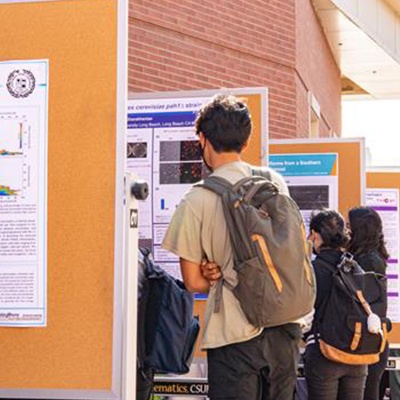 About 50 undergraduates presented their research on posters to anyone who would stop and listen in the Nagel Courtyard, adjacent to the Hall of Science. It was a lively and fascinating event and represented the heart of what RSCA is all about.
The undergrads discussed everything from CRISPR technology to the tough-as-nails scales of pangolins (Asian or African mammals) to the effects of activating serotonin receptors in adolescent male and female rats who had been given ethanol.
"I think any type of presentation experience is crucial, especially if you are pursuing a Ph.D., or pursuing any kind of career in academia," said Ana K. Garcia, a third-year  student in psychology who is interested in behavioral neuroscience. "It's nice because you get to practice presenting both to people who have no idea what you're doing, and to people who are also experienced in the field. It's amazing practice. So, I'm very grateful for this event."
Alezja Simpkins, a fourth-year student in psychology who expects to graduate in May, presented on Latinx and Chinese communities' experiences with rental assistance.
"I think this is wonderful," said Simpkins, a McNair scholar who was new to RSCA. "The students here deserve an opportunity to show all their research and all the hard work they've done with their mentor, but also by themselves, because it's a lot."
She added that RSCA was a great chance to network as well.
Dr. Jesse Dillon, a professor in biology, helped organize the poster presentations and is a principal investigator for the campus BUILD program. Many of the poster presenters are also involved in BUILD (Building Infrastructure Leading to Diversity), which is funded by the National Institutes of Health.
"This is good practice, because ultimately if they go to a professional conference, which is really our goal, they'll have Dr. So-and-So from UCLA or Harvard roll up to their poster and start asking questions.
"These opportunities on campus provide a safe environment, but it pushes them out of their comfort zone a little bit, but it's in a context where they're maybe a little less nervous than when they go to a conference in their field."