A CSULB BUILD Success Story: Wilma Figueroa
Published November 30, 2018
Becoming a successful scientist is a team effort. A community of mentors, teachers, colleagues, friends, family members, and others train and mold future scientists through internships, science courses, hands-on research, emotional support and more.
That's where the Building Infrastructure Leading to Diversity (BUILD) program can greatly help. It provides a variety of educational opportunities, training, and near-peer and faculty mentorship to students who might not have considered pursuing a career in research. A major goal of the BUILD program is to provide a supportive environment for students while they explore their scientific interests and gain valuable research experience.
Image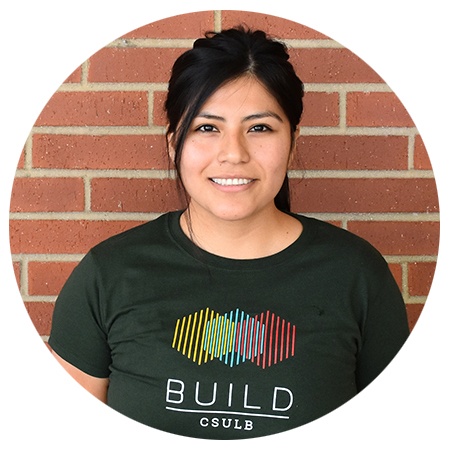 Wilma Figueroa, a Year Two Scholar in the California State University Long Beach (CSULB) BUILD program, is an excellent example of how this National Institutes of Health funded program can make a positive impact on the lives of promising college students.
Figueroa initially attended Long Beach City College (LBCC) with the intention of earning her Associate's Degree and then entering the workforce. But her life took a different path when her chemistry professor, Marlon Jones, Ph.D., recognized her abilities and potential, and encouraged her to transfer to a four-year college to pursue a Bachelor's degree. "You could do many great things in your life," he told her.
When Figueroa decided to transfer to CSULB, Dr. Jones introduced her to the BUILD program. Because LBCC is one of CSULB BUILD's pipeline partners, he knew about BUILD and was able to refer her to the application information. He also wrote one of her letters of recommendation required for the application. She applied and was accepted into the 2016 one-year Associates program, and then again in the 2017 two-year Scholars program.
One of the many benefits of participating in the BUILD program is the mentored research experience. The students work on real-life research projects guided by Ph.D. faculty mentors. BUILD students also receive financial support as part of the program, which enables them to focus on acquiring the skills they need to be more competitive when applying for a Ph.D. program and continuing on the pathway to a research career.
During her time as a BUILD Associate and Scholar, Figueroa has been working with two mentors. One of her mentors, Selena Nguyen-Rodriguez, Ph.D., M.P.H., remarked on Figueroa's intellectual curiosity, ambition and perseverance. "Wilma has been my 'right-hand man' throughout the time she has worked with me," she said. "She is always willing to take on tasks, help her lab mates, and wants to learn how to do everything."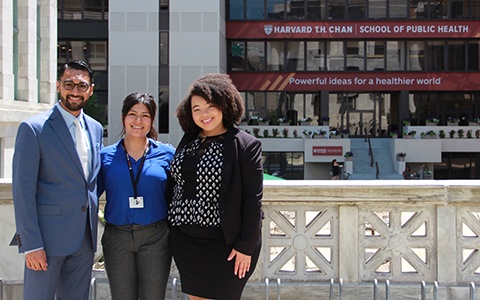 This drive led Figueroa to apply for an exclusive internship at Harvard University, where she was accepted into the Summer Program in Epidemiology and Biostatistics. The program included a mixture of courses and lectures to learn theoretical and methodological concepts, as well as firsthand research experience to implement those concepts in the real world. The program also included preparation for taking the Graduate Record Examination (GRE), an exam that is required for many graduate school applications, as well as professional development instruction. At the end of the internship, participants presented their research project during a poster session organized for the summer interns at Harvard's T.H. Chan School of Public Health.
Figueroa credits her experience in BUILD for landing one of the small number of slots in the Harvard internship program. Because she has been working on two different projects with her mentors, she has diverse research experience. In addition, her other mentor, Niloofar Bavarian, Ph.D., M.P.H., gave her the opportunity to co-author papers published in scientific journals. Figueroa has first-authored a manuscript published in the Journal of Ethnicity and Substance Abuse, co-authored papers in the Journal of Drug Issues and Neuroethics, and has several more under review or in preparation.
In addition, she has had the opportunity to present her research results at two symposiums hosted by CSULB BUILD as well as at the American Public Health Association 2018 Conference, and the Southern California Conferences for Undergraduate Research.
Because of the community of graduate mentors, BUILD staff, faculty researchers and fellow students that the CSULB BUILD program has created, Figueroa believes the BUILD program helped her succeed in completing the Harvard internship. She is currently applying to graduate schools and looks forward to continuing her studies and earning a Ph.D. after graduation this May.