CSULB embraces equity as the university works toward Beach 2030 goals
Published August 19, 2022
Change is coming to higher education and Cal State Long Beach is poised to be at the forefront with its plans for the 2022-23 academic year.
President Jane Close Conoley and Provost and Senior Vice President for Academic Affairs Karyn Scissum Gunn stressed the importance of transformation in their remarks at Convocation 2022 on Friday, and how The Beach already has taken steps to keep up with an ever-changing world through the Beach 2030 Strategic Plan. 
"We have a Beach 2030 commitment to re-imagine our faculty and our staff and build a future-ready university," Conoley said. "National trends are swirling that seem to undermine our commitments to the success of all faculty whatever their color, however they identify, whomever they love, whatever their political beliefs and from wherever they come." 
She said that building upon CSULB's #OneBeach philosophy that "diversity is our strength" will come through creating a more equitable and empowering culture at The Beach. 
That will be achieved through projects such as a far-ranging mental health initiative by the Student Affairs Division; providing students with laptops, iPads and hotspots from Division of Information Technology and Academic Affairs, and additional affordable campus housing.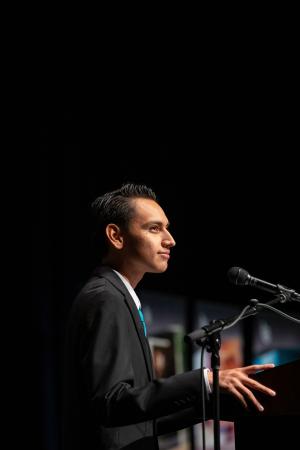 Change also will come through equitable practices that embrace diversity such as the Long Beach College Promise, scholarships, community partnerships and the CSU Center to Close the Opportunity Gap. 
"Post-pandemic forces on the world of work, teaching modalities, enrollment patterns and overall economic conditions are critical for our success going forward," Conoley said. "How do we reshape our university?" 
Scissum Gunn said the answer lies in facing the reality that higher education has changed; the face of the university student has changed. According to the National Center for Education Statistics, most children under the age of 5 (50.2%) now belong to a minority group, meaning that "traditional" college-age students in the United States will by non-white by 2034. 
That trend, she said, already has taken place at The Beach, with 53.64% of students identifying as members of minoritized populations. 
"Enrollment forecasts predict that students are going to be more diverse than ever, they are becoming less white and that this trend is expected to continue into the foreseeable future," she said.  
"So, what does this mean for The Beach? Well, let me tell you want this means … we have a lot of work to do in a hurry." 
Scissum Gunn said if CSULB intends on being a future-ready and student-ready university, officials must "embrace our role to support all students" through equity, diversity and inclusion (EDI). 
"These three rights must become our context, our backdrop, for every decision made on behalf of The Beach," Scissum Gunn said. "It must be our unified imperative to increase fairness and justice on our campus and in our classroom." 
To achieve this, CSULB will follow five strategic priorities outlined in Beach 2030. Those are to: 
Engage all students
Expand access
Promote intellectual achievement
Build community
Cultivate resilience
"These five strategic priorities and the action plans from which they will be implemented are the north star guiding us this academic year and the years to come," Scissum Gunn said. 
"Beach 2030 is our ambitious campus strategic plan set to transform our institution and create a lasting legacy at The Beach."
ASI President Isaac Julian said he was once told by a high school counselor that he would wind up being a college dropout. Today, he is a fourth-year undergraduate pursing a B.A. in political science and English composition and rhetoric, with a minor in communication studies on track to graduate in 2023. 
Julian, a first-generation student, credited his success to CSULB's inclusive community that enabled him to have "a seat at the table." 
As ASI president, he said he wants to "develop a community where everyone belongs at The Beach."