CSULB alumnus named diplomat for U.S. Embassy in Cuba
Published August 22, 2022
Diplomat Benjamin Ziff '85 was working at the U.S. Embassy in Tel Aviv when the first Iraqi Scud missiles were launched, marking the start of the Gulf War in 1990. He and his colleagues huddled in their apartments, listening to the missiles that landed nearby. 
Ziff was stationed in Peru as the press attaché on Sept. 11, 2001, when the U.S. was attacked and had to whisk visiting then-Secretary of State Colin Powell and his entourage out of the country and back to Washington. His work at the embassy in Venezuela during President Hugo Chavez's socialist regime earned him the Department of State's Murrow Award for Excellence in Public Diplomacy. 
Ziff has seen first-hand the perils of working for the State Department, but that has not kept him from moving forward. He recently was named chargé d'affaires for the U.S. Embassy in Cuba, which is facing challenges such as electricity outages, a lack of basic goods and medicine and repression by the government. 
"My job is to represent U.S. policy and U.S. interest on the island of Cuba," said Ziff, who graduated from Cal State Long Beach with a degree in political science. "My job also is to engage in civil society, and with the bigger community, to advocate for human rights and advocate for the private sector. And to advocate for the bilateral relationship between the two countries." 
Ziff takes over the Cuban post with a resume bulging with international experience. He previously headed a group that coordinated the State Department's migration policy and strategy for the Western Hemisphere. He has had posts at U.S. embassies around the world, including Italy, Panama, Australia and Israel (twice). 
Image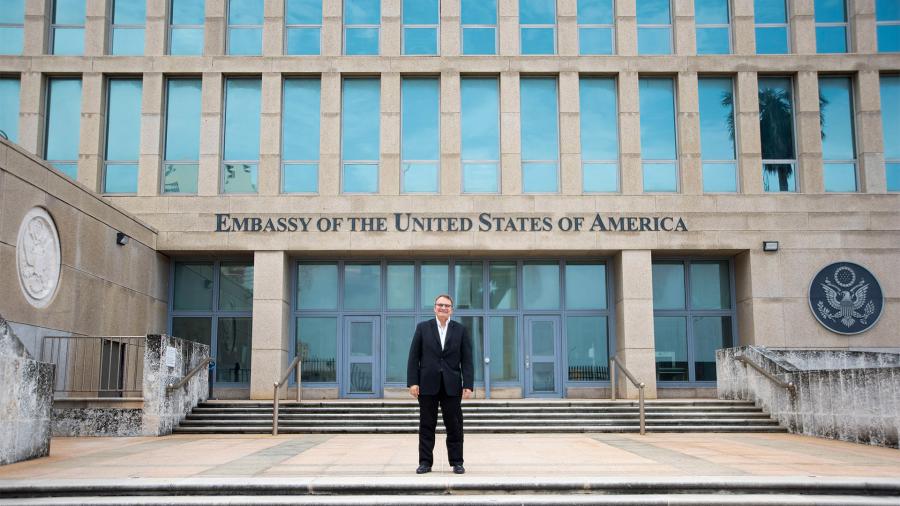 Yet, no matter where he has landed throughout his career, Long Beach continues to be home. 
Ziff is the son of a U.S. diplomat and spent much of his childhood in faraway places such as Nicaragua, Argentina, Colombia and Washington, D.C. Long Beach, however, was always home base. And CSULB his home school. 
That was largely because his father also taught at The Beach when it was called Los Angeles-Orange County State College. So, going anywhere else did not make sense to Ziff. 
"It was economically sound," Ziff said. "When I talk to colleagues, I tell them that I got a great education from a great institution with professors who cared about their students. … It prepared me for grad school. I've had a great career." 
The job doesn't come without its perks. Ziff has dined with renowned author Arthur Miller and the President Mariano Rajoy of Spain at the White House, traveled the world many times over and once met Lady Gaga in Rome, where he helped convince her to sing at the 2011 EuroPride festival. 
The job also has domestic drawbacks, such as a lack of stable family life. The constant relocation meant uprooting the family every few years.
"When my children, my two daughters, complain that they don't have any roots in the community, that they had to move every three to four years and how I displaced them from the United States, I tell them that 'Yes, you can complain, but you can do it in four different languages,' " Ziff said.