CSULB alumna joins First Lady Jill Biden's communications staff
Published January 25, 2021
One day, Asjia Garner was a Cal State Long Beach student working as a production intern on the set of  "Pretty Little Liars," taking direction from producers and directors. Three years later, she is on the biggest stage in America, serving as communications coordinator for First Lady Jill Biden. 
Garner, who graduated in 2019 with a double major in journalism and international studies, will be working with the First Lady to implement her initiatives.
I am humbled and honored to serve on the First Lady's team. I'm so grateful to help execute her bold, inclusive mission. 
"Endless gratitude to my family, friends, colleagues, mentors and fellow women of color for paving the way. ... God is good," Garner wrote on Twitter recently.
Garner has been paving her own road since entering CSULB. During her four years, she assisted Jennifer Fleming, chair of the journalism program, in assessing and improving diversity and inclusion for the Accrediting Council on Education in Journalism and Mass Communication. She also was on the President's Honor Roll and Dean's List all four years and studied abroad in Morocco for a semester. 
"Asjia is a role model," Fleming said. "Here is a young woman who is essentially starting her career in the White House. She is showing other CSULB students, by example, what is possible with intelligence, initiative, curiosity and kindness.
Image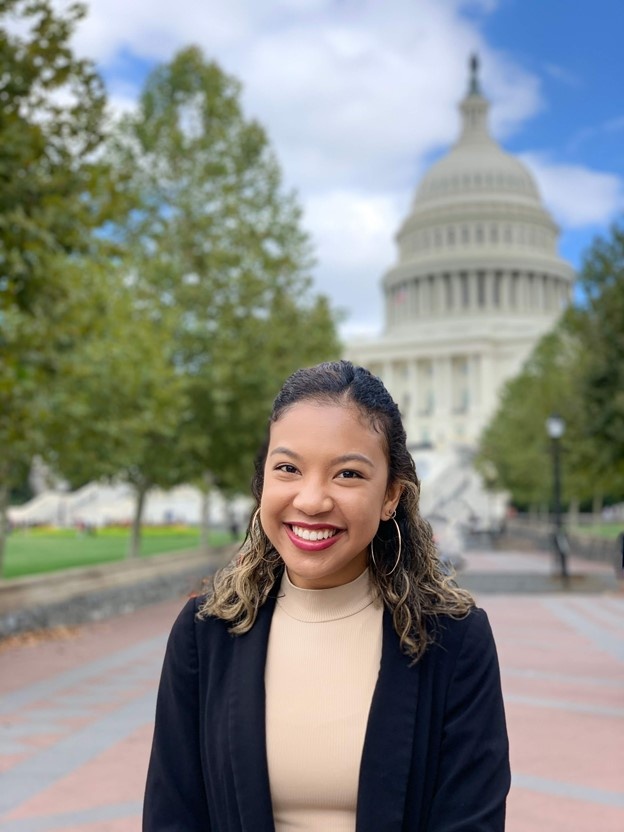 "Asjia's position in the office of First Lady Dr. Jill Biden is an incredible opportunity for an incredible person who made her time at CSULB count, and who is now making a mark in the White House." 
Fleming got to know Garner through the journalism/public relations program. Garner assisted the professor with the department's diversity, equity and inclusion strategy, as well as alumni outreach and website design efforts. 
"Based on my experiences with her, I would describe Asjia as intelligent, thoughtful, kind, organized, gracious and brave," Fleming said. "I was amazed by every new opportunity Asjia told me about, opportunities she often discovered and pursued independently." 
Garner also was selected as a prestigious Emma Bowen Foundation scholar, which led her to internships, such as the one at Warner Bros. While at the Burbank studio, she took helped create the Diversity & Inclusion Initiative for a research project. 
"My goal was to implement change and start conversations," Garner said in an interview with the Emma Bowen Foundation. "The next summer when I returned as an intern, I saw several of our actionable insights implemented into the workplace culture. For example, Warner Bros. started a mentoring program for employees, an idea we pushed to strategize change. 
"The Diversity & Inclusion project made me realize I have a voice within diversity and inclusion behind the scenes and within representation on screen." 
Garner's work, along with the support of the Emma Bowen Fellowship, landed her a job in 2019 with the Obama Foundation, where she served as a digital media intern for the nonprofit organization. She helped execute the editorial/digital media initiatives for Obama's My Brother's Keeper Alliance, as well as wrote web and social media copy that supported international and domestic programming, such as Obama Fellows and Leaders Africa. 
Later that year, Garner joined Biden's presidential campaign as a paid media production assistant in Washington, D.C., and was promoted to producer in August 2020. 
"Her focus and discipline made her a standout," said Aparna Nayak, chair of the department of Romance, German, Russian Languages and Literature. "Asjia was smart, attentive, extremely organized, very diligent and never missed a deadline. Just the way she organized her assignments for my class demonstrated her rigor." 
Nayak said she is not surprised by Garner's success. 
"I've called her a go-getter. You can see why," Nayak said. "She has the drive and the ability to reach her goals."