Fall CSULB Dance in Concert
Image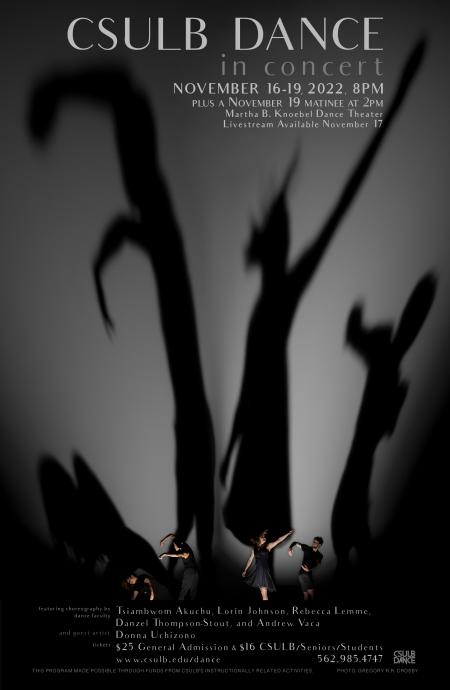 California State University, Long Beach
+
The College of the Arts and the Department of Dance present
CSULB Dance in Concert
featuring choreographic works by
dance faculty Tsiambwom Akuchu, Lorin Johnson, Rebecca Lemme, Danzel Thompson-Stout, and Andrew Vaca
guest artist Donna Uchizono

Concert Director: Keith Johnson
November 16-19 at 8pm / November 19 also at 2pm
Program: Dynamic Reader (PDFs: Full Color, Simple Show Order)
Tickets: $25 General Admission and $16 CSULB/Seniors/Students
Live Stream available on November 17: $25 General Admission and $16 CSULB and Students
LONG BEACH, CA October 15, 2022 – The CSULB College of the Arts and Department of Dance present CSULB Dance In Concert with performances Wednesday-Saturday, November 16-19 at 8pm, with an additional matinée Saturday, November 19 at 2pm. A live stream of the performance will also be available on November 17 at 8pm. CSULB Dance In Concert will feature works by Guest Choreographer Donna Uchizono and Faculty members Tsiambwom Akachu, Lorin Johnson, Rebecca Lemme, Danzel Thompson-Stout, and Andrew Vaca.
CSULB Dance is delighted to welcome back Donna Uchizono; a 1983 alum who graduated from CSULB with a BFA in Dance. Ms. Uchizono is the Artistic Director of Donna Uchizono Company which has toured throughout the United States, Europe, South America, Asia and Australia. Uchizono has created work for notables Mikhail Baryshnikov, Pulitzer Prize Winning Playwright Paula Vogel, MacArthur Fellow David Hammons, and neurologist/writer Oliver Sacks. Donna Uchizono is a 2016 United States Artist Fellow and has been recognized by many awards including a "Bessie" Award, Alpert Award, Guggenheim Fellowship, MAP Fund, National Dance Project, National Endowment for the Arts, New York State Council on the Arts, Creative Capital Foundation, the Jerome Foundation, the Harkness Foundation and four New York Foundation for the Arts Fellowships among many others. Uchizono is a member of the Artist Advisory Board at Danspace Project at St. Mark's Church, where she was a founding member and Chair. She currently is on the dance faculty at Florida State University.
State of Heads, a signature work for Donna Uchizono has been described as a breathtakingly slow rumination on the idea of "waiting," warps the perception of time with speedy moments interspersed. The title originated with the idea that the "Heads" of States seem to be disconnected from the "body" of the country. Uchizono's dance is an exploration of disjointed-ness and the passage of time in a state of hiatus, where the line between spiritual disorientation and meditative calm are blurred, surprisingly creating a strange world of endearingly odd characters.
Faculty Member Tsiambwom Akachu is creating new choreography inspired by and utilizing Vivaldi's The Four Seasons, specifically Winter (L'Iverno) Op.8 No.4 F Minor: Allegro Non-Molto. The work uses the accompanying sonnets Vivaldi wrote to structure a narrative that uses street dance and physical theater to tell the story. The work explores Vivaldi's music in a contemporary context offering a new experience of the classical work.
Lorin Johnson reimagines his 2010 contemporary ballet, My Breath Comes Differently, performed to music by contemporary American cellist and composer Joan Jeanrenaud. Exploring themes of emotional trust and human connection, this abstract dreamscape moves through Jeanrenaud's atmospheric and propulsive score with lyrical abandon.
ASSEMBLY is a collaborative dance work directed by Rebecca Lemme. In this culminating project for the BFA Workshop class, each performer/contributor works to create a language and means for coming together as they endeavor to hold space for the parts of themselves as both individuals and a collective.
S P A C E  is a group work that explores questions around what it looks like to hold space for ourselves and for others. Choreographer Danzel Thomposon-Stout investigates: How do we create spaces where we can show up for ourselves fully? How are these spaces allowing us to go engage in our own desires and face our own truths? How do we allow ourselves to be seen while also seeing others? How can these spaces promote harmony between ease and effort in our dancing bodies & expression?
Andrew Vaca's Winter Hymn envisions four ethereal bodies joining together to put out the fires, both metaphorical and literal, across the globe. Created in 2006, this lush "movement hymn" utilizes elements of both contemporary modern and jazz dance, and is set to music performed by composer Eric Ruskin and Brazilian singer/guitarist Nando Lauria.
Technical Coordinator Stephanie Losleban; Lighting Designer Stacy Fireheart; Costume Designer Kelsey Vidic; Technology Advisor Gregory R.R. Crosby; and Music Director Don Nichols all offer contributions in their areas of expertise.
CSULB Dance In Concert opens Wednesday, November 16 and runs for five performances, closing on Saturday, November 19th. Shows are daily at 8pm with an additional matinée Saturday at 2pm. Shows are located in the Martha B. Knoebel Dance Theater on the CSULB Campus (located just east of the Pyramid on Atherton). Tickets for the live show and the livestream are $25 General Admission and $16 Seniors, Students/Faculty/Staff (have ID ready to show at the door). All tickets must be purchased online. Ticket sales available until 30 minutes past the start of each show, or until sold out.
Contact: Keith Johnson, keith.johnson@csulb.edu