2023 Contemporary Dance Festival: Program A & B
Image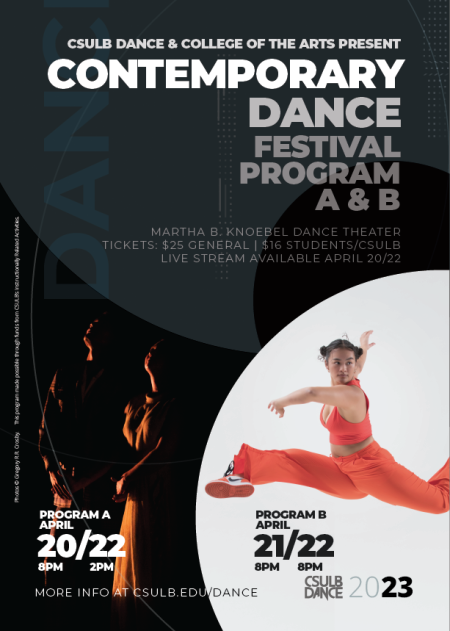 CSULB Dance +
The College of the Arts present the
Contemporary Dance Festival Program A and Program B
two original showcases of CSULB Undergraduate Choreography
April 20-22, 2023 at the CSULB Martha B. Knoebel Dance Theater
Live Stream of Program A: April 20th
Live Stream of Program B: April 21st
 
Performances of the Contemporary Dance Festival (Program A—April 20 at 8 PM and April 22 at 2 PM; Program B—April 21 and 22 at 8 PM) are in the Martha B. Knoebel Dance Theater, with tickets $25 for the general public and $16 for students and CSULB faculty/staff. 
Purchase Tickets:
Program A
Program B
$15 campus parking is available in CSULB Parking Lot G12, directly in front of the Carpenter Performing Arts Center, via parking kiosk (cards only) and the ParkMobile App.
Programs A and B will also be streamed live via Eventbrite at 8 PM on April 20 (Program A) and April 21 (Program B). To access the streaming links, please visit the 2023 Contemporary Dance Festival Eventbrite Event Page.  An encore streaming presentation with both original and accessible versions of the festival with audio-description and closed captioning will be available for purchase in mid-May.
The CSULB College of the Arts and Department of Dance present the Contemporary Dance Festival, Programs A and B, two distinctly original programs of six live performances and one screendance, celebrating the choreographic expressions and diverse artistry of our undergraduate dance choreographers. The Festival's Program A is April 20 at 8 PM and April 22 at 2 PM, and Program B is April 21 and 22 at 8 PM. Both programs will be live-streamed in addition to performed live in the Martha B. Knoebel Dance Theater on the CSULB campus. 
2023 marks CSULB Dance's second year of presenting undergraduate choreography in a two-program festival format, allowing more opportunities for students to share their artistic visions and experiences.  The 14 Festival choreographers have worked for over six months on deeply personal works that share a wide range of intentions and experiences, which include the complexities of expressing love within a family unit, the crumbling romance between two people trapped in a winter cabin, the at-times simple and at-times complex relationship between the subconscious and the conscious, a woman grappling with skewed memories of a past relationship, the chaotic frustration of dealing with pandemic life inside a full Hispanic household, and a young woman dealing with and honoring the recent loss of her mother.  Additionally, choreographers share dances inspired by ominous thriller cinema, the joy of walking home from work with the "right" company, "being in the pocket" as a dynamic collective, a mother's relationship with her inner child, a person's inner monologue about being seen, the struggle to remain true to one's personal beliefs, and the rhythms and motions of Latin dance. 
Each Festival program features performances created by different CSULB Dance undergrads. Program A features choreography by Dante Casarin, Kendall Chatham, Jackie Escamilla, Imran Khan, Eliza Loran and Sierra Tanji, and Daylen McWhorter.  Program B features choreography by Tori Cone, Amber Cunnigan, Jesus Gallardo, Colin Harabedian, Odessa Newman, and Alexandra Portillo. Both programs will additionally feature Araceli Rosales' premiere screendance, The House is Full. 
Choreographers are collaborating with a wide array of talent adding to their creative visions. Costume designers, under the tutelage of Costume Design Supervisor Kelsey Vidic and Costume Technician Erika Hansen, include dance undergraduates Cambria Anderson, Baylee Ferrera, Odessa Newman, Valeria Puentes, and Damian Sanchez.  Contributions by CSULB production staff also feature prominently in both programs, including those of Video Director Gregory R.R. Crosby, Lighting Designer Stacy Fireheart, Technical Coordinator Stephanie Losleben, and Music Director Don Nichols.  Professors Tsiambwom Akuchu and Andrew Vaca serve as Artistic Co-Directors of the Festival, and Professors Rebecca Lemme and Danzel Thompson-Stout provide additional choreographic mentorship.