2022 Variance: A BFA Dance Concert
Image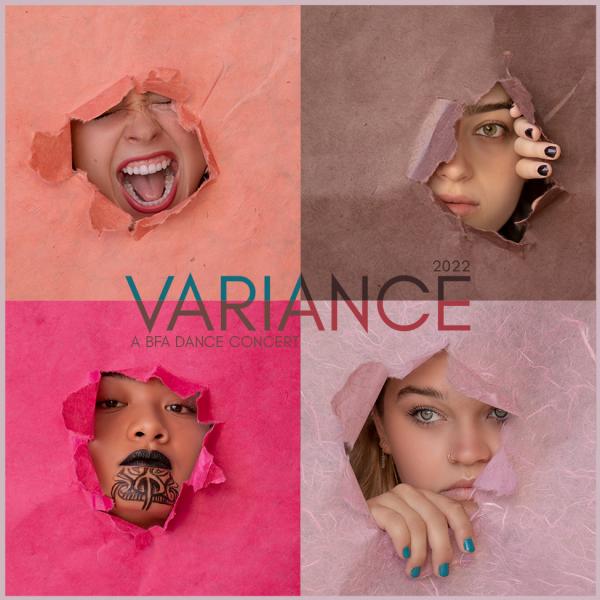 California State University, Long Beach
+
The College of the Arts and the Department of Dance present
Variance: 2022 Fall BFA Dance Concert
Featuring choreographic works by
Guest Artist Dolly Sfeir,
Faculty Keith Johnson,
and BFA choreographers Kendall Chatham, Tori Cone, Eliza Loran, and Julia Russell
Concert Director: Rebecca Lemme
October 13-15 at 8pm / October 15 also at 2pm
Program: PDFs  Full Color Program / Simple PDF of Program Order
Tickets: $25 General Admission and $16 CSULB and Students
Live Stream available on October 13: $25 General Admission and $16 CSULB and Students
LONG BEACH, CA September 16, 2022 – The CSULB College of the Arts and Department of Dance present Variance with performances Thursday-Saturday, October 13-15 at 8pm, with an additional matinée Saturday, October 15 at 2pm. A live stream of the performance will also be available on October 13 at 8pm. Variance is the 7th annual presentation of BFA and guest artist work featuring choreography by Alum Dolly Sfeir, Faculty Keith Johnson, and BFA Candidates Kendall Chatham, Tori Cone, Eliza Loran, and Julia Russell.
The evening journeys from the fantastical to inward reflections on the self, gender, and interpersonal relationships, and to merging of forms from Polynesia and the West. Join us!
The Department of Dance is delighted to welcome back Dolly Sfeir, a 2016 alum who graduated Summa Cum Laude with a BFA in Dance. Sfeir grew up in Lebanon and moved to the U.S at the age of nineteen. She is a 2022 NYFA/NYSCA Artist Fellow in Choreography, the 2019 Grand Prize winner of the Palm Desert Choreography Competition, and a recipient of the Ann & Weston Hicks choreographic fellowship at Jacob's Pillow. She was the artist-in-residence for Abingdon Theatre Company (2018-2019), with whom she developed several short films and an evening-length work. She was awarded a production residency with CUNY Dance Initiative to create an evening-length work that premiered in Spring 2022. Her current commissions include Holstebro Dansekompani in Denmark, WHIM W'HIM in Seattle, and here at CSU Long Beach.
It will happen again tonight is a cinematic dance-theatre work that follows a strange society being twisted through a series of fantastical dream worlds. Set to an impressionistic jazz soundtrack composed by Jesse Scheinin, it invites the audience into a colorfully hazy world. The piece was originally commissioned by Mare Nostrum Elements in New York City.
Faculty member Keith Johnson presents My...My...My Husband, a work that premiered earlier this year. With music by composer David Dominique, the work deals with betrayal and intrigue as a woman believes her husband is having an affair with another woman.
In Bite Your Tongue, Kendall Chatham examines and challenges highly gendered expectations of women and their roles in society. The dancers begin by obliging to the norms of being ladylike and poised but eventually grow tired of the bounds of this behavior and rebel. As the dancers experience freedom from the pressures to which they once conformed, they expand the authenticity and honesty of their feminine expression. An original score by CSULB student Caden Bartlett accompanies their transformation.
Caden Bartlett creates a second original score for Julia Russell's Impasto, with costumes designed by Fashion design student Alisha Patel.Inspired by Russell's own process of self-discovery through loss, the work weaves through the past, present, and future as the lead figure in the work questions and analyzes her identity and the events that impacted her self-perception, opening an intimate and vulnerable space to explore the void loss creates.
The collaboration of Polynesian and Modern dance is explored through Tori Cone's Hapa, where the collision of styles creates movement that shares passion, connection, and a sense of home. As a Native Hawaiian, Cone has curated a work  that depicts the beauty of her own experience: a merging of styles of Polynesian dance, including kahiko, tahitian, and sasa, with Western traditions of Modern dance. Through original music by world renowned group Te Vaka, dancers vocalize and move, freely and vigorously, to portray each style the islands of Polynesia have to offer. Fa'a ho'i ia'u i te ai'a te purotu no te hura; take me home to the beauty of the dance.
Lastly, Eliza Loran's collaborative work entitled Stay a While, Stay a Little Longer is a collage of movement, noise, and light. Three relationships tell their story, twisting and overlapping though time, to challenge our capacity for duration. This fragmented journey researches the often unfulfilled human craving to take time, process with honesty, stay a while, or stay a little longer.
Technical Coordinator Stephanie Losleban; Lighting Designer Stacy Fireheart; Costume Designer Kelsey Vidic; Technical Advisor Gregory R.R. Crosby; and Music Director Don Nichols all offer crucial contributions in their collaborations and consultations with each choreographer.
Following Friday's performance there will be a short Q+A session with the student choreographers and composers moderated by Concert Director Rebecca Lemme. This is an opportunity for audience members to get more perspective on each of the artists' approach and process. Students especially are encouraged to stay and engage in this discussion. Saturday's matinée will be preceded by a community college engagement event; interested dance departments should contact Rebecca Lemme for details.
Variance opens Thursday, October 13 and runs for four performances, closing on Saturday, October 15. Shows are daily at 8pm with an additional matinée Saturday at 2pm. Shows are located in the Martha B. Knoebel Dance Theater on the CSULB Campus (located just east of the Pyramid on Atherton). Tickets for the live show and the livestream are $25 General Admission and $16 Seniors, Students/Faculty/Staff (have ID ready to show at the door). All tickets must be purchased online. Ticket sales available until 30 minutes past the start of each show, or until sold out.
Contact:
Rebecca Lemme
Image: Gregory RR Crosby
###