2022 Contemporary Dance Festival: April 21 - 23
The CSULB Department of Dance in the College of the Arts presents:
Contemporary Dance Festival, Program A and Program B 
two showcases of CSULB Undergraduate Choreography
at the CSULB Martha B. Knoebel Dance Theater
Program A Digital Playbill (PDF)
Program B Digital Playbill (PDF)
Tickets are $15 per stream via Eventbrite
Audio Description and CC version of Contemporary Dance Festival: Program A & B
On sale now and available for online viewing from Wed, May 18, 2022, 12:00 PM – Wed, May 25, 2022, 12:00 PM PDT
Image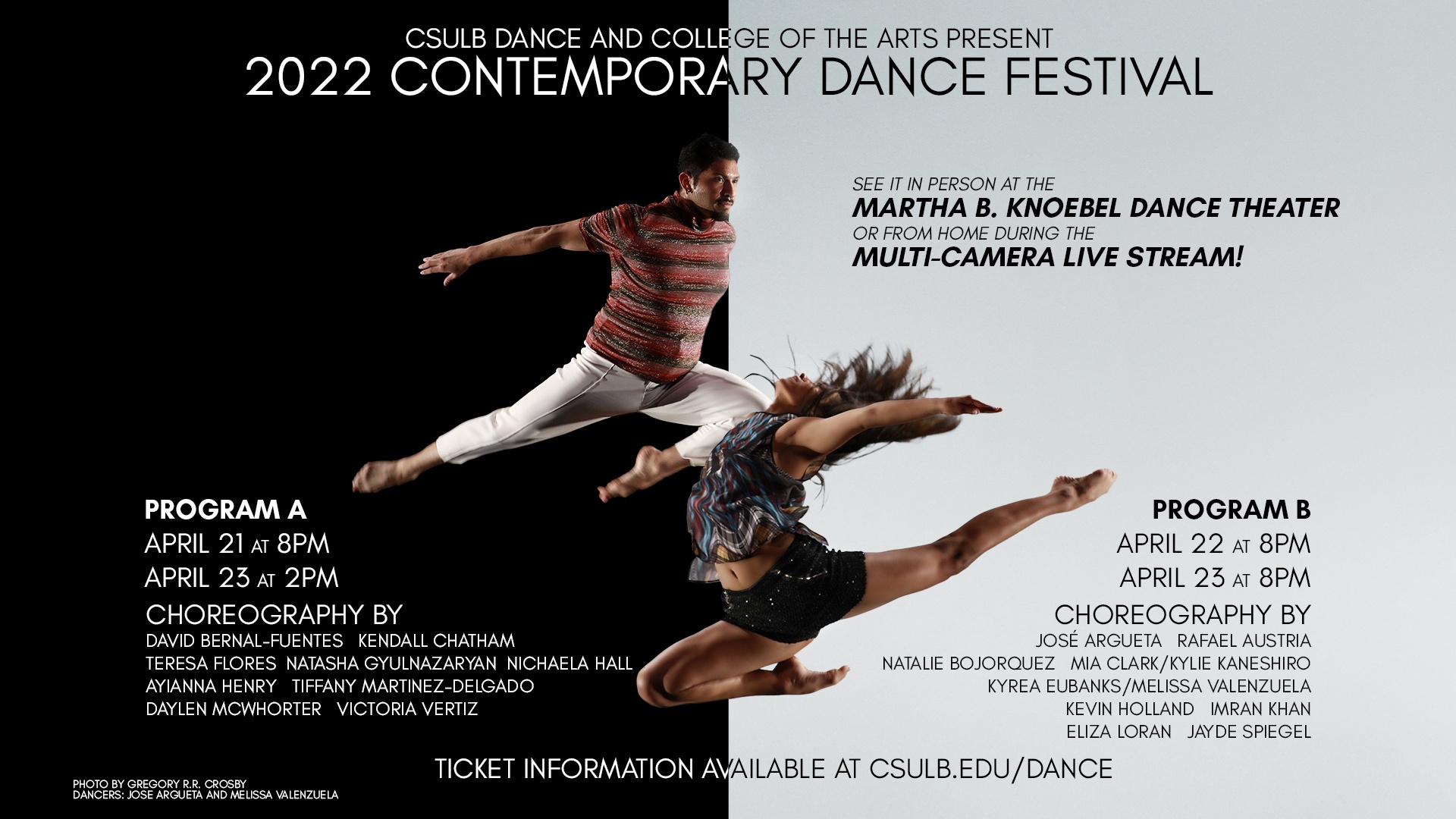 LONG BEACH, CA -- The CSULB College of the Arts and Department of Dance present the Contemporary Dance Festival, Programs A and B, two distinct programs of nine dances celebrating the choreographic diversity and original artistry of our undergraduate dance majors. The Festival's Program A is April 21 at 8 PM and April 23 at 2 PM, and Program B is April 22 and 23 at 8 PM. Both programs will be live-streamed in addition to performed live for a limited audience in the Martha B. Knoebel Dance Theater on the CSULB campus. An audio-described version of the show will be streamed in mid-May.
With 18 original dance pieces, the Contemporary Dance Festival is the largest presentation of dance in the 50-year history of the CSULB Department of Dance. After a year of online dance study, the 20 Festival choreographers bring to the stage a wide range of expressions and experiences, including the obsession of wanting to be loved, the proximity of physical touch, the exploration of internal conflict, the embodiment of internalized emotions, and the struggle to move beyond the Hispanic culture of marianismo. The Contemporary Dance Festival brings to fruition over six months of arduous research and work by the choreographers to imagine, process, and spotlight their choreographic intentions.
Program A features choreography by David Bernal-Fuentes, Kendall Chatham, Teresa Flores, Natasha Gyulnazaryan, Nichaela Hall, Ayianna Henry, Tiffany Martinez-Delgado, Daylen McWhorter, and Victoria Vertiz.  Program B features choreography by José Argueta, Rafael Austria, Natalie Bojorquez, Mia Clark and Kylie Kaneshiro, Kyrea Eubanks and Melissa Valenzuela, Kevin Holland, Imran Khan, Eliza Loran, and Jayde Spiegel. Each Festival program also features original music compositions and costume designs by student designers. Collaborative contributions of CSULB staff feature prominently in both programs, including those of Technical Coordinator Stephanie Losleban, Lighting Designer Stacy Fireheart, Costume Designer Kelsey Vidic, Technical Advisor/Videographer Gregory R.R. Crosby, and Music Director Don Nichols.  Professors Keith Johnson and Andrew Vaca serve as artistic Co-Directors of the Festival, and Department faculty Tsiambwom Akuchu, Rebecca Bryant, Betsy Cooper, and Danzel Thompson-Stout serve as additional choreographic mentors.
Performances of the Contemporary Dance Festival (Program A—April 21 at 8 PM and April 23 at 2 PM; Program B—April 22 and 23 at 8 PM) are in the Martha B. Knoebel Dance Theater, with tickets $20 for the general public and $15 for students and CSULB faculty/staff. $12 campus parking is available in CSULB Parking Lot G12, directly in front of the Carpenter Performing Arts Center, via parking kiosk (cards only) and the ParkMobile App. 
Programs A and B will also be streamed live via Vimeo on April 21 (Program A) and April 22 (Program B). Streaming links can be found above. Access is $15 per stream. The audio-described version will be available for purchase in mid-May.
For additional show information, contact Concert Co-Director Andrew Vaca at Andrew.vaca@csulb.edu or call the Department of Dance office at (562) 985-4747.
Donate to the CSULB Department of Dance
Media Contact:  
Andrew Vaca, Andrew.Vaca@csulb.edu
###