Interior Design Student wins CSU Trustees' Award
Interior Design Student wins CSU Trustees' Award
Image

Growing up, Nevroz "Nevi" Keser Gruskin didn't know that interior design was a thing. She just knew she liked to make her family's home – which changed many times over the years – warm, inviting and beautiful.
"I designed without really knowing what I was doing," said Nevi, 27, a fourth-year interior design student within the CSULB Design Department. "I shared a bedroom always and had very little resources. I painted the walls a different color. In my town, I would walk everywhere, and when people didn't want furniture, they'd leave it out. I'd see something, pick it up and refinish it. I sanded it, painted it and put new knobs on it."
She knew from those early days as a Kurdish immigrant in Kaarst, Germany, that the design and appearance of one's living space could make a difference in a family's outlook and well-being. "I redid the house, re-arranged the bedrooms. My mom was always pleased. Otherwise, I wouldn't keep doing it, I guess."
Demonstrating creativity and determination from a young age, Nevi has kept that spirit going at The Beach, where she has maintained a 4.0 average since transferring in 2020. She recently received the top CSU Trustees' Award for Outstanding Achievement, the CSU's highest recognition of student achievement.
The Beach honoree is one of 23 students across the CSU system who have demonstrated excellent academic performance, personal accomplishments, community service and financial need. Many recipients, including Nevi, are first-generation college students.
Each Trustees' Award provides a specific donor-funded scholarship that recognizes inspirational resolve on the path toward college success. Nevi won the Trustee Emeritus Ali C. Razi scholarship – a $17,000 award.
Image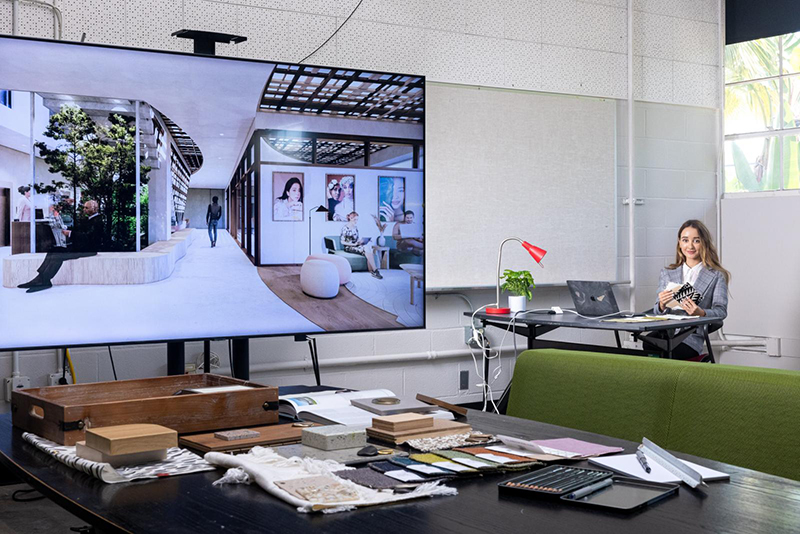 "Of course, it takes a really big burden off of anybody receiving money," Nevi said. "I work while I go to school. Now I don't have to worry about working every last hour to pay the bills. But it's not just the money; it's really nice to be recognized. I feel like I've worked really hard my entire life." All the scholarship winners were recognized during a livestreamed ceremony on Sept. 13, as part of the CSU Board of Trustees' annual meeting, Sept. 13-14.
The scholarship program was established in 1984 by the William Randolph Hearst Foundation. In 1999, the Hearst Foundation partnered with the CSU Board of Trustees to supplement the endowment with contributions from CSU Trustees, CSU Foundation board members and private donors.
In her endorsement letter to the CSU Foundation, President Jane Close Conoley wrote, "We hope that you are equally impressed by Nevi's accomplishments and growth as we are …. This is only the beginning for Nevi and recognizing her through this distinguished award will catapult her to the next level."
Von Dominguez, an associate professor in interior architectural design at CSULB, taught Nevi interior design in the fall of 2021. "She's a pretty mature designer for her class standing," he said. "She's pretty far ahead in terms of her learning curve and skill sets. She definitely has the drive and is a self-motivator. It's great to witness her growth and see her develop her skill sets. She's definitely a once-in-a-generation talent that we're honored to have in our program."
Nevi describes her design aesthetic as "minimal with ties to nature." She is inspired by wabi-sabi design, which comes from a Japanese philosophy that dates to the 15th century. Wabi-sabi involves accepting imperfections, forming a connection to the earth and enjoying the simple pleasures of life. "I like natural, imperfect pieces that show texture, raw materials and have an overall unfinished look," she said. 
Currently, Nevi works as a junior designer for Alexander Design, a Los Angeles-based architecture and design firm. She met founder Vanessa Alexander during her early days in Southern California, working as an au pair. Through her design work at CSULB and in her own time, she has developed a website, keserdesign.com, and an Instagram page. In 2021, Nevi was a top-five finalist in the nationwide NEXT Student Design Competition, sponsored by Steelcase furniture. She was one of nearly 1,000 applicants, and she and another CSULB student flew out to Grand Rapids, Michigan to compete in person.
For her efforts, she won $1,225 and a top-of-the-line Steelcase chair.
Still, Nevi has overcome her share of challenges. She and her three siblings grew up in a single-parent, low-income household in a town and country where she says Middle Easterners aren't
exactly loved. "My mom didn't ever go to school," she said. "She worked as a housekeeper for the longest time."
In 2014, Nevi moved to the United States to be an au pair in Malibu; in 2018, her Malibu home burned to the ground in the devastating Woolsey Fire. "We lost everything," she said. "I just grabbed my laptop and green card paperwork. I couldn't complete my schoolwork because I lost supplies and stuff. I lost my portfolio, basically."
Being Kurdish, she's part of a people who have lost their country and are losing other aspects of their culture. "It's sad; it's a dying culture and language," Nevi said. "They're just very oppressed. All they ever wanted was peace. They're in the middle of a war, and they're still not free."
Still, she has her sights set high. After she obtains her BFA in interior design, she might get a master's in architecture and one day start her own interior architecture firm, specializing in hospitality design. "I love how spaces make you feel. Any space makes you feel something. It might be intentional, might be unintentional. The way a place is designed can make you feel happy or positive.
"It is almost a language on its own. Small details can really make a difference in somebody's life. Design can really change the future for somebody."
Republished with permission from a story by Richard Chang, originally seen on the CSULB homepage