Karen King
2023 Distinguished Alumna
Image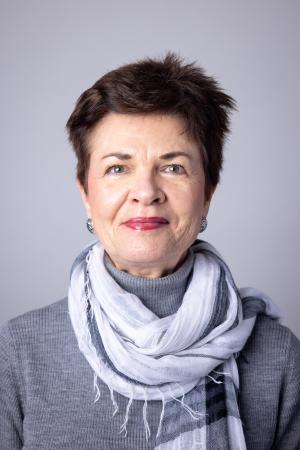 Case Manager, Molina Healthcare (ret.)
1972, Nursing Diploma, Sherbrooke Hospital School of Nursing, Quebec 2001, B.S., Nursing, Cum Laude, CSULB
When her mother went back to school, Karen King took on the responsibilities of taking care of her four siblings. Barely older than her three sisters and one brother, King didn't mind the extra chores and duties while her mother was studying for her master's in social work. She liked tending to her family. 

Little did she know then, as a teenager, that managing her family would set her on a 40-year career path in nursing.  

Born in Quebec, Canada, King first worked as a candy striper at a  hospital while in high school before enrolling in the Nursing Diploma Hospital School of Nursing in Sherbrooke, Canada. She graduated in 1972 as a registered nurse. Later, she moved to Southern California and attended Orange Coast College for two years, then transferred to Cal State Long Beach's RN Pathway program, where she graduated cum laude. 

"Seeing firsthand how committed my mother was to earn an advanced degree certainly influenced my decision to attend nursing school and many years later, when older, my B.S.," said King, who loved working in labs in high school, furthering her desire to go into medicine. 

King spent 15 years as a telephonic case manager for Molina Healthcare and United Healthcare, coordinating care services for their members. She previously held positions in several Southern California hospitals as a staff nurse in areas such as oncology, orthopedics and medical surgical. 

She left hospital work and moved into homecare service, improving the lives of Medicare recipients in their homes for seven years before retiring in 2016. She said earning her B.S. gave her the satisfaction of knowing she would be helping others. 

"I feel proud of my 44-year nursing career in helping people," King said. "I have always had a heart for service." 

Her love of helping others led King to give back to CSULB through an endowed scholarship in The Beach's School of Nursing (SON). She said her inspiration for the scholarship came from retired SON director  Dr. Loucine (Lucy) Huckabay, who headed the school for 21 years and was at CSULB for 44 years. 

She hopes the scholarship will help future students pursue their dreams of nursing school. 

Although she left her nursing career behind, King continues to serve others, volunteering at Long Beach  Memorial Medical Center in the pet therapy program with her dog, Scratch. 

Since retiring, King has remained connected to Cal State Long Beach by attending community events such as Beach Street and Día de Los Muertos on campus. She also is active in the Legacy Society. 
From 2023 Alumni Awards program