Dream Job & CSULB
Image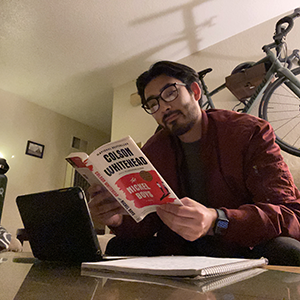 I always wanted to be a major league baseball player starring as a closing pitcher. Some of my earliest memories as a child were of the field, dominating the other kids as I was naturally gifted. My coaches saw something unique pertaining to my arm and its ability to throw with some extra velocity. With every sport a young boy falls in love with comes the idol that perpetuates his motivation, which for me was Angeles pitcher Troy Percival. Every new season I chose the same number, his number, 40.

As I reached high school, baseball became heavily competitive and became too physically demanding. I was putting my shoulder under heavy strain from attempting to throw harder and learning new pitches. Soon, my love for the game dissipated and I felt lost. I needed to find something new to succeed at while equally having fun, which was reading. I was always enticed by literature. The broad imagination of authors and their ability to create immersive spaces that allow the readers to view the world through different lenses is a powerful and admirable skill.

Although my dream job as a kid does not align with my plan at CSULB, CSULB has provided numerous opportunities for my career. Towards the end of my undergrad, I was unsure of my future and what to do with my degree in English literature. I express gratitude to my professors who helped me discover the position of editor. In my first semester in the MA program in English, I served as an editor for Watermark, an annual scholarly journal published by graduate students. I was then chosen to serve as the student editor for the University Outreach & School Relations. There are times, however, I do wish I could re-live my moments as a baseball player, but I believe I am on my intended journey.