CSULB Guardian Scholars Program
Guardian Scholars Services Will Be Offered In-Person and Virtually for Summer 2023
The Guardian Scholars program will be offering in-person and virtual services for the Summer 2023 semester. The Guardian Scholars Resource Center will be open Monday thru Friday from 8:00 am-5:00 pm for resource information, referrals, and free printing. 
If you have any questions or need assistance, please email us at guardianscholars@csulb.edu or you can call (562) 985-2639 and leave a message.
Image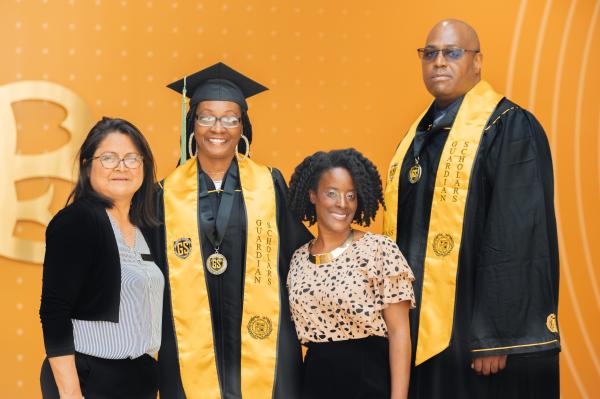 ---
Guardian Scholars Purpose:
The CSULB Guardian Scholars Program assists current/former foster youth in their educational pursuits by offering services such as academic counseling, financial aid advising, tutoring, mentorship, skills assessment, and math and writing labs throughout their academic career. Additionally, the CSULB Guardian Scholars Program provides advising from an academic counselor who has knowledge about on-campus resources and other critical services available from different departments throughout the university which will assure college retention and graduation.
Guardian Scholars Mission
The CSULB Guardian Scholars program is dedicated to serving current and former foster youth by creating a community where students can access campus services, build networks with other foster youth students, staff, and faculty, and strengthen their academic and social support systems throughout their academic careers. CSULB Guardian Scholars strives to facilitate discussions and encourage an understanding of foster youth needs by providing the tools to be successful in a comprehensive and supportive college environment.
Guardian Scholar Values:
We Commit to building a community where students come first.
We emphasize Trust, by strengthening each other and building relationships.
We express Appreciation and respect, both verbally and non-verbally.
We focus on spending sufficient and quality time with our students
We demonstrate Coping Skills by modeling positive strategies to handle life challenges.
We utilize Communication by allowing students to express who they are and what they need.
We cultivate relationships with others.
Image