Permit Fee Schedule - FAQ
Yes, this is a 5-year plan with the total amount of the increase spread out across the next 5 years ending in fiscal year 2025/26. Fees vary based on the type of permit. Please see the fee increase plan for specific increases.
As a self-funded program that relies on permit sales for 86% of our revenue, these increases are necessary to continue current service levels and safely maintain our infrastructure and services.
The costs to maintain our operations increase every year based on changes in the economy and the consumer pricing index. Examples include, the cost of construction materials, lot maintenance, supplies, services and employee benefits. We have 3 parking structures on campus with up to 6 levels, 30 parking lots, 22 EV chargers, a campus shuttle service, and staff that maintain them all.
As a self-support program, our fees (primarily from the sale of parking permits) provide our only revenue. We increase fees to align the cost of parking on campus with the rising costs of providing safe and effective parking facilities/services.
No. Fees will be increasing for all campus permits except for bargaining unit employees who only make up approximately about 5% of total permit holders. These permit types include campus visitors (Daily & Short-Term), managers, non-bargaining unit employees, vendors, contractors, community, activity and motorcycle permits. For the full list of all permit types and the increase amounts, please see the pricing grid at Parking Permit - Fee Schedule (2021-26).
No. In accordance with Education Code 89701-89704, Parking and Transportation Services has been designated as an enterprise fund. This means we are a program that must support itself based on the revenue that we earn. PTS earns its revenue primarily from parking permit sales and we use this revenue to pay for all our operations and required construction. For a detailed list of our revenue and expenses, please review our Annual Report posted online each year for full financial transparency.
Parking on campus is a voluntary expense. Not all students choose to use the parking facilities on campus. Some students live on campus, some commute via the bus, biking, walking or other forms of sustainable transportation. We only charge the individuals who park in these campus facilities for the cost of operating and maintaining those facilities.
We always provide a detailed report of our revenue and expenses in the Annual Report posted online each year after the fiscal year ends.
In short, the fees will be spent on vital construction maintenance that has been deferred, annual debt service payments for current parking structure loans, and other operational needs that are required to maintain current services.
Since parking on campus is a voluntary expense, a hardship fee waiver is not provided.
We encourage all students to use sustainable transportation whenever possible in lieu of driving to campus. By choosing sustainable transportation, students spend less money, avoid permit fees, vehicle maintenance fees, insurance, gas, and other possible fees like citations or vehicle repairs. Most importantly, individuals who select these modes reduce their carbon emissions and our university is currently pursuing a campus-wide goal of carbon neutrality by 2040.
Any students experiencing extreme hardships, displacement, homelessness, food insecurity, an emergency, and/or other crisis should contact the CSULB Basic Needs Program immediately for assistance.
Students have the option to purchase a monthly permit instead of a semester or academic year permit. Students that come to campus less than four times per month may also consider buying a Daily permit instead of the monthly option.
Please visit the Parking Permit - Fee Schedule (2021-26) for a full list of permit options and their prices.
In accordance with Education Code 89701-89704, Parking and Transportation Services has been designated as an enterprise fund. This means we are a self-support program that is primarily dependent on parking permit revenue to pay for our operations.
We have 3 multi-level parking structures on campus, 30 other parking lots, 22 EV chargers, a campus shuttle service, and the staffing required to maintain and operate our infrastructure and services.
You can see a detailed report of where all the money comes from and how it is spent in our Annual Report that is posted online each year for full transparency.
We received an allocation of $2 million in HEERF funds to assist with lost revenue for FY 2020-21. The allocation slightly offset the impact of COVID-19 closures; however, it did not provide nearly enough money for parking to meet its expenses for that year or start any required construction projects for our lots and structures. Additional information about CARES Act and HEERF funding distribution can be found at Federal Aid.
When compared to other CSU campuses, CSU Long Beach is 7th in parking fee expenses even though we offer the 2nd highest amount of available parking spaces and infrastructure (posted in June 2020). CSU Pomona is the only university of all 23 campuses in the CSU system that offers more parking than CSU Long Beach.
Image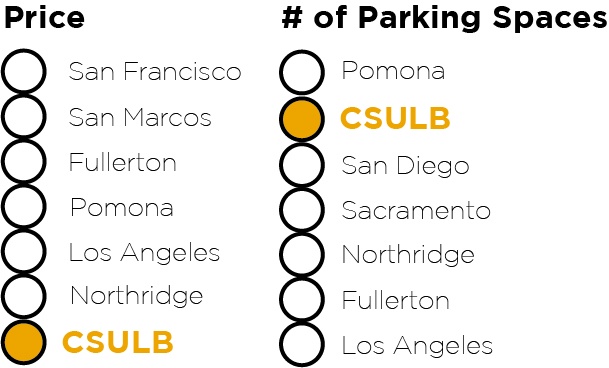 Sustainable Transportation is a great alternative to driving to campus. Students and staff can go green and save big by traveling to campus by carpooling, bus, bike or walking. For more information on each of these different modes, please visit sustainable transportation.
Using sustainable transportation is the most cost effective way to get to campus and save money. If you must drive to campus, consider carpooling to reduce the costs of gas, insurance and vehicle maintenance.
When buying a permit, remember that monthly permits are now available to offer more flexibility if not parking on campus for the full semester. Purchasing a daily permit is also less expensive than a monthly permit if you will be on campus less than four days per month.
As normal parking demand returns to campus, we will continue to provide traffic control officers and off-campus overflow parking lot options as needed.
Installing parking counters is a costly venture that requires video cameras and counting equipment at each of the 30 parking lots and three parking structures. PTS does not currently have the funds required for a program of this scope at this time. As technology advances, we will be looking for a more cost effective solution.
No. This is considered permit sharing and according to our Parking Regulations, all permits are nontransferable and may only be used by the individual to whom the permit is issued.
For any questions not addressed in the FAQ above, please feel free to email ParkingGeneral@csulb.edu or call 562.985.4146.