Beach Voices: CSULB student discovers the power of internships through College Corps
Published January 23, 2023
I grew up in Long Beach surrounded by gang violence, substance abuse and mental health issues. 
At my sister's 10th birthday party, we were confined inside because there was a gang doing an initiation outside in the alley.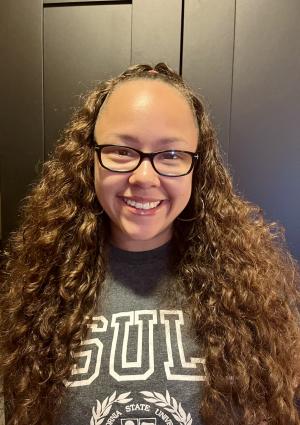 At 15, one of my close friends was shot on a Sunday afternoon. Another one of my friends passed away from overdosing on fentanyl.  
Another friend was killed in front of his home. My brother's best friend was murdered walking out of a liquor store, over mistaken identity.  
I know a student who was homeless, and most nights, he would walk around the city until the school campus opened.  
One thing that is clear to me is that as a community we are hurting. It is a different kind of hurt when you look at childhood photos and the people in them are no longer here. I love Long Beach; this is where I come from. But this city has also taken so much from me and the families around me that for a long time I did not know what to do.  
It took me five years to transfer from LBCC to Cal State Long Beach. It was hard because I did not know what I did to deserve my life or even the opportunities I had been given. I isolated myself from everyone I loved and cared about.  
I was angry at what the world had taken from me and my community. I was angry at what the world did not offer me and my community. I was angry because I knew that the community that we made together was created out of our need for survival and I hated it. We were not expected to thrive like other people. Just surviving was good enough.  
As I go to classes, I often think about how people like me do not go here. There might be Long Beach students here, but the majority do not know what I have gone through. The handful of people from my community that I do know at this school, of course, major in community-centered fields. I think to myself how lucky I am to be here and how I must finish to prove to everyone that someone with my background can make something of herself.  
In April of 2022, I got an email regarding a paid internship opportunity to do something within the local community with College Corps. I want to be a lawyer that helps with crime, juvenile reform, and policy and I was unaware of how competitive law school is.  
I knew that my resume and academic record were weak and an internship in my community would be perfect. I would be able to learn about what the community needs while making lifelong connections and honestly a reference for law school.  
I was lucky enough to be chosen by the Long Beach Center for Economic Inclusion (LBCEI). I started working at LBCEI in September and I can honestly say that it has changed my world. This organization operates on the needs of the community, and I learned that very fast.  
Emily Kazim, my supervisor, and Jeff Williams, then-executive director of LBCEI (now the director of Community Engagement in Mayor Richardson's office) are the most amazing and caring people. 
I'm not treated like a student intern who is just here to complete her hours. I'm treated like an equal and my opinion is taken into consideration with everything we do.  
I have had the perfect balance of the fun, community-facing side of things with community events and pantry work, but also administrative work that is equally important, although it may not be as fun. Emily talks positively about me in rooms that I am not even in, and where I come from, that speaks volumes.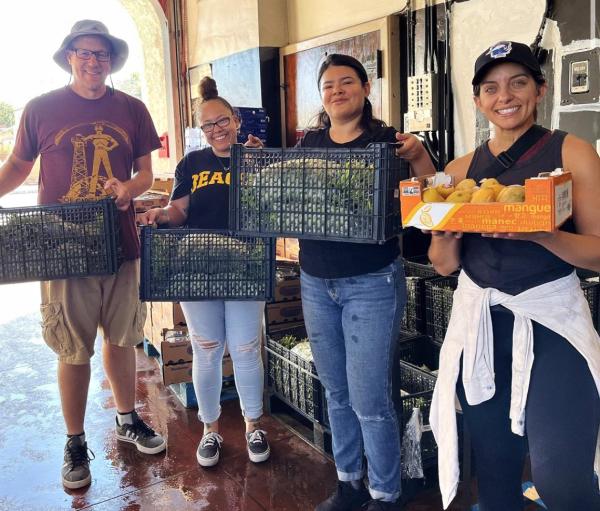 Throughout the fall semester I was given assignments to cultivate my professional skills by Professor Wilson, in the required internship class associated with College Corps. We were asked to incorporate our internship experience into our resume and then hopefully, a job. I have check-ins with Professor Bernal, my faculty advocate associated with the College Corps program to discuss my progress and the sheer joy for the work I am doing.  
Emily has taken what scares me most about working with the public and we work on it together. This means we are doing community outreach together or I am tabling an event representing LBCEI. I have even done a public speaking workshop! We attended the mayor's inauguration together and I am constantly getting better and better at the things that scare me. She knows about my aspirations to be a lawyer and has even helped me edit an adversity statement to receive funding for LSAT prep. 
I major in political science, and I usually can connect everything that happens through politics and policy. At first, I was interested in how food insecurity related to my interest in crime reduction, prevention, and youth development.  
I was shown very early on that food security is imperative in that conversation. Crime happens when basic needs are not being met through legitimate avenues. People need money, quality food, affordable housing, quality education, and above all, respect. Addressing food insecurity is not optional, it is crucial to fixing the problem.  
Through this, I am learning that closing myself off from my classmates does not hurt anyone but me. Connections are not just made through shared experiences but with so much more.  
I was chosen for this position by you all. But my work ethic, dedication, and love for my city is creating opportunities that I never would have thought of or imagined.  
The people behind this program have given me tools to move further along my journey. When I go and serve my community it is so personal to me. My goal is to complete law school solely to help protect and boost my community. LBCEI has shown me that you do not need the world to heighten a community, just a few people who care very much. I want every single person in my community to know and understand that we deserve the most prosperous lives.  
Instead of being afraid and doubting myself, I am learning that every challenge and opportunity prepares me for the career ahead of me. Emily, Jeff, LBCEI, and everyone who runs the College Corps program have given me this amazing start and network, and I cannot wait to combine my love for community organizations with law and policy.  
Shayna Briseno-Brooks is a third-year political science student at The Beach. Beach Voices is an occasional feature that allows members of The Beach community – students, faculty, staff and alumni – to share their firsthand experiences. If you would like to be considered, email submissions labeled "Beach Voices" to Strategic Communications.