Late CSULB alumnus, supporter Bob Murphy remembered for helping students with disabilities
A little corner of the world. That's what philanthropist Bob Murphy '62 wanted for the students at Cal State Long Beach.  
A place where students who had various disabilities could receive assistance. A space that would help the more than 2,300 students achieve their educational degrees and prepare them for their future. 
Murphy, a champion of students with disabilities and a longtime board member of the 49er Foundation, found his spot at the Student Success Center, where the southwest corner bears his name. The Bob Murphy Access Center was a dream that came to fruition with his generous donation in 2017. 
Murphy passed away June 17 at 83. His passing leaves a void throughout campus, but none bigger than at the BMAC.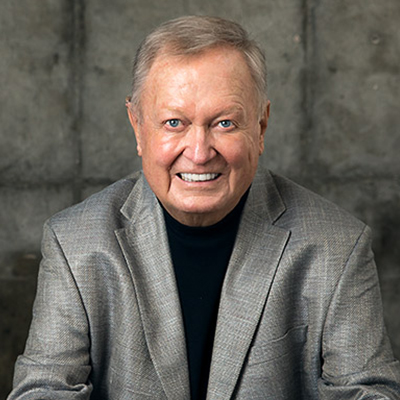 "Bob's donation was about having the best building for students. Not just a building, but the best, so that the students would feel that the university appreciated them, that the university thought about them, and that the university made a considerable effort to serve them in the best way," said Mary Nguyen, director of the BMAC. 
Murphy's desire to put the needs of students with disabilities at the forefront is why the BMAC, which opened in 2019, is located at the front corner of the Student Success Center. 
"He would stop by, and it was exciting just to hear him when he walked through the door," said Amber Maurer, a disability management and assessment specialist. "He would stop in every office and talk to every student, assistant and persons in leadership. It would be 20 minutes of just chit chatting, wanting to know how you were doing. 
Today, the building is a little bit quieter. A wreath, adorned with a black ribbon and a photo of Murphy, hangs on an outside wall, a memorial to a man who made a difference in the lives of many.  
"He was such a big person and such a big presence in our lives and in my life, I assumed he would live on," Nguyen said.  
Murphy's impact will be felt for years at The Beach through his work with the 49er Foundation, which he served as Chair, and the Bob Murphy Access Center. The center, with its bright yellow walls and multitude of offices, provides, among other services, educational support for students who are deaf and hard of hearing, are living with autism and learning disabilities. 
"Bob was always about creating something that made an impact," said Dave Sanfilippo, who retired in 2018 after 40 years as director of Disabled Student Services. "It wasn't a matter how many his work helped, it just had to make an impact, and the quality of the impact that was important to Bob." 
Murphy, who worked 35 years as a project manager for Rockwell International, wasn't only a businessman with a compassionate heart. He was a 1962 Beach alumnus with a degree from the College of Liberal Arts who served on the CSULB Board of Governors and the 49er Foundation. 
"Bob's legacy is enshrined at The Beach through his board and committee service, as well as his passionate advocacy for student success for all, further symbolized by his transformative gift to what is now known as the Bob Murphy Access Center," President Jane Close Conoley said. 
He was honored in 1992 as a member of the university's Distinguished Alumni for his contributions not only to the campus, but within the community. Murphy served as a trustee and board director of the Long Beach Memorial and Miller Children's hospitals and board. He and his family established the Murphy Family Foundation, which is dedicated to disadvantaged children's education and health care. 
Susie Morse, Murphy's niece, has taken over as director of The Murphy Family Foundation, a role he mentored her to do in his absence. She said that her uncle "always stressed the importance of volunteerism, and being involved. He was passionate about the causes that he supported, and felt a personal obligation to make sure they succeeded."
Among his passions were CSULB and the city of Long Beach. 
"Bob's roots were in Long Beach. He was born at Long Beach Memorial Hospital," Morse said. "Bob's passion was to give back, and CSULB was where he got his beginnings. He made many lifelong friends while he was there, including many of his SAE fraternity brothers."
Murphy's life was defined by his mother's words. As a young boy, his mother, Olga, reminded him often of his blessings, telling "Don't ever feel sorry for yourself and always help others less fortunate," he said in a 2017 interview. Then one afternoon, she took him to Long Beach Veterans Hospital, where the site of veterans who had lost legs and arms left an indelible mark on the young boy. 
"He said he was never the same after that," Sanfilippo said. "He said 'I realized then how fortunate I was. I never felt sorry for myself after that. I knew that there were people who needed help.'" 
Sanfilippo said Murphy had a genuineness about him, and he was truly awestruck by the accomplishments of the disabled students. It was never about him. 
"I loved that about Bob," Sanfilippo said. "It was great to see that kind of reaction by someone who is accomplished himself." 
Murphy's dedication to CSULB and its students was instrumental when the BMAC staff debuted a student of the year award in 2018. The staff named it the "Bob Murphy Impact Award." 
Murphy was uneasy about the honor and asked Nguyen about it. 
"He pulled me over and said that was nice, but the focus should be on the student, not me," Nguyen recalled. 
The award is now called the BMAC Impact Award, inspired by Murphy. 
"If there is one word, I would use to describe Bob that would be humble," Nguyen said.