How CSULB is creating a more inclusive workforce
Published December 6, 2021
Embarking on a healthcare degree path at UC Riverside in 2014, Dr. Daniel Diaz '16 wouldn't have guessed that he'd be working on his Ph.D. in particle physics at the renowned CERN laboratory in Switzerland just a few years later. 
"I started pre-med, and I'd never taken a physics class in my life," Diaz said, sharing about his unconventional entrée into physics from his postdoctoral post at UC San Diego. "But when I started a required physics course for my program, I realized that I liked it a lot better than the bio classes I took as pre-med." 
Diaz switched majors, completed a year-long introduction to undergraduate physics, and earned his bachelor's degree at UCR, but to follow his newfound passion to a career as a particle physicist, he still faced an uphill journey into graduate academics and demanding post-grad programs. To bridge the gap, an advisor at UCR recommended the American Physical Society (APS) Physics Bridge program, which had recently opened a site at Cal State Long Beach.  
The APS Bridge Program provides mentoring and academic resources to empower students of diverse backgrounds to thrive in the rigorous fields of physics. By recognizing and addressing gaps in foundational mathematics and inequities in opportunities at higher education institutions, the program aims to lead a "paradigm shift in participation" and promote a diversity of perspectives in physics. 
Diaz found the program essential to making the leap from pre-med to his newfound passion.    
"I applied and was accepted at CSULB, and immediately saw how supportive the Bridge program was. The mentors were very organized and structured the program to help us grow," Diaz recalled. "You have your research P.I. – the person who keeps you on track throughout the program – and you have a mentor who you meet with weekly, often over coffee at the Coffee Bean." 
Diaz's mentor happened to be Dr. Andreas Bill, the chair of the physics department.  
"Daniel was the first mentee in the program, and one of many remarkable talents in the first cohort," Bill said. "We communicated often about research, Ph.D. programs and such, but also about life, relationships, finance, and everything else."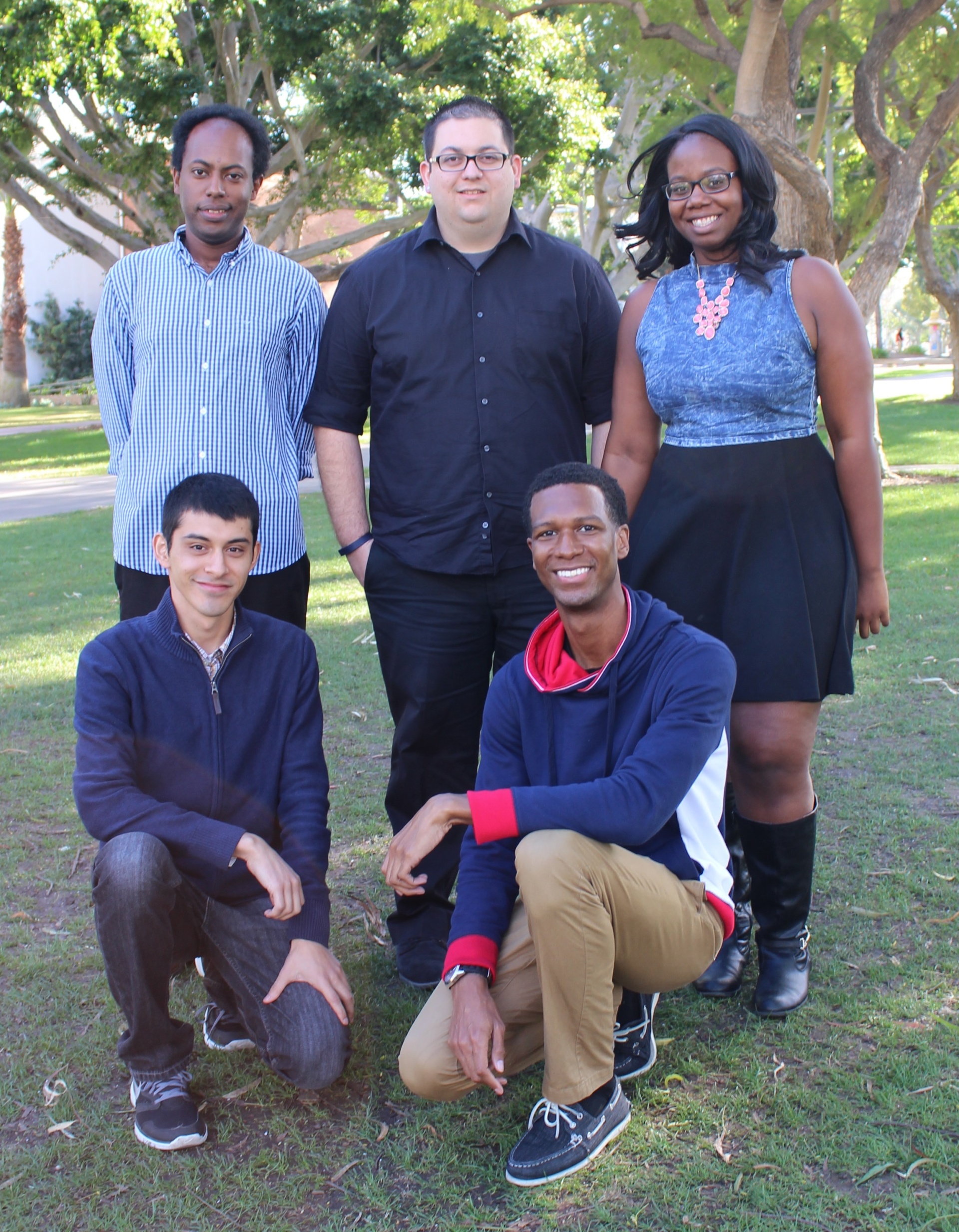 In addition to the close counsel of faculty mentors, the physics department maintains relationships with many prominent industry and university labs, and often hosts guest lecturers to help prepare students for the challenges of obtaining a Ph.D.  
With the program's support, Diaz earned his master's in physics from CSULB in 2016, completed the GRE exam and was accepted into Florida State University's doctorate. program. While at FSU, he landed a coveted placement at the European Organization for Nuclear Research (CERN), the world-renowned Switzerland-based research center, and carried out research at the cutting edge of high energy particle physics.  
After successfully defending his thesis in Geneva, Diaz became the first CSULB Bridge program alumnus to earn his doctorate. He is now working on the cutting edge of particle physics as a post-doctoral researcher at UC San Diego. 
Bill shared that most students in the inaugural and subsequent Bridge cohorts have entered the field at labs and universities, but he expects more Ph.Ds. will follow.  
Each Bridge cohort comprises three to five students, including two Bridge fellows who receive two years of financial support, each academic year.  
When the initial funding for the CSULB site ended in 2017, a former faculty member's endowment was used to keep the program going. In 2018, Bridge earned the attention of physicists at Google Inc., who contacted Bill to support two Bridge fellows each academic year through 2023. Further investment can enable more students to benefit from the Bridge program in the coming years.  
Keeping the program funded is a priority for the department because it helps bring students with diverse backgrounds and preparations – like Diaz, a pre-med student who took an unexpected interest in physics – to the field.  
That prerogative for diverse perspectives is indelible to CSULB's mission, vision, and values, and is a key feature of the university's Beach 2030 Strategic Plan. In colleges with STEM academics, numerous recent and established initiatives to diversify STEM fields have garnered strong funding, high-profile industry and university collaboration, and national attention. Here's a look at some of them:  
Active Learning Educational Program (LEAP) 
In 2020, professors in the Colleges of Engineering, Natural Sciences & Mathematics, and Business received a $2.1 million grant from the National Science Foundation to launch the Active Learning Educational Program (LEAP), a program that pairs primarily Hispanic student groups with STEM industry business partners to work on year-long projects in socially relevant areas like manufacturing, transportation, and the environment. Like the Bridge program, students in LEAP benefit from the close collaboration of faculty and industry mentors, and gain hands-on experience completing projects designed by partner organizations like Northrop Grumman.  
Hispanic-Serving Institution Science, Technology, Engineering, and Math program (HSI-STEM)  
LEAP builds on the effort of the HSI-STEM initiative, a collaboration between 10 CSU campuses to close gaps in STEM baccalaureate degrees awarded to Latino and low-income students. Si Puedo, CSULB's HSI-STEM program, began in 2011 with a five-year, $5.8 million grant from the U.S. Department of Education and includes a robust portfolio of resources for first-year students, transfers, and families to support students' academic success and develop strong models for transfer programming. Si Puedo's success earned a second five-year HSI-STEM grant in 2017. 
Building Infrastructure Leading to Diversity (BUILD) 
The Building Infrastructure Leading to Diversity (BUILD) Program is one of 10 programs in the U.S. funded by the National Institutes of Health (NIH) BUILD Initiative. With a focus on health-related research, BUILD's student training program is designed to address barriers to success (institutional, structural, environmental, and individual) to prepare students from numerous disciplines for doctoral programs and advanced research careers.  
Beach Engineering Student Success Team (BESST) 
The College of Engineering's Beach Engineering Student Success Team (BESST) welcomes cohorts of first-year students with an Engineering Summer Academy and opportunities for mentoring, tutoring, and workshops throughout the academic year. The program focuses on students from diverse backgrounds whose math preparation is not at the Calculus I level.  
Society of Women Engineers (SWE) 
With roots stretching back to the 1940's, the CSULB chapter of the Society of Women Engineers has been an advocate and a resource for multiple generations of women seeking to enter traditionally male-dominated STEM disciplines. The group provides networking and mentorship opportunities and outreach events like Women Engineers @ The Beach Day and Engineering Girls @ The Beach Day, which draw hundreds of participants and break down the gender-based cultural expectations that linger in STEM fields.  
National Society of Black Engineers (NSBE) 
Another renowned organization with a storied history, the CSULB chapter of the National Society of Black Engineers works to make engineering a household word in communities of color. Collegiate and pre-collegiate members benefit from mentoring and networking opportunities, leadership training and professional development, and community service opportunities. The chapter was honored by the National Society as the 2018-19 Small-Sized Chapter of the Year during its annual convention in Detroit. 
Hesabu Circle 
CSULB mathematics professor Kagba Suaray is the founder of Hesabu Circle, a virtual math mentorship program for Black students. Suaray and his collaborators use real-world examples like number patterns in popular music to demystify mathematics and ignite a passion for numbers in students of all ages. With ongoing virtual events and free resources, the group is an active community and an opportunity to connect with peers and faculty at The Beach and around the world.