First CSULB Internship Jamboree celebrates equitable internship experiences
Published October 12, 2022
On a beautiful late-summer day in the Japanese Garden, more than 150 students, employers, supporters, and campus leaders filled the sprawling landscape for the university's first annual Internship Jamboree.
The event was a celebration of over half a dozen programs that have been making in-roads with community partners to create high-impact, financially compensated internship experiences for students, especially those historically excluded from internship opportunities. Those include students of color, first generation, undocumented students, and those who were formally incarcerated.
Guests mingled in the shade of the cherry blossoms, networking over taiko drum music and the sounds of the Garden's resident wildlife and enjoying the end of the recent heat spell. The dessert bar was as immaculate as the scenery, and everyone took seconds as Juan Benitez, executive director of the Center for Community Engagement, approached the podium and encouraged guests to find seats.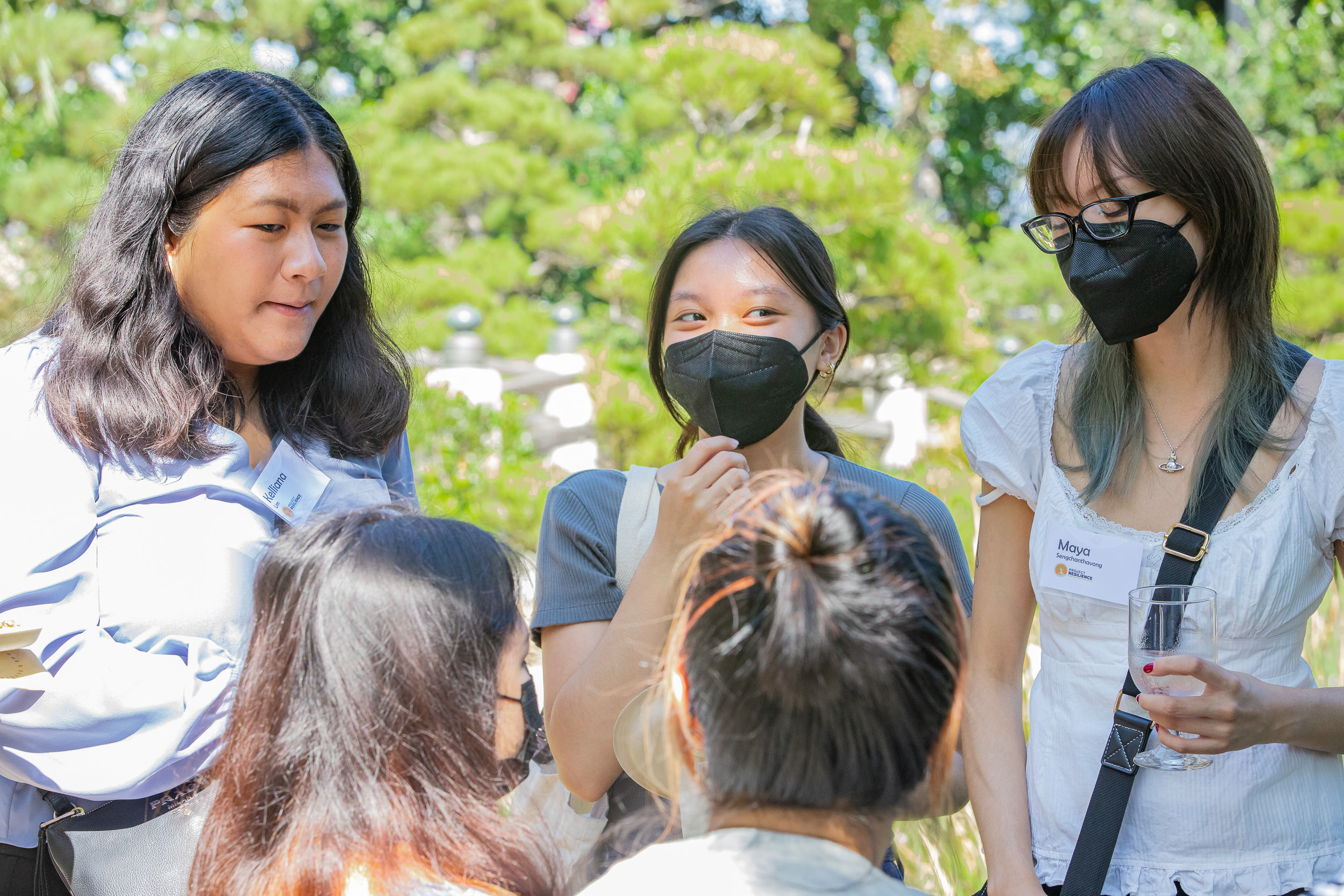 Professor Jake Wilson started the program by recognizing the Tongva people, the traditional caretakers of the L.A. Basin and the Puvunga land that hosts the campus today.
Benitez thanked the eminent guests in attendance, whose advocacy, collaboration, and sponsorship are breaking down silos and making equitable internships the standard at CSULB.
"This work highlights the arch of equity," Benitez said. "Paid internships, which first-generation and underrepresented students rarely get. It means equity for community partners who would not normally be able to afford to pay interns. It pertains to health, environmental justice, housing. We are at the ground level with community partners, expanding this arch of equity."
President Jane Close Conoley reinforced the equity focus of these partnerships as a priority for CSULB. "This first ever Jamboree represents a partnership of Academic Affairs and the Division of Student affairs working to make this possible," she said. "This is unusual in academia. But high impact practices predict that a student will graduate and find success."
Conoley acknowledged the growing national conversation about equity in internships, and The Beach's imperative to eliminate barriers that keep high impact practices out of reach for historically underrepresented students.
"We are expanding the arch of equity. Finding a way to remove the financial problem so that historically excluded students can get these key learning experiences."
Alumna Sharnyle Gonzales '21 shared her story from the second cohort of interns participating in the  Long Beach Community Internship Program in 2021.
"I wasn't confident, and I didn't have experience," Gonzales said. "But sure enough, the experience helped me chart a career. I got the opportunity to work with Linc Housing, an affordable housing provider with communities around California. I gained many essential skills. I learned to build relationships. After my internship, I was hired part time and then full time at Linc."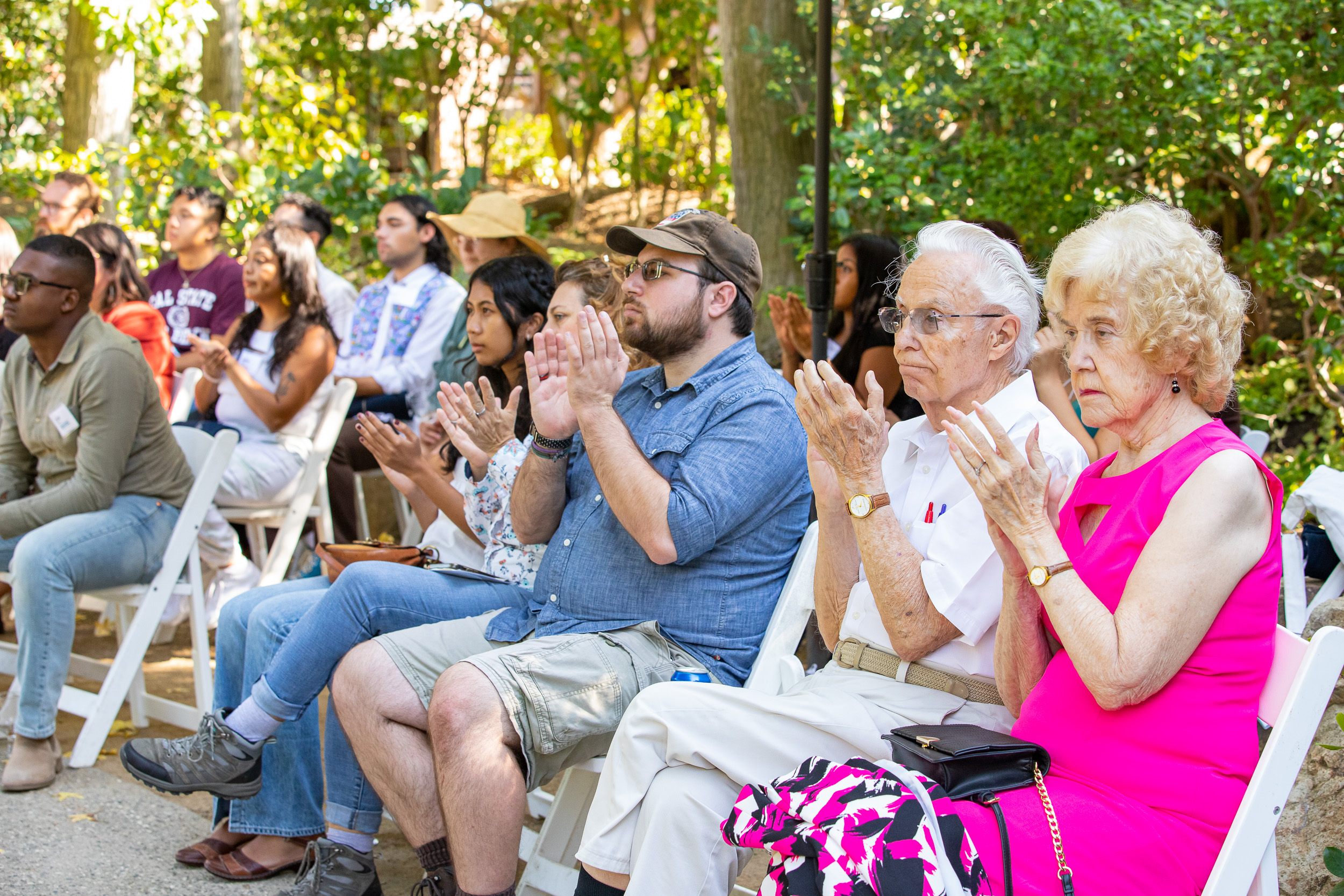 D. Abshire, representing South Coast Chorale and Fresh Education, nonprofits that have first hand knowledge about how an intern can make a difference in meeting organizations' goals. D.'s intern Dan Dao, a mechanical engineering student from the Long Beach Community Internship Program, helped South Coast Chorale rebound after going "dark" during the COVID-19 pandemic.  
Following Abshire was Professor Beth Manke, director of the Long Beach Community Internship Program and co-principal for College Corps @ The Beach, whose tireless effort has been essential in developing some of CSULB's most productive paid internship programs throughout her more than 20-year career at The Beach. The work hits home for Manke, who has seen students on the cusp of academic failure for lack of equitable opportunities all too often.
"I've seen students who can't complete an internship because they can't afford to miss work," Manke said.
Manke was the first of seven CSULB faculty and staff to give brief presentations about their paid internship programs and the positive impact student interns are having during their service.
CSULB recently launched its No Barriers Campaign, the largest and most ambitious fundraising efforts in the university's 73-year history. Key themes of No Barriers are advancing student empowerment and equity, as well as shaping California's future workforce.
The presentations hammered home the salience of Benitez' arch of equity – in an era of untenable housing and living costs – the support of sponsors like those in attendance not only makes critical learning experiences available to students, it makes the expertise of students available to non-profits, and the work that they produce together ultimately benefits the communities where they live and serve.