CSULB's student entrepreneurs shine at Sunstone Innovation Challenge 2022
Bringing a flair for showmanship to the 2022 Sunstone Innovation Challenge, industrial design major Ryon Adams finished a confident pitch presentation with an impromptu violin solo. Adams' overall performance earned him the top prize in the competition – wraparound support and funding for his proposed business: Proto-Lin Violins. 
Adams' product, a uniquely affordable violin, addresses the high cost of entry for student violinists with an injection-molded polymer construction designed for easy at-home repair. The judges were intrigued by the sleek prototype Adams wielded on stage, and Adams was happy to demonstrate its high sound quality with a brief performance. 
Accepting first place, Adams was grateful for the opportunity to merge his passions for music, design, and business at The Beach. "I'm thrilled that I have this opportunity to start this incredible journey," he said.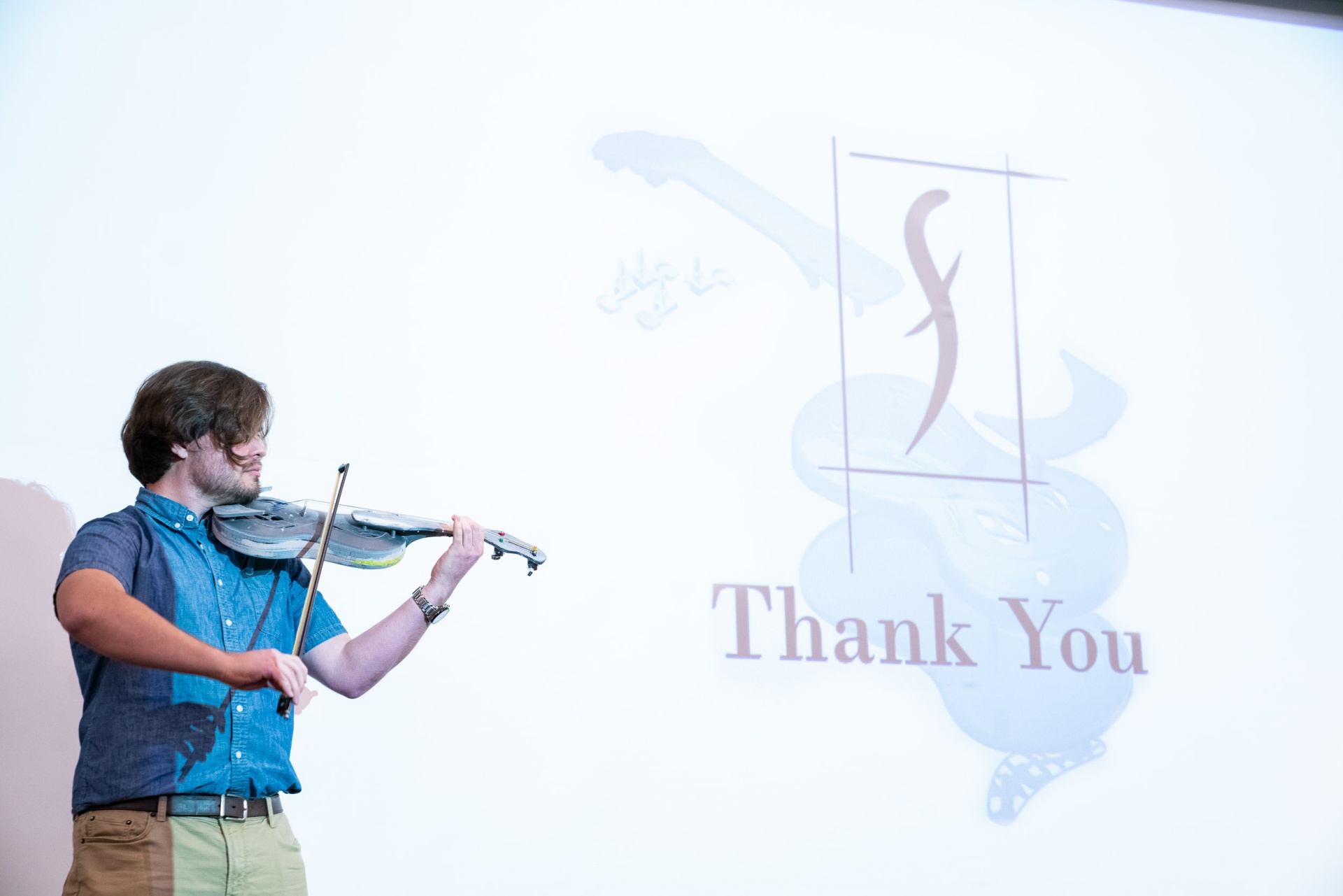 With the generous sponsorship of Sunstone Management and other groups, the annual Challenge invites student entrepreneurial teams to pitch startup business ideas for the chance to win a comprehensive support package including $15,000 in seed funding, and workspace, marketing, legal and accounting services totaling up to $35,000.  
From an original field of 22 student teams and a semester of competition, four finalists emerged for the final event. Campus leaders, local entrepreneurs, judges, and student teams convened at The Pointe in the Walter Pyramid for the event's in-person return. 
Team NIL Collective found an opportunity in recent legislation changes to develop an app-based branding service for female student athletes. The service offers tools for athletes to elevate their personal 'brand' by generating social media content and sharing it to a wide audience, with a two-tiered subscription model for 'Rising Stars' and 'MVPs'.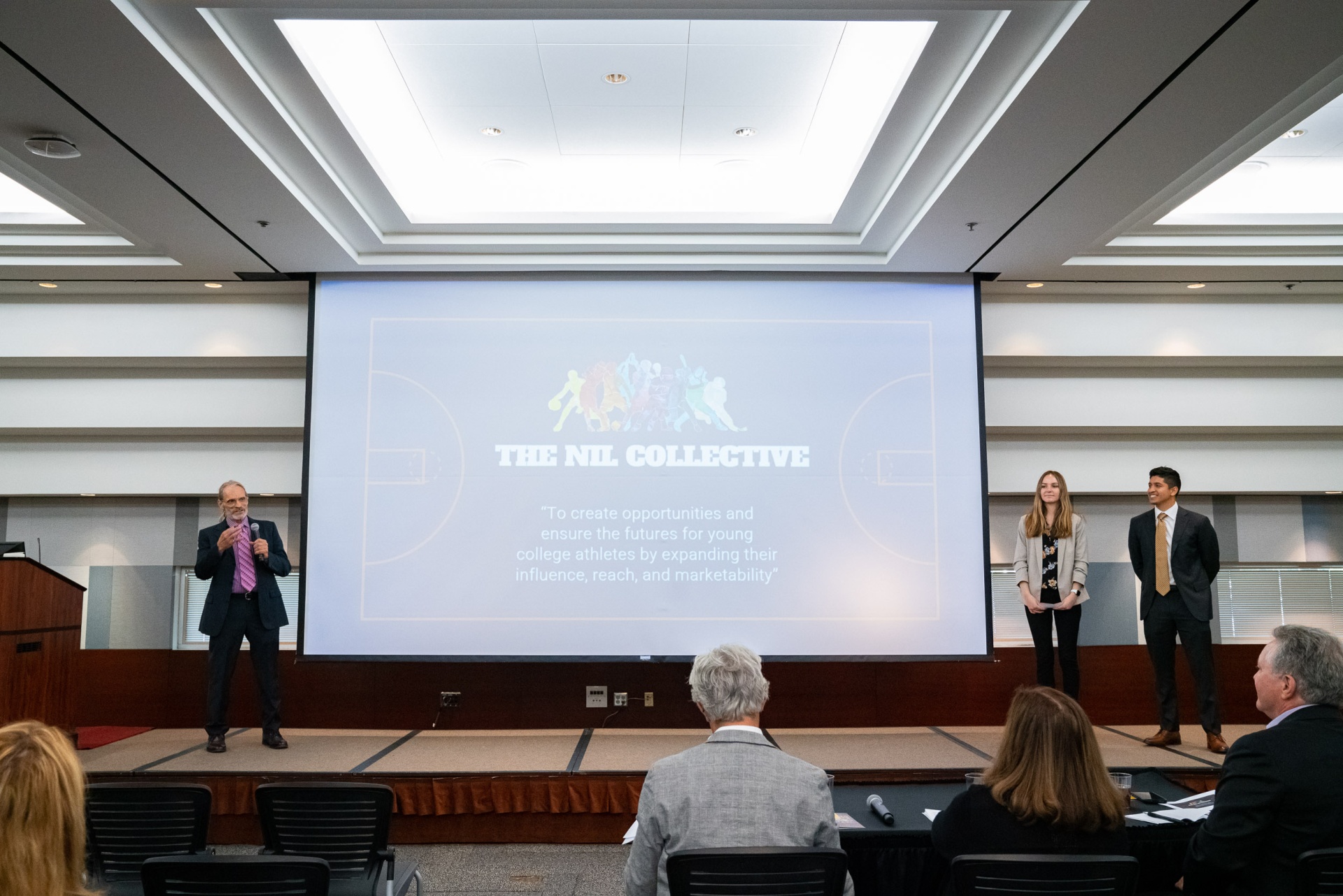 Engineering student Komal Gada presented team PAVANAS' plan for a new wind turbine component that can increase the annual productivity of windmills. The proprietary component would minimize windmill repair costs, extend the lifespan of turbine blades, and increase the overall energy production and net revenue of the windmill. 
MBA student Elizabeth Masso presented Unstockable, an app that helps users develop financial literacy. The app would innovate on services provided by big names like Forbes and Investopedia to connect with a young adult demographic and provide a robust, intuitive personal finance experience. 
Judges Joe Platnik, investor and Director Emeritus of the Pasadena Angels, Alan Pullman, Senior Principal and Founder of Studio One Eleven, and Vivian Shimoyama, entrepreneur and small business expert, addressed each pitch with studious questions and feedback. Though only one team could take first place, the judges extolled the merits of each presentation, and all teams will receive some funding and support. 
"If it doesn't happen tonight, your time will come," Platnick assured the field. "These were four well thought-out businesses with strong presentations." 
As College of Business Dean Michael Solt reminisced during the event's introduction, the Challenge has grown tremendously in its 15-year history, with the added investments of sponsors and partners elevating the level of support for student teams each year. 
In addition to CSULB partner Sunstone Management, the Innovation Challenge is supported by the Kevin and Louella Hundt Trust, Gail Meredith, Keesal, Young & Logan, Fulwider – Patton LLP, Windes accounting firm, and the Colleges of Business, Engineering, and Arts.