Experience the Innovation Challenge
Do you have an idea for a product, service, or application that could become a hot new business? The Innovation Challenge might be your ticket to help turn that idea into a reality.
Innovation Challenge is an opportunity for undergraduate and graduate students from across the university to use innovation and entrepreneurship to make a difference in local and global communities. 
The winning team receives support for their business, including $10,000 in seed funding, and space, marketing, legal and accounting services totaling up to $40,000.
Come to the Awards Ceremony at The Pointe on April 12 to see finalist teams pitch their ideas before judges. RSVP now to reserve your seat.
Tuesday, Sept. 19: Info Session, 7-8 p.m., CBA-139A
Monday, Sept. 25: Mixer, 7-9 p.m., ECS-105
Tuesday, Sept. 26: Team-building Workshop, 7-9 p.m., CBA-139A
Tuesday, Oct. 3: Design-thinking Workshop, 7-9 p.m., CBA-139A
Tuesday, Oct. 10: Mixer, 6:30-7:30 p.m., CBA-139A
Tuesday, Oct. 24: Lifecycle of a Startup, 7-9 p.m., CBA-139A
Every Tuesday: Business Incubator, 7-9 p.m., CBA-139A
Monday, Oct. 30, 3:30-4:30 p.m.: Letter of Intent Workshop (ET-19)
Thursday, Nov. 2, 1-2 p.m.: Letter of Intent Workshop (CBA-242)
Friday, Nov. 3, 3:30-4:30 p.m.: Letter of Intent Workshop (CBA-242)
Friday, Nov. 3: Letters of intent due by 5 p.m.
November: Mentors assigned
Friday, Feb. 16: Business plans due by 5 p.m.
March 8: Finalists and runners-up announced
March 22: Finalists present to committee members
April 10: Finalists submit final business plans and presentations
April 12: Finalists present at awards ceremony
Exciting news: The Innovation Challenge was a finalist for the University Economic Development Assn's Awards of Excellence.
2017 TOP TEAMS 
Stellar Aeronautic Robotics, First Place
Stellar Aeronautic Robotics' license-plate recognition drone to catch parking scofflaws was named the top team in the CSULB 2017 Innovation Challenge. Donald Truong, team leader of STAR, told judges a drone would be better for the environment, and let parking enforcement be done autonomously and without traffic interference or paper tickets. The drone's camera would send images back to the base, where campus police would then issue tickets via email. The drone has drawn interest from several campuses, including CSULB. The team also included Paul Delgado, Trisha Echual, Inna Echual, Elizabeth Kim, Grace Ji, and Caitlin Rubia. STAR beat out three other teams for the Innovation Challenge top prize, which includes $10,000 seed funding, and roughly $40,000 in marketing, legal, accounting and other services. Read more about STAR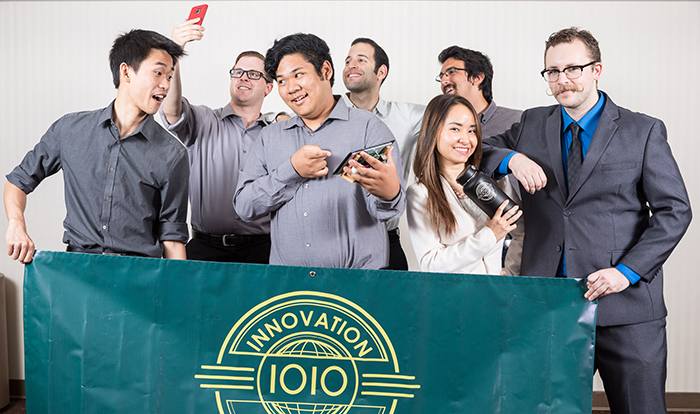 1010 Innovation
Runner Up
Led by Calvin Leung, 1010 Innovation proposed a mobile app that would help caregivers look after elderly family members. Other team members were: Ryan Genena, Jarret Mesa, Eugene Mesina, Han Thi Ngoc Nguyen, Alec Selfridge, and Anthony Willmore. 1010 was also a finalist in the previous year's Innovation Challenge.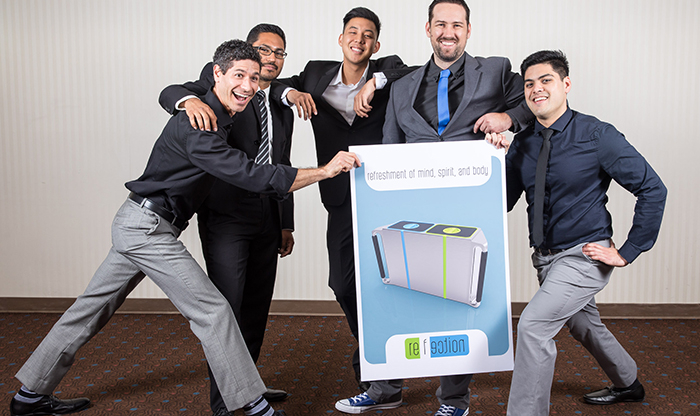 Biot
Runner Up
The Biot team, led by mechanical engineering senior Kyuho Shin, conceived a business plan to create a temperature-controlled lunchbox called The Refrector to simultaneously store both hot and cold meals. Tim Cormack, Marshall-Richard Cuico, and Kevin Vargas rounded out the team.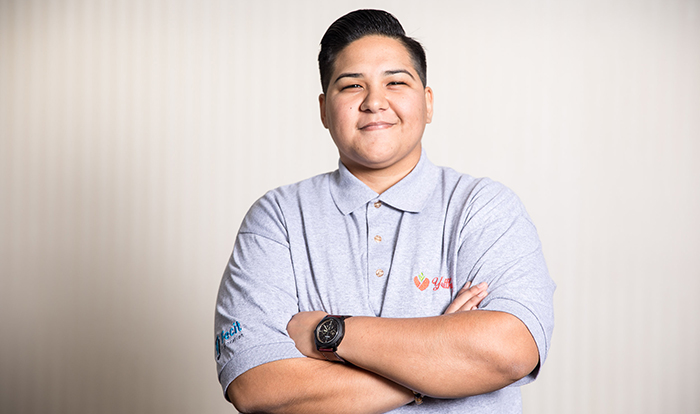 Fecit Innovation
Runner Up
Fecit Innovation, led by CSULB electrical engineering graduate Megan Del Rosario, a veteran of two healthcare startups, proposed a smartphone application capable of cardiovascular disease diagnosis. Other team members were CSULB electrical and mechanical engineering graduates Vian Rejuso, Nitish Bhardwaj, and Param Singh.