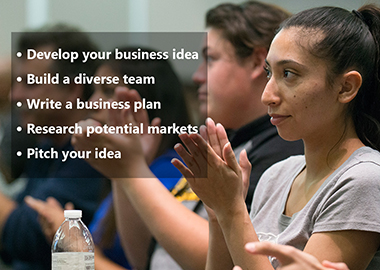 Congratulations to Sips Cold Brew for winning the 2019 Innovation Challenge!
Cold brew delivered to your dorm? A Cal State Long Beach startup hopes to do just that.
Tremendous work by all 4 finalists.
1. The Battery Effect: Team Leader, Abhishek Basavanna/COE.  Battery Effect offers a mobile application providing locations to dispose of household hazardous waste. 
2. Beach Biotech: Team Leader, Talha Karwa/COE.   Beach Biotech provides low-cost accessible methods of diagnostic testing for diseases, starting with Type II diabetes. 
3. InstaVegan:   Team Leader, Valentin Zachesov/COB.  InstaVegan is the 1st platform for vegan/vegetarians to find food and delivery options.  Delivery with sustainable transportation using recycling packaging supporting local small businesses, markets, etc. 
4. Sips Cold Brew:  Team Leader, Conner Schnicker/COB.  Sips Cold Brew offers high-quality cold brewed coffee and delivery service for college students as a membership subscription. 
Four Finalist Teams Face Off at 2019 Innovation Challenge Pitch Competition
Experience the Innovation Challenge
Do you have an idea for a product, service, or application that could become a hot new business? The Innovation Challenge might be your ticket to help turn that idea into a reality.
Innovation Challenge is an opportunity for undergraduate and graduate students from across the university to use innovation and entrepreneurship to make a difference in local and global communities.
The winning team receives support for their business, including $10,000 in seed funding, and space, marketing, legal and accounting services totaling up to $40,000.
Interested in competing in the 2018-19 Innovation Challenge? Email us at Innovate@csulb.edu
IN THE NEWS