CSULB students see history through eyes of veterans in portrait project
Published November 9, 2022
This is a story of fear and of Vietnam's jungles, service and coming home to a wife and 10-month-old son. It is a story of a 40-year U.S. serviceman, who served in the Air Force for eight and a half years and another 30-plus as a reservist in the National Guard. And a story of a talented singer who traveled to military bases around the country to entertain young soldiers. 
This is U.S. Air Force veteran Charles Smart's story, the one he told a class of 25 Cal State Long Beach art students in Associate Professor Marian Stewart's drawing class as a part of the Veteran Portrait Project. 
"I was over the top honored to be chosen for this project," said Smart, 81. "I felt quite honored and privileged to be a part of this." 
During a three-hour art class, veterans tell the students of their military service, adding depth and background to the portraits they sketch. The veteran and their families then select the portrait that he or she feels best represents them, and the winning portrait is then put on display for six months in the lobby of Tibor Rubin VA Medical Center in Long Beach.  
Smart's portrait, drawn by first-year art student Nyah Bester, was added to the collection Tuesday. Last month, the portrait of U.S. Army veteran Robert Tallent, completed in Spring 2020 was celebrated at a special event that was delayed because of the pandemic. 
"Mr. Smart shared some of his life experiences with us as we were sketching him for the first time," Bester said. "I recall feeling very sympathetic and a bit sad, as some of his stories were quite hard to hear, and even harder for him to tell. But I also found his more lighthearted anecdotes to be inspiring and heartening."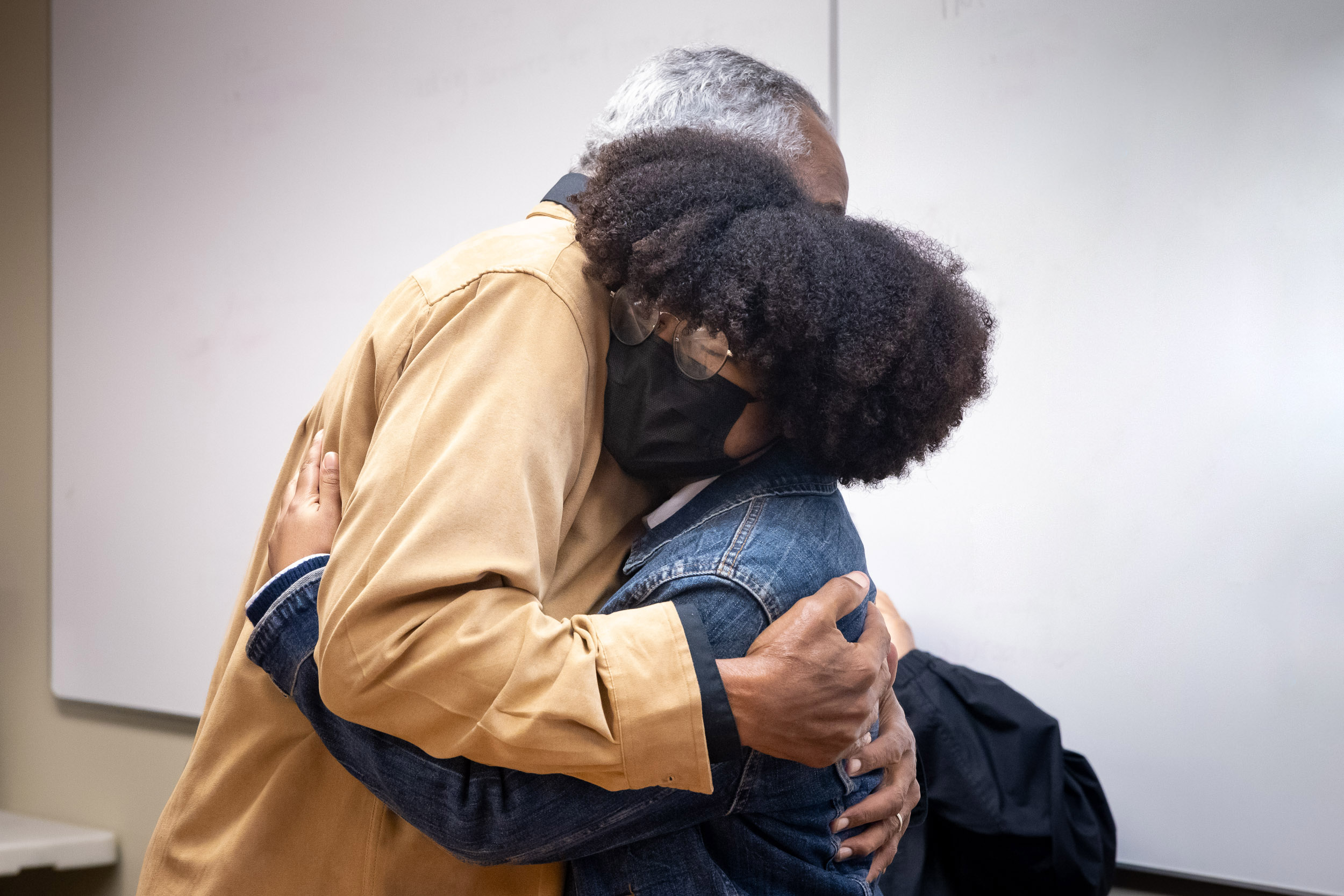 The Veteran Portrait Project started in 2017 when Stewart invited her neighbor and veteran Bruce Dankmeyer, who had been selected for the VA Medical Center's "Meet a Veteran Project" to sit for a portrait in her class. 
Stewart was looking for a way to challenge her students and provide recognition for their talent, while honoring veterans. She said that each veteran has "captured my student's hearts and imaginations" with their stories. 
"I love to see their eyes light up when they hear the veterans' stories," Stewart said. "It's such a different energy in the classroom." 
That led to a partnership with the VA Long Beach Veterans Appreciation Committee, headed by Health Care Administration faculty member Deborah Ludke '87, '09. The collaboration proved to be a success and has continued with two portraits completed during each academic year. There have been six veteran portraits drawn.  
Smart said he was astonished by the talent of the student artists and choosing a portrait was difficult. But he and his wife eventually settled on Nester's sketch. 
"It was a strange feeling seeing yourself, but my wife had her eyes on this one," he said. 
Bester said Smart regaled the class with stories of his days as a singer in the Air Defense Command Chorale and how it traveled around the U.S. entertaining servicemembers. 
"I remember one student asking him his favorite place he'd ever visited, and he said the United States because itself was the most beautiful country he'd ever explored," Bester said. "I think this was one of the most compelling things I had heard. 
"So many people my age - myself included - dream of exploring the world and new cultures, but hearing his thoughts reminded me that our country is huge, and there's so much to see and so many people to meet." 
Smart said he thought the students were engaged and he was thrilled that they wanted to know about his life. 
"It was quite an adventure," he said. 
So has been his life. After returning home from Vietnam to his wife and young son, Smart joined the chorale group. He was one of the first seven singers in the group, led by founder Richard Cotton, that eventually boasted of 56 members. 
"We would wear our uniforms and sing for small groups of people," he said. "I was very, very proud of that."