CSULB engineering student lands an 8th-place finish at U.S. Figure Skating Championships
Published February 21, 2022
Lost amid the sparkle, sequins and quadruple jumps of figure skating is the physics, engineering and mathematics that create the brilliance of the sport. How does a skater land gracefully on slippery ice while wearing two blades of steel measuring 3/16 of a inch?
Dinh Tran understands, maybe better than other skaters, the mechanics of the sport. He should. Tran is both one of the top young skaters in the nation and a mechanical  & aerospace engineering major at Cal State Long Beach. 
Tran, a second-year student, knows how motion, force and energy configure into the movement of the skaters and more importantly, the design of the lightweight carbon steel-curved blades and the leather boots. 
"For example, the ice skates that I wear have to be designed in a way to hold together when I go for that quad jump," Tran said. "The skates have to be designed to withstand hundreds and hundreds of jumps as well.
"Additionally, the blade has to be intact when taking on that landing force under cold temperatures. There are also small layers of padding to decrease the amount of force the body experiences when landing." 
Tran relied on his knowledge recently when he competed in the 2022 U.S. Figure Skating Championships, where he was looking to land a spot on the 2022 U.S. Olympic team. He finished eighth, behind gold medalist Nathan Chen.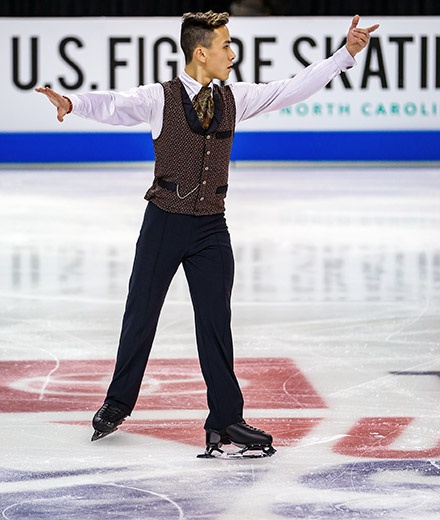 Tran said he wasn't too disappointed with his showing at the nationals. Between the pandemic and adjusting to a new coach, his training was not what he had hoped. 
"I feel like I did what I could and am satisfied with it," he said. "I definitely could've done better and was upset that I messed up on some minor stuff, but overall, it was OK." 
Besides, Tran said, there is always the 2026 Winter Games in Turin, Italy, which is already circled on his calendar. But it will take discipline to fit in both the training needed to be one of the best and studying to complete for his degree. 
"Time management and discipline are major factors in balancing both school and skating," Tran said. "It takes years and years of experience to learn how to take on both, but a lot of credit goes to my mom for helping me through this process." 
When he was young, Tran would tag along with his older brothers and mother to the ice rink in his hometown of San Francisco, where his siblings took skating lessons. Yet it was the 4-year-old Dinh who caught the eye of the coach. 
"I wanted to skate like them (brothers) and my mother saw that I really wanted to try it," he said.
His mother asked if one of the rink attendants would help her youngest child skate across the ice. It was after one of these impromptu sessions, when the coach asked Tran if he wanted to learn how to skate. 
Tran trained with his coach for 12 years, eventually qualifying for local competitions then on to national and international competitions, where he became a dominant skater on the junior circuit. He earned a silver medal in the junior division of the 2018 national championships. The Olympics became his next goal. 
Staying focused on college, though, was not forgotten. 
"My mom has always emphasized the importance of education and so school is always considered a priority over skating," Tran said. "It is hard to manage that balance, but college and general schooling have always been in the plans. I try my best to work out a schedule so that my education would not be interrupted by my athletics." 
Achieving that balance has not been easy, he said. In fact, he has contemplated giving up skating completely. 
"You come to your senses, and you realize and trust that everything will fall together and work in harmony," he said. 'Juggling both school and skating might seem extremely difficult – and it is – but you will be surprised by what the human body can do when you really want to achieve your goals and dreams." 
So, while his American teammates were competing in the 2022 Winter Games, Tran was attending classes on campus. He said he wants to use his mechanical engineering knowledge to design components for Formula 1 race cars. Skating, at that point, might take a backseat. 
"While there are many types of positions as an engineer in F1, I am striving for a position that would allow me to work with a team and design parts that would allow the car to go faster," Tran said. 
"I do believe that one day I will achieve this dream of being an engineer in F1 and it may not involve skating. But I can say that the intense and competitive environment that I have been in and love to be in with skating is very similar to F1." 
He also might achieve his dream of becoming an Olympian. 
Photos courtesy of Kelly Canaan and Rusty Jones.