CSULB Convocation 2021 highlights need for increased diversity, inclusion
Published August 20, 2021
Equity and diversity took center stage at Friday's Convocation 2021 as each speaker stressed the need for change as Cal State Long Beach heads into the new academic year. 
"We can't do  is what we've done in the past and call it 'all good'," Provost Karyn Scissum Gunn said in the day's opening remarks. 
Scissum Gunn said the often-challenging past 18 months, marked by the pandemic, systemic racism and uncertainty, has given the university an opportunity to reflect on how it sees itself. 
Image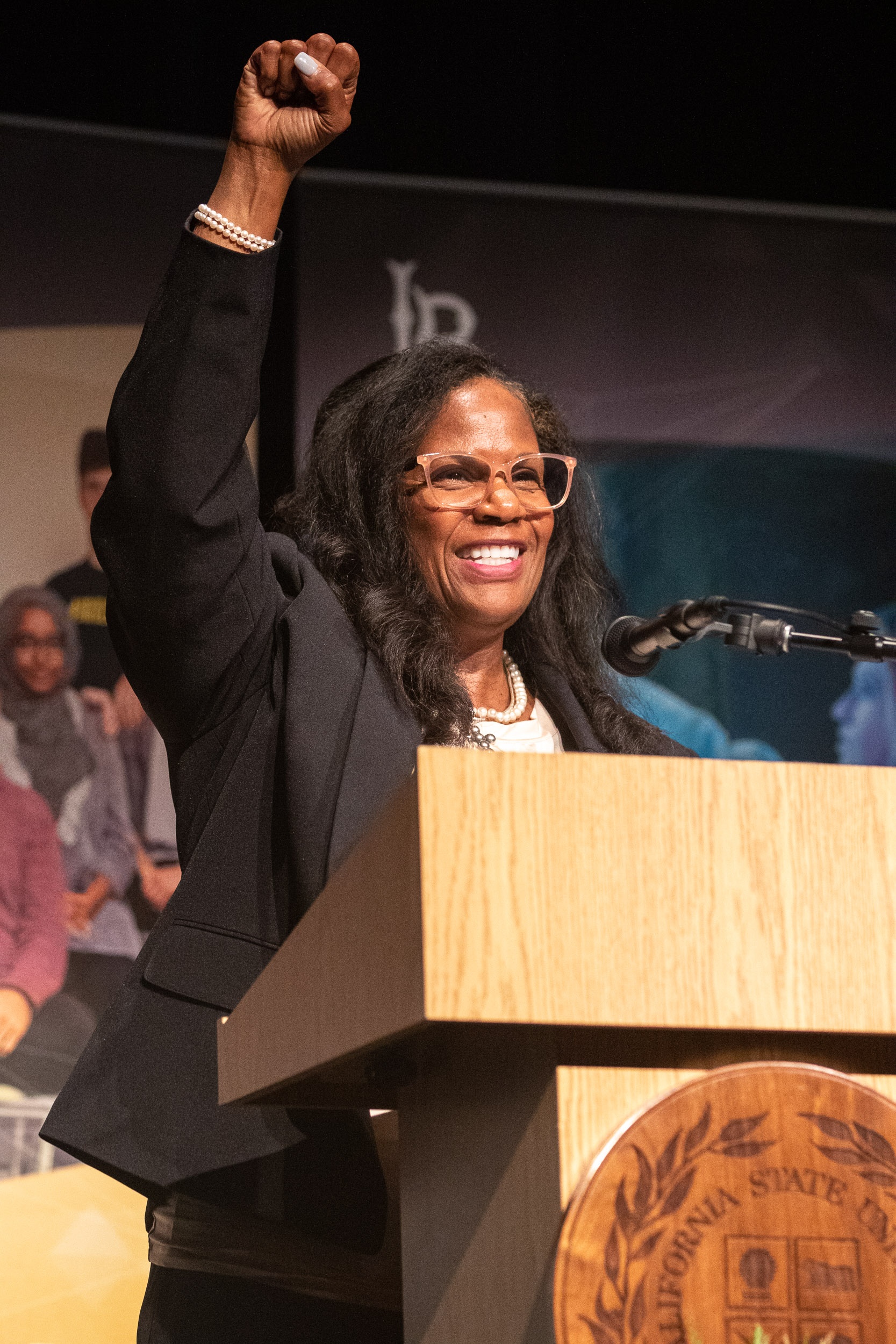 "Welcome back feels different this year, doesn't it?" she asked the masked-up audience at the Carpenter Performing Arts Center. "The happiness of reuniting with people we know or admire or everyone working together is admittedly blunted by the effect of this past year and a half, and frankly of what still lies ahead." 

As outlined, the future of CSULB will focus largely on the work of Beach 2030 by making the campus student ready and creating an equitable and empowering culture, among other goals, as the campus reunites after being separated by the pandemic. Hybrid and in-person classes begin Monday. 

 "We have to take intentional inventory of what is deemed equitable and what is fair as far as race, and be ready for all students," said John Hamilton, associate vice president of Student Affairs and co-chair of the President's Equity & Change Commission. 

"Last year President (Jane Close) Conoley used the term 'One Beach,' meaning to bring us all together and because of that, the commission has been working hard to examine and to interrogate the hiring practices of faculty and staff, close opportunity gaps and economic change." 

Professor Anna Ortiz, co-chair of the President's Equity & Change Commission, said The Beach is the definition of a highly diverse campus, and has had students tell her how much they love attending CSULB. Conversely, she also has heard stories of microaggression, exclusion and pain. 

"In my role, I have heard the same from faculty and staff," Ortiz said, as she stifled tears. "They find joy in working with our diverse students and satisfaction with the community...but they also tell stories of belittlement and a lack of visibility. 

"Therefore, I am happy that The Beach has made a staunch commitment to do better." 

Scissum Gunn said since CSULB is more diverse than ever, making bold steps toward equity is crucial. 

"Equity and the social justice movement are at the forefront our conversations," she said. 

"It's time for some discomfort. It's time for some good trouble, some necessary trouble," Scissum Gunn said, quoting the late John Lewis, a member of the House of Representatives. "I know it's hard to look forward after these 18 months, it's a challenge to see optimism about the future, but it may hold in some regards. The journey has been filled with curves and detours and historic changes. 

"But as we embark on a path forward, I believe our collectively open minds, mixed with a certain amount of grace and purpose, will be our road map together." 

Image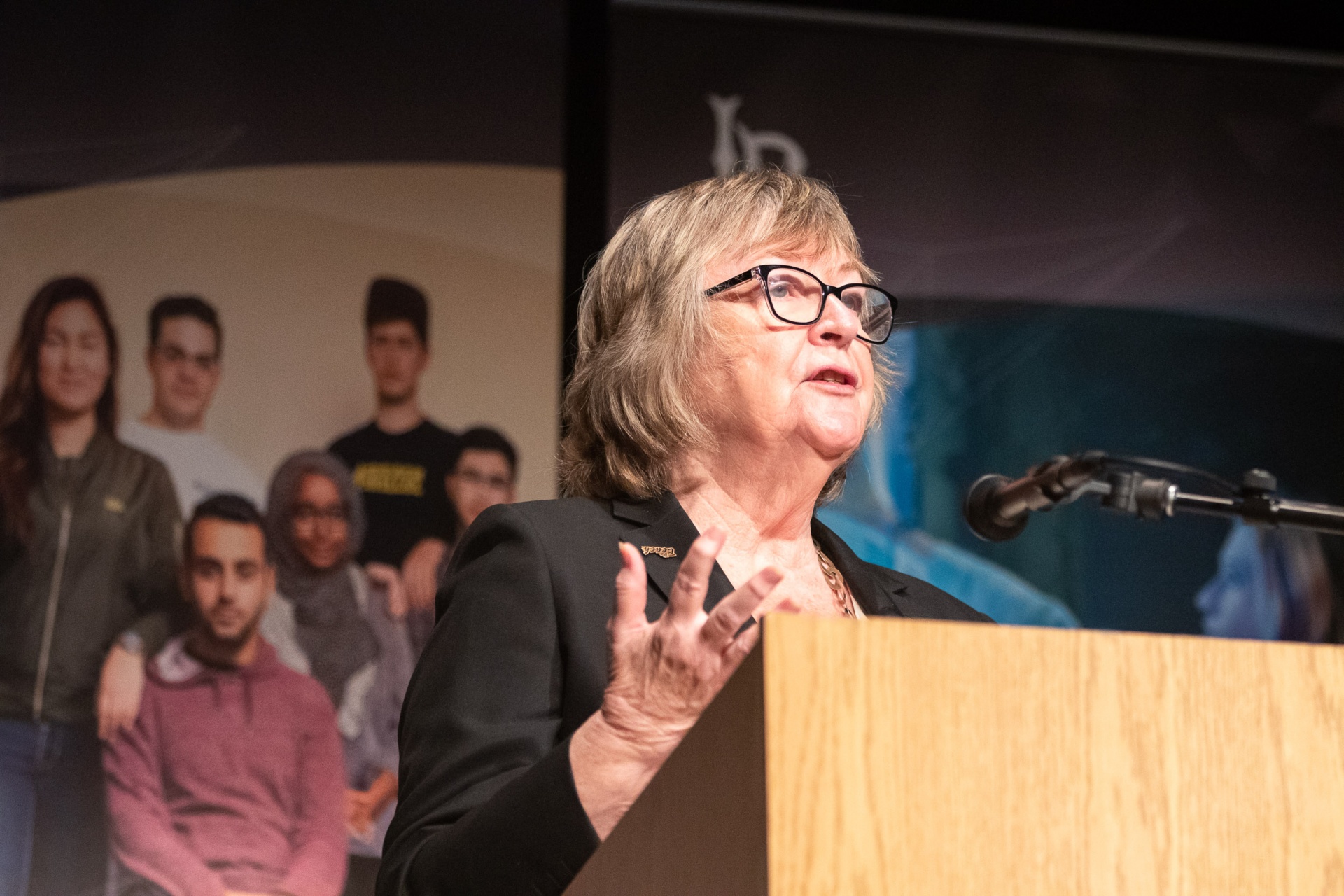 In her annual speech to faculty and staff, Conoley said that while most of the campus community was safe in their homes during the pandemic, the work to improve educational standards at Cal State Long Beach continued, starting with the new sustainable Parkside North residential hall, the distribution of more than 1,300 laptops and 3,000 hotspots to students, and the community's support of the Beach's Basic Needs program. 

The campus also saw the renovation of older student housing, the ongoing construction of the long-awaited Anna W. Ngai Alumni Center and the Carolyn Campagna Kleefeld Contemporary Art Museum expansion and renovation. 

"The campus never closed, and a lot got accomplished," Conoley said.   

Conoley urged the Beach community to draw energy from each other after "the realities of the past 18 months." 

"Seeing our students' faces, meeting with colleagues, asking new questions and discovering new things will energize us," she said. "Experiencing the excitement of watching our scholar-athletes compete and making new community connections will renew us." 

Conoley drew her enthusiasm for the future from the pandemic-altered year and a half. She pointed out several facts: CSULB raised a record $46 million, completed more than 40 capital projects, supported thousands of students with federal aid, fundraising efforts and state resources, and enjoyed success in athletic arenas. 

She also recognized the more than 620,000 Americans who lost their lives to COVID-19 and were affected by the economic disasters and racial incidents that occurred last year. 

"I hope these feelings of connection will build our resolve to build a better Beach, where health and safety are priorities; success for all students is at the center of our actions; where respect and acceptance for differences are hallmarks, and where innovation, compassion, discovery and creativity are nurtured," Conoley said. 

"I think we really can do this."