Math Day at the Beach 2022 Winners
Math Day at the Beach is a problem-solving festival for Southern California high school students who want to have fun with mathematics and enjoy a day of camaraderie with university mathematics students and professors.
This annual event started in 2002 by the Department of Mathematics and Statistics under the directorship of Dr. Kent Merryfield, a charismatic leader with unparalleled expertise in high-school math competitions, and ran uninterrupted until Dr. Merryfield's untimely death in November of 2018. In March of 2019, the 20th Math Day at the Beach took place under the new directorship by Dr. Olga Korosteleva. Then the pandemic placed this event on hold for two years.
On March 12, 2022, the 21st event was hosted on the campus in a restructured format. Its unequivocal success boosted the energy level of the organizing committee members who immediately started planning for the next year. There were three parts to this event: an individual round, team round, and the Kenneth E. Lindgren Face-off round. The problems were designed by the Mathematics and Statistics Department faculty and were selected from algebra, geometry, trigonometry, number theory, combinatorics, and probability and statistics. They emphasize creative thinking rather than computational skill.
Math Day is completely free, thanks to our generous sponsors, the Jerry Cassaday Family and LBS Financial Credit Union.
Invitation to 2023
An invitation to participate in the 2023 event will go out to schools in October of 2022. If your school is interested in trying its hand at tackling those math problems, email Dr. Olga Korosteleva at Olga.Korosteleva@csulb.edu to request practice tests.
Division A schools for 2023 (in alphabetical order):
Beckman High School
North Hollywood High School
Oxford Academy 
Santa Fe Christian Schools 
Sierra Canyon School 
Tesoro High School
University High School
2022 Winners
There were a total of 25 teams, 7 in Division A, and 18 in Division B. Winners are as follows.
Winning Teams in Division A
1st Place – Sierra Canyon School, Team I
2nd Place – University High School, Team I
3rd Place – Beckman High School, Team I
Winning Teams in Division B
1st Place – North Hollywood High School, Team I
2nd Place – Beckman High School, Team II
3rd Place – Santa Fe Christian Schools, Team I
Individual Winners
1st Place – Alex Bai, Sierra Canyon School
2nd Place – Andrew Gu, Tesoro High School
3rd Place – Joshua Jang, Oxford Academy
4th Place – Kristine Lu, University High School
Photos
Image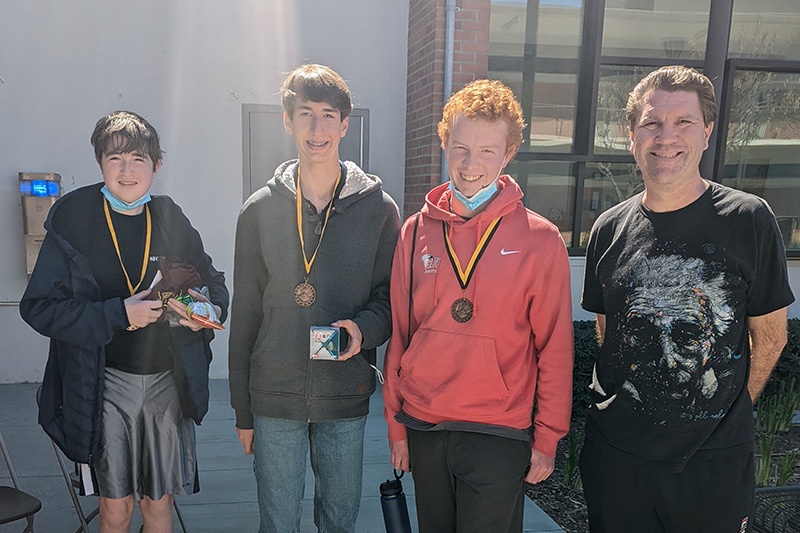 Team 1
Image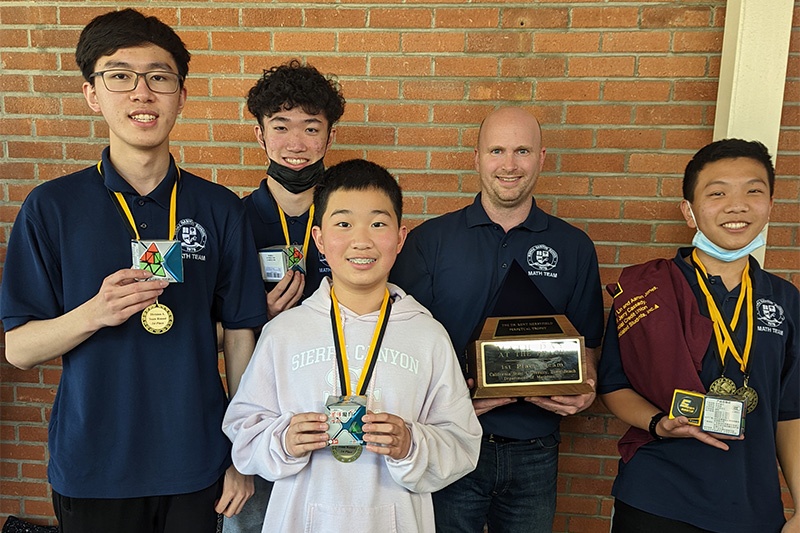 Sierra Canyon School, Division A - 1st Place
Image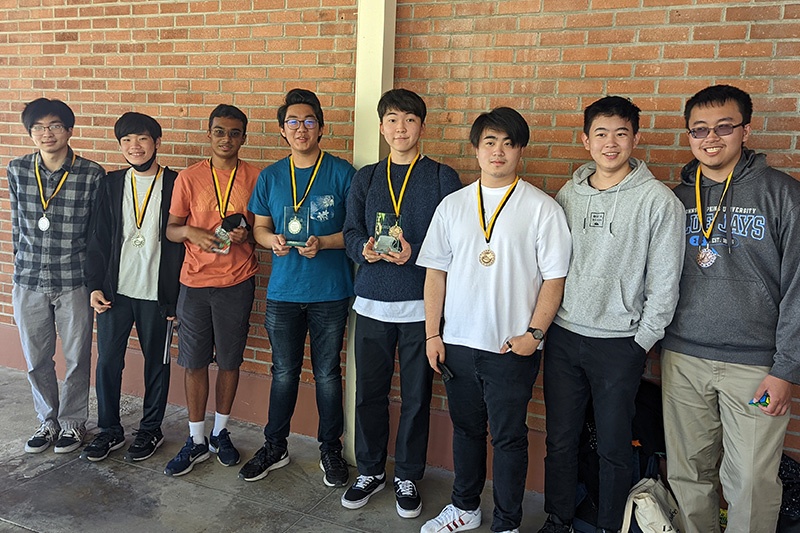 Team 3
Image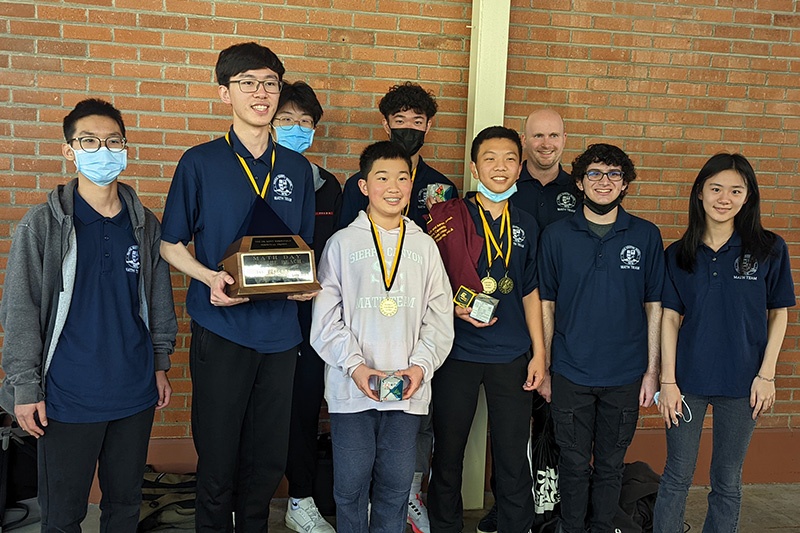 Team 4
Image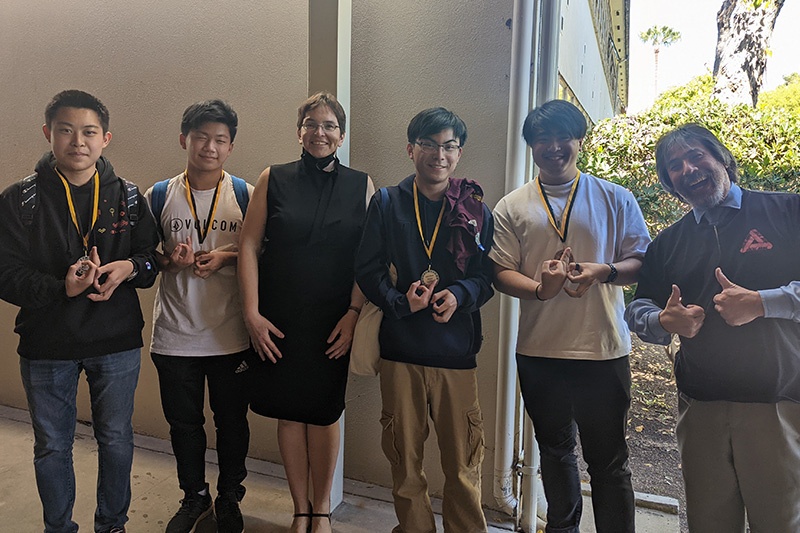 Team 5
Image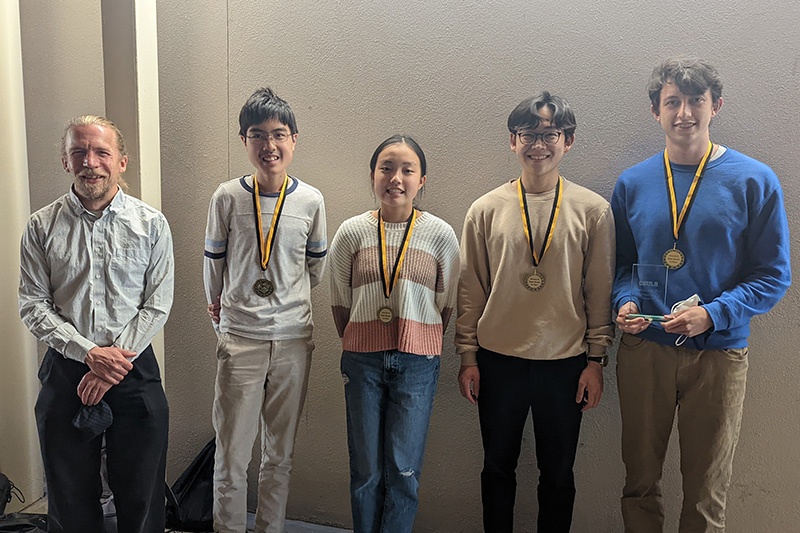 Team 6
Image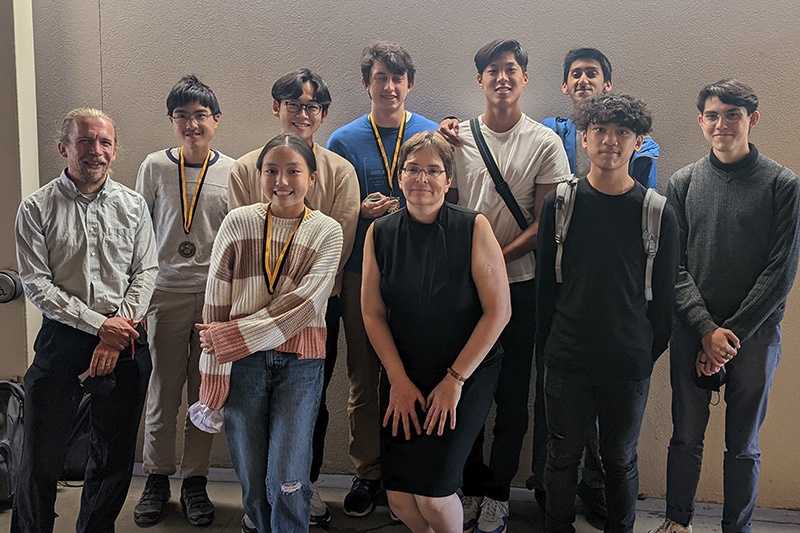 Team 7 with Dr. Olga
---
2022 Event Organizing Committee
Olga Korosteleva, Faculty Director
Christina Sover, Event Coordinator
Cyna Nguyen, Volunteer Coordinator
Will Murray, Master of Ceremonies
Tangan Gao, Grading Coordinator
Ryan Ngo, Scorekeeper
---
Sponsors
Sponsorships are provided by:
The Jerry Cassaday Family
CSULB University Extension
CSULB Associated Students, Inc.
CSULB 49er Shops/University Bookstore
CSULB Department of Mathematics and Statistics
CSULB Parking, Transportation, and Event Services