Sponsored Workshops
Image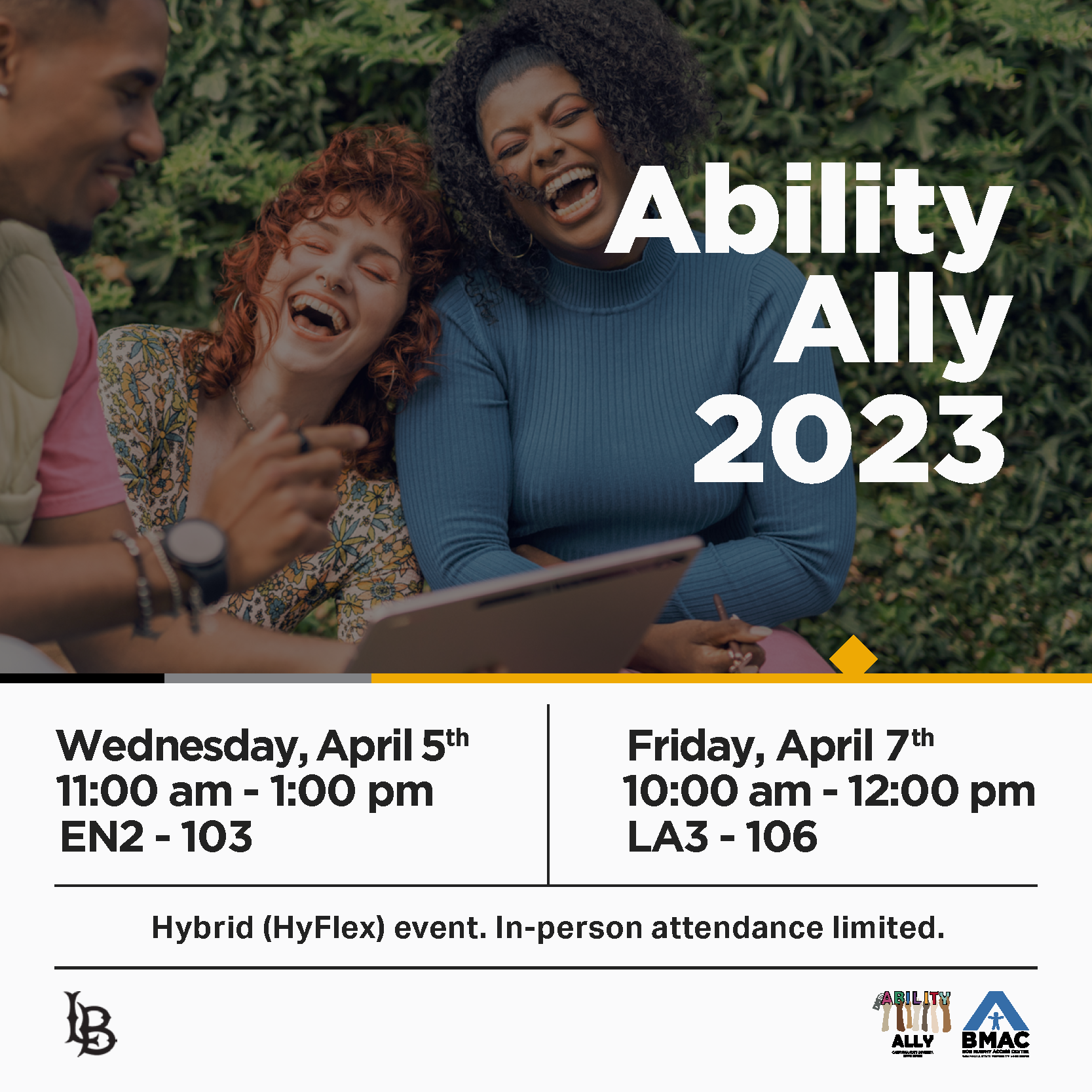 BMAC invites our campus partners to participate in

Ability Ally 2023

!
 Program Details
Friday, April 7, 2023, from 10:00 AM - 12:00 PM
LA3-106 (HyFlex attendance possible)
Participants will receive an overview of BMAC services and engage in conversations about disability, diversity, and how we can support this intersectionality while fostering an equitable campus community.
Ability Ally 2023 will be held in a Hybrid (HyFlex) Modality. In-person attendance is limited; please only RSVP for one session on the day which you plan to attend. 
 ·         Use the linked registration form to RSVP 
 Registrants will be automatically enrolled in our Canvas resource course and be given the opportunity to explore some pre-event materials.
This course has three main objectives: 
 ·         Increase participant understanding of diversity and intersectionality in relation to disability 
·         Increase participant awareness of inclusive practices and available resources for support 
·         Increase participant knowledge of how to create inclusive experiences for students with disabilities on campus
BMAC encourages participants to explore the Canvas content we have prepared before the event to get a jump start on some of the topics we will be discussing as a group. 
Image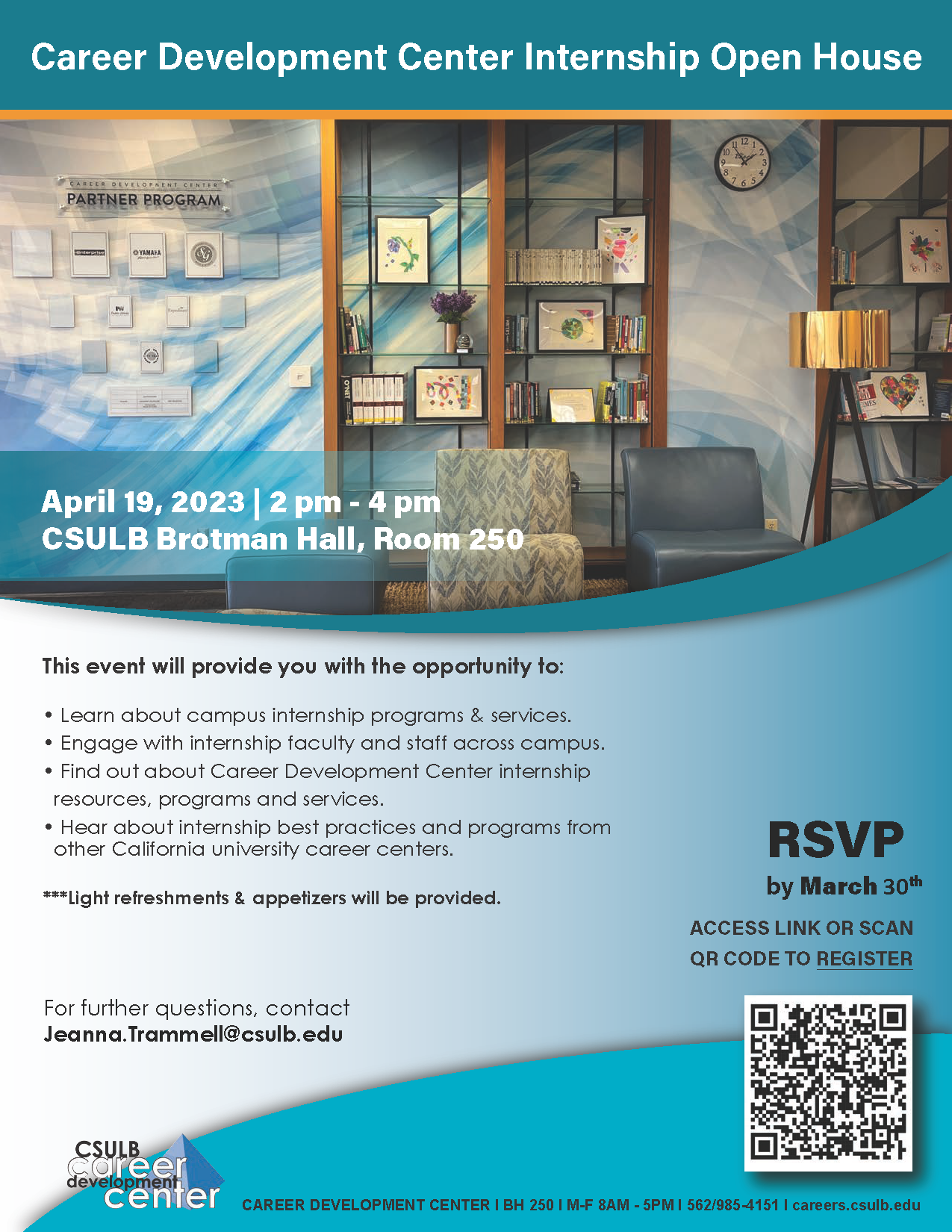 Image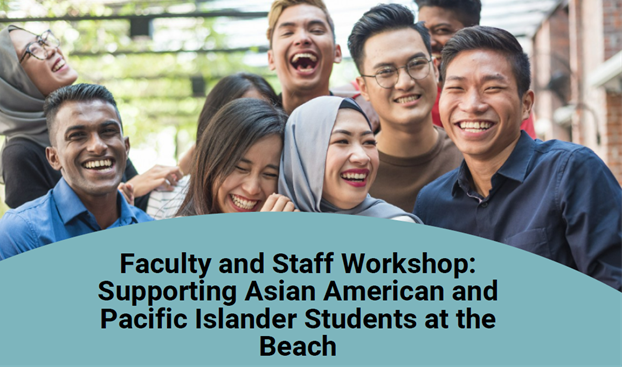 The CSULB Faculty Center, Counseling and Psychological Services, and AANAPISI's Project Resilience are hosting a virtual information session via Zoom for faculty and staff on Friday, May 5th, from 12-1:30pm.  The session will focus on the Asian American and Native American Pacific Islander Serving Institution (AANAPISI) Grant's Project Resilience and Asian American and Pacific Islander student wellness.  We invite faculty and staff to come and learn about the AANAPISI grant, Project Resilience programs, and AA & PI students' experiences on campus.  Practical strategies and referral information will also be provided.  The first 50 faculty and staff who register will receive a gift card for attending.  
FRIDAY, May 5 from 12-2pm  |   REGISTER
If you have any questions, please feel free to contact Rene Gutierrez, Project Resilience Director 
Image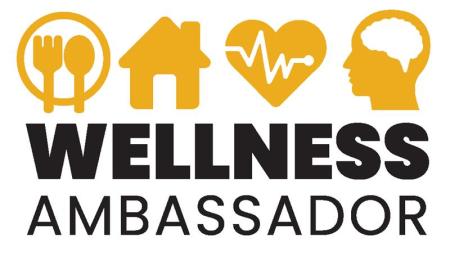 The Wellness Ambassador Training at CSULB is a certificate program preparing faculty with tools to engage with students who are experiencing basic needs and mental health challenges. The training is comprised of 2 parts offered in both March and April and can be taken in any order.
ALL CLASSES: FRIDAYS, 12-2pm  |   REGISTER
Part I: Effective Engagement Tools and Campus Resources 
March 10  |  Laguna Beach Room, USU
April 14  |  Laguna Beach Room, USU
Part II: Wellness in the Classroom and Live Student Panel
March 24  |   Laguna Beach Room, USU
April 21  |  Santa Monica Beach Room, USU
If you have any questions, please feel free to contact Danielle Munoz, Basic Needs Director or Amanda De Loera-Morales, CAPS Director