DocuSign FAQ
On this page:
Using Forms
You are now able to complete and submit many of our forms in DocuSign—no printing, emailing, or submitting in-person will be required. To submit a form using DocuSign, go to our Forms webpage and find the form you need. If the form is available in DocuSign, it will say "DocuSign" in parentheses after the form name.
Click the form name to start the DocuSign form. DocuSign will guide you through completing the form, attaching documentation (if required), and submitting the form. After you submit your form, you will receive an emailed copy. 
Forms are processed during regular business hours, Monday through Friday, excluding university holidays. In most cases, forms are processed within several business days. However, because some requests are reviewed by the Academic Appeals Committee—which meets once per month—such requests may take more time to review.
Your form will automatically be sent to the Office of Enrollment Services to be processed.
If approval from your academic advisor, department chair, or instructor is required, your form will be routed to them by DocuSign. Once they approve in DocuSign, your form will be sent to the Office of Enrollment Services to be processed.
Yes. To save a form to finish later, click "Finish Later" at the top of the DocuSign window. You'll need to enter your email to receive a link to finish your form later. Then, you can use the link in your email to return to your form to finish it later.
Image

See Undergraduate Advising Resources for a directory of academic advisors. Be sure to enter the name and email address for the correct academic advisor for your major.
No. Be sure to check the information you provide on your form before submitting it.
We recommend submitting forms online. However, if you are having difficulty submitting your form online, please contact Beach Central.
We recommend completing your form on a desktop or laptop computer. For up-to-date supported browser information, please visit DocuSign System Requirements.
Yes. Forms that have required or optional documentation will allow you to attach documents directly to your form in DocuSign. To attach a file to your form, click the paperclip button. Attached files will appear at the end of your form and will be included when your form is submitted.
Image

DocuSign accepts Microsoft Word files (.DOC, .DOCX), PDF files, rich text files (.RTF), and image files (.JPG, .JPEG, .PNG). For a full list of accepted file formats, see Supported File Formats.
Each file you attach to a DocuSign form may be no larger than 25 MB.
Written statements and similar documentation should be saved in Microsoft Word or PDF format. Scanned documents should be saved in PDF format.
Photos of supporting documents will be accepted if they are clear and legible. Photos of documents should be taken in good lighting (daylight) and have a high enough resolution to be readable. 
Images cannot contain flash spots or shadows that obscure parts of the document.
Avoid images that are zoomed in.  This can cause the image to be blurry which may cause your form to be returned unprocessed.
Images must contain the entire page of a document, if a document is over-cropped, or a portion of the page is not captured, your form may be returned unprocessed.
Please do not send photos taken of a computer screen.  Photos taken of electronic screens/monitors are hard to read.
Yes. To attach multiple files, click the paperclip button on the form. Then, click "Upload a File." After you upload a file, you may click "Upload a File" again to attach an additional file. Click "Done" when you have finished uploading your files.
Image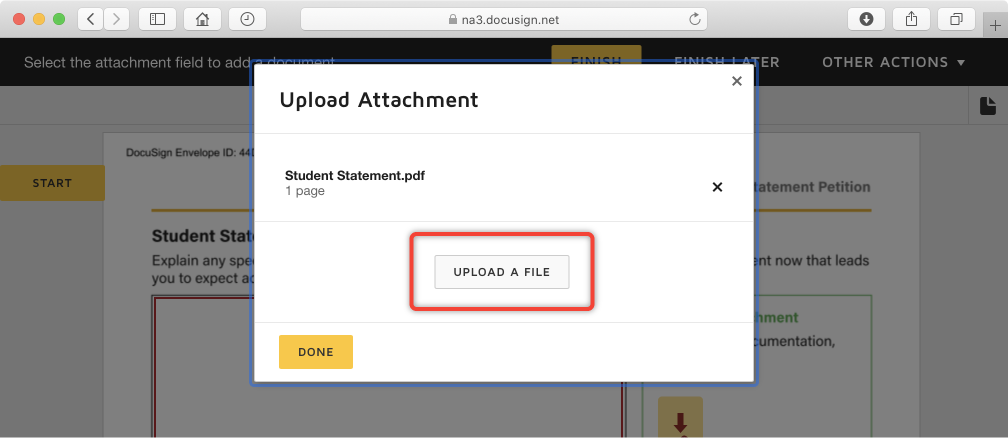 Yes, as long as you have not yet submitted your form. Click the paperclip button again and then click the "X" icon to the right of the file you want to delete. The file will be deleted from your form. Then, click "Upload a File" again to upload the correct file.
Image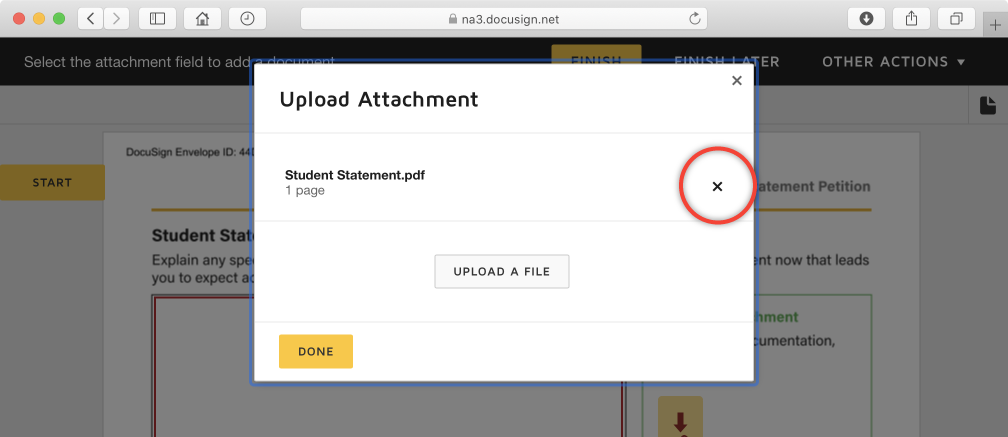 You can pay online using a credit card or electronic check. If the form you are completing has a processing fee, you will be directed to the payment menu before you submit your form.
The following forms have processing fees:
Application for Graduation (Special Considerations)
Request for Reactivation of Graduation (Undergraduate)
Request to Change Graduation Term
After you pay online using a credit card or electronic check, you will receive an email receipt with a confirmation number that you can use to reference your payment.
If you are an instructor, department chair, or academic advisor and a student submits a form that requires your approval, you will receive an email notification from DocuSign. You will need to click the "Review Document" button in the email to open the form in DocuSign. You will have the option to sign the form and approve or decline the request.
If you received a form from a student but you are not the correct recipient, please open the form in DocuSign and click "Decline." The student will be notified that their form was declined and will need to send a new form to the correct person.
To decline a form, open the form in DocuSign by clicking the "Review Document" button in your email notification. Click the "Decline" button. You will then need to enter a reason for declining the request. After you submit the reason, the student will be sent a notification that their request was denied and the form will not go to the Office of Enrollment Services for processing.
Most forms need to be initiated by the student. If the student has difficulty completing the form, please ask them to contact Beach Central.