Revolutionizing Filmmaking: CSULB Students Pair Creativity with Sustainability in Senior Films
Pioneering the intersection of environmental stewardship and creative storytelling, the Film & Electronic Arts Department at CSULB is shaping a new generation of green filmmakers. As a founding member of The Green Film School Alliance (GFSA), a visionary consortium of academic leaders, we've seamlessly integrated sustainability into our creative ethos, teaching our students to reduce the environmental impact of their productions.
The GFSA, launched in August 2021, supported by the Sustainable Production Alliance and Producers Guild of America Green and provides students the PEACHy green checklist modeled after industry standard sustainable practices in film. By following this checklist students implement sustainable production practices while filming their senior and junior films and gives them a chance to earn the prestigious Green Seal from our department and the Environmental Media Association (EMA) Green Seal for Students.
Spring 2023 bore witness to two remarkable senior narrative films - the poignant Good Boy, directed by Abraham Abotel, and the touching What About Daddy? directed by Shannon S. Simpson. Both these films earned the coveted CSULB Green Seal, by diligently following the PEACHy checklist and implementing sustainable practices in every aspect of their production.
To earn the distinguished Green Seal, a film crew must appoint a Sustainability Coordinator and amass 15 or more points on the PEACHy checklist, each green filmmaking practice represented by a point. In a remarkable achievement, both films exceeded this target and earned over 50 points, winning them both the department's green seal and the EMA Green Seal. This extraordinary recognition adorned their end credits as they screened at our annual student film showcase 'Full Spectrum' held at the Carpenter Performing Arts Center on May 13th, 2023.
Image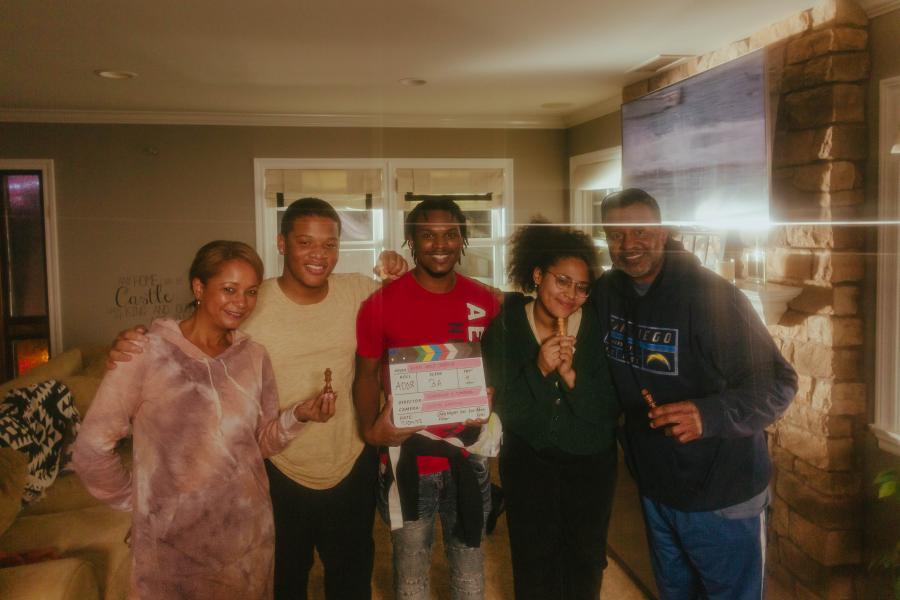 Director Shannon S. Simpson of "What About Daddy?" poses for a photo with actors while on set
Shannon S. Simpson, Director of 'What About Daddy?', recounts how the team was resolute in their commitment to the PEACHy checklist. Their commitment to sustainability was evident in their everyday practices - from replacing single-use plastics with recyclable cutlery and reusable water bottles, to optimizing energy usage and arranging carpools. Shannon also extended his heartfelt gratitude to Associate Professor Kent Hayward, their steadfast mentor during their sustainability journey.
Abraham Abotel, Director of 'Good Boy', voiced a similar sentiment, revealing how Professor Hayward's enlightening sessions opened his eyes to the environmental impact of film production. Determined to reduce the carbon footprint of his production, Abraham and his team embraced practices like refillable water bottles, rechargeable batteries, and carpooling. Their collective efforts made 'Good Boy' a shining example of green filmmaking, which won them the EMA and CSULB Green Seals, a recognition Abraham describes as "nothing short of spectacular."
Image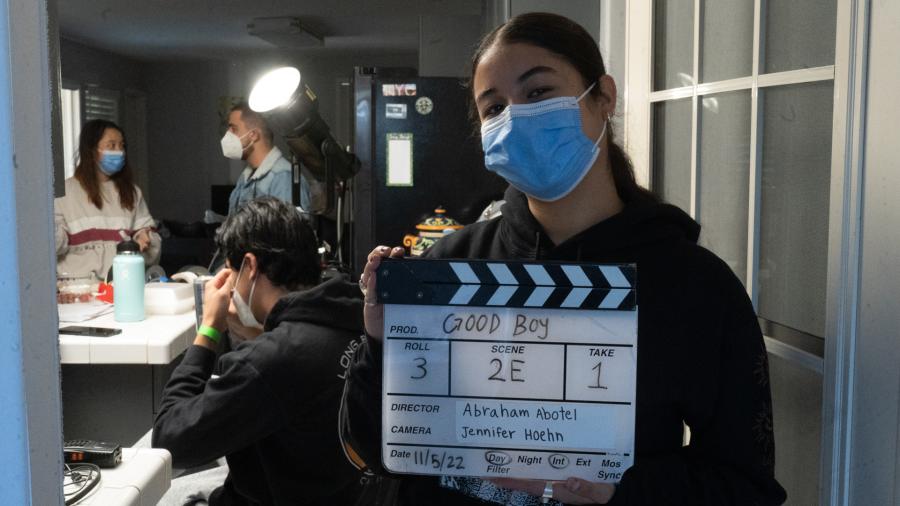 On set behind the scenes of "Good Boy" Directed by Abraham Abotel
In a world where filmmaking often leaves a significant environmental footprint, our students are demonstrating that creative storytelling and environmental responsibility can go hand in hand. Their commitment to sustainable production doesn't merely prepare them for a greener professional career in the film industry but also reinforces a valuable lesson - filmmaking, as an art, can inspire change and contribute to a healthier planet.