2023 MFA Thesis Festival
Image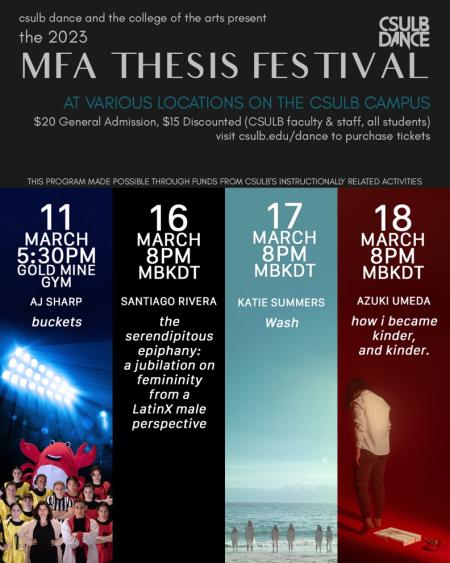 CSULB Dance +
The College of the Arts present
2023 MFA Thesis Festival
Featuring choreographic thesis works by
Santiago Rivera, AJ Sharp,
Katie Summers, and Azuki Umeda
March 11 at 5:30 p.m. at the Gold Mine Gym
March 16-18 at 8 p.m. at
the Martha B. Knoebel Dance Theater
Concert Directors:
Rebecca Lemme, Danzel Thompson-Stout
 
---
$20 General Admission; $15 Discounted (CSULB faculty & staff, all students)
(NO LIVE STREAM AVAILABLE FOR THIS FESTIVAL)
The CSULB College of the Arts and Department of Dance present  the 2023 MFA Thesis Festival, March 11-18, 2023. The festival will consist of four distinct concerts of thesis work from each  of the Department of Dance MFA Candidates.  Each performance will run roughly 30 minutes and will be followed by a short Q&A where the audience can engage with the artists.
Our 2023 Thesis Festival kicks off with AJ Sharp's buckets at the Gold Mine Gym on Saturday, March 11, at 5:30pm. Masquerading as a frivolous dance about the spectacle of sport, buckets is an immersive dance theater performance that invites guests into a work that uses the experiences of women in basketball as a metaphor for how the patriarchy devalues and oppresses women and other marginalized groups in society. Taking center court is a cast of nine "players" dressed in colorful team garb pushing and shoving their way around a gymnasium, a crab mascot hyping up the fans, a cutthroat battle between coaches, and a heel-tapping rendition of "Pump Up the Jam" from the bench. The energetic score is created by California-based composer/producer Craig Martinson. The audience will have opportunities to move throughout the performance space and stand for up to 15 minutes during the event. If you need specific accommodations for this event please email dance@csulb.edu.
First up on Thursday, March 16, is the serendipitous epiphany: a jubilation on femininity from a LatinX male perspective by Santiago Rivera. With live musical contributions from CSULB students and alums Andres Ramirez and Teresa Flores Segura, this piece explores the feelings of grief and giving up on life through the lens of family. Through the choreographer's LatinX experience and perspective, this work presents a narrow pathway of hope for the future through female love and support.   
Katie Summers transforms the Martha B. Knoebel into an underwater landscape for her work Wash. Premiering on Friday, March 17, this work is an invitation to nurture the previously abandoned parts of ourselves while yielding to the raw, the beautiful, and the mysterious. The movement elicits fighting, thrashing, and surrendering in the waves as seven dancers reach, push, and fall through space. The piece was made in collaboration with the dancers, scenic designer Jessica York, and composers Ty Rex, Ava Brackett, Álvaro Cácerez-Muños, and Jordan Fox.    
Closing our festival on March 18, Azuki Umeda will premiere how i became kinder, and kinder, a work which follows an individual as they reminisce on a past that has ultimately shaped who they are today. With music by Robert Gaar, Lucy Liyou, and her own devised score, Umeda unravels an exploration of sounds that unify meaning in movement. She, along with her seven dancers, will evoke a story that invites guests to connect with the narrative from the moment they enter the space. Please be advised, the sound score includes explicit language.
Technical Coordinator Stephanie  Losleben;  Costume Shop Manager Kelsey  Vidic;  Costume Technician  Erika  Hansen;  Film & Technology  Consultant  Gregory R.R.  Crosby; Music Director Don Nichols; Interim MFA Advisor Rebecca Bryant; and  Thesis Advisors Tsiambwom Akuchu, Rebecca Bryant, Rebecca Lemme, and Danzel Thompson-Stout all offer  valuable contributions in their collaborations  and consultations with each MFA Candidate.  
Following each performance, the  Department  of Dance  will moderate  a brief  Q&A with the collaborating artists from each show.  This is an opportunity for audience members to get to  know the  artists  and  gain more insight into  each  Candidate's  thesis work. Accessibility accommodation can be made by contacting dance@csulb.edu.